Former Nina Simone bandleader Al Schackman was on bass and Island musician Eric Johnson on guitar. The two jazz musicians had never joined forces before, but were brought together for a Pathways Arts event in 2014. As the pair improvised riffs and licks, the standing-room only crowd looked on, enraptured. Once the performance ended, they erupted in applause.
"It was one of those sublime moments where two amazing artists came together," said Scott Crawford, a Pathways organizer. "There have been a lot of nice little moments like that throughout the years."
This year marks the 10th season for Pathways Arts, a nonprofit, off-season, up-Island staple for the Vineyard's artistic community. The institution was the brainchild of Marianne Goldberg, a Chilmark resident who envisioned a space where artists could share their work and collaborate over the long winter. In 2009, her dream became a reality when Jenna Petersiel, the owner of Chilmark Tavern, said she could use the building in the off-season. The programming covered the creative spectrum, from poetry readings to interpretative dance, and a loyal audience quickly emerged.
"As it unfolded we saw that it was a really nice thing for people," said Mr. Crawford. "We saw the appreciation the public found from it. We pulled artists out of their shells. Writers who had never read anything became readers."
Mr. Crawford and Keren Tonnesen were brought on as full-time organizers to help bring Ms. Goldberg's dreams for Pathways to life. But not every vision could be realized.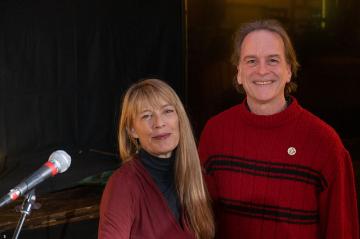 "She wanted to choreograph in space," said Ms. Tonnesen. "She wanted to get into a zero g-force environment and choreograph. The closest we ever got was showing a movie with dancing underwater."
When Ms. Goldberg died in 2015, the Goldberg family continued its support and since then Mr. Crawford, Ms. Tonnesen and fellow organizer Tanya Augoustinos have continued to carry on Ms. Goldberg's legacy. Mr. Crawford said the group agreed to keep Ms. Goldberg's vision for shared creativity and passion for the environment, particularly oceans, in mind.
"We lost the big dreamer, but we knew what those dreams were so we could keep working with them," said Mr. Crawford.
Mr. Crawford said the only major changes over the years have been shortening events and expanding the variety of programming. A popular recurring schedule of events has since emerged and continues today, drawing in crowds several days a week for writing and poetry Tuesdays, music series Fridays, and monthly ocean film nights.
Since January of 2013, Pathways has hosted 324 events, all free and open to the community. The intimate, speakeasy-like space that includes a gallery, shop and cozy couch is also available to the community during the day for meetings, knitting groups and health classes such as tai chi and qigong.
"I think what's unique about us is she [Ms. Goldberg] wanted this to be a living room environment and for people to be comfortable here," said Ms. Tonnesen. "She believed that art made you healthy."
Mr. Crawford added that Pathways has received high praise from performers on and off the Island for offering a space where the attention is on the performers, not the bar or a television.
"We've also earned a reputation as a listening room," he said. "Musicians love it because finally they can be in an environment where they are the focus."
Ms. Tonnesen said the Pathways audience has grown to include all generations, with kids often joining the dance floor for We Dance events and older artists, like Oak Bluffs painter Harry Seymour, showcasing their work in the gallery. Paintings by Mr. Seymour and Nygel Jones, a young Boston-area artist with Vineyard roots, are currently on display through February to honor Black History Month.
"We try to keep it with the local artists as much as possible," said Mr. Crawford. "That was Marianne's goal, to support the Island artists."
Though most events are planned at the start of the season, Mr. Crawford said Pathways is adaptable to the audience, and organizers are always willing to hear ideas for new programming from the community.
"We used to have to work so hard to get events populated," he said. "It was such a struggle. Now, it just isn't. We have people wanting to do things and we don't have anywhere to put them."
"It's also inspiring people to do things they haven't done before," added Ms. Tonnesen. "As long as we can pull it off we'll give it a shot."
Looking ahead to the next 10 years, Mr. Crawford said the group plans to pursue Ms. Goldberg's dream of expanding Pathways to the mainland, possibly starting satellite locations in art hubs like New York city.
"Her grand vision was to have a Pathways all over," he said.
Ms. Tonnesen added that they want to move toward a more donor-funded model and possibly plan an annual fundraiser instead of relying on a donation jar at events.
"We try to collect money," she said. "We don't charge but we put out an appeal."
More recently, the group began offering a shuttle service to allow for safe transportation to events with pickup and drop-off at the regional high school.
This week's events include a Valentine's Day special Sing Love: An Evening of Music, Projects in the Works presentations on Friday evening which include a book called Hawaiian Cowboys from Harthaven writer Sam Low and "digital painting" from West Tisbury artist Graham Smith. Saturday sees the return of Meditative Sound Saturdays and on Tuesday the Peter Luce playreaders take the stage with Glass Mandacity.
Ms. Tonnesen said audiences can expect many more "sublime moments" in the coming months, such as a performance from visiting jazz pianist Yoko Miwa and popular returning events like Women Live! on International Women's Day in March.
She added that as the Island population evolves so will Pathways to reflect the community it serves. "We'll have to respond to what's going on and stay flexible," she said.
Mr. Crawford agreed. "Kind of like the ocean," he said.