Mackenzie Condon and Dash Christy were both seeded second at the Division 5 state championships held on Feb. 13 at the Reggie Lewis Stadium in Boston. But they were looking for more.
"I was super nervous. I don't show it a lot, but inside I was pretty shaky," said Christy in an interview this week talking about his 55-meter hurdle race. "The first hurdle was rough, but then we [Christy and the top seeded runner] were neck and neck to the last hurdle and I out leaned him. At the end I knew I won. It was an inner feeling. I knew I had beaten those guys."
Condon was nearly out of chances in the long jump as she readied herself for her final jump after five attempts, trying to beat the leader's distance of 17 feet, 4 inches. She sprinted ahead, leapt and soared through the air, landing in a spray of sand.
The judges brought out the measuring stick and Condon watched as it inched forward. They called out the distance: 17 feet, 4.5 inches.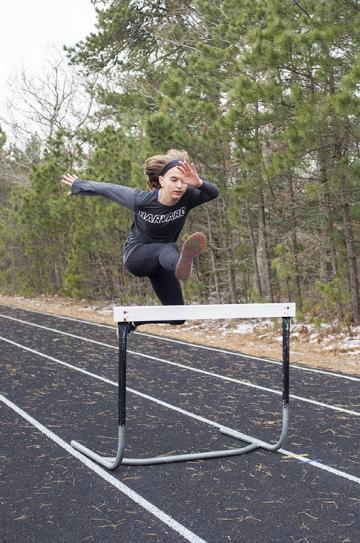 "When I landed I knew it was a good jump. It was a pretty exciting moment," said Condon. "If I won by a foot, I'm just a better long jumper, but when you win by half an inch it means the core workout I did last night mattered, or what I ate this morning."
With their gold medal finishes, Condon and Christy became the first MVRHS indoor track Division 5 individual state champions in the five-year history of the program. The performances mean both will compete at the All-States regional meet on Saturday. Condon will also compete in the 55-meter hurdles after finishing second at the state meet. Christy almost doubled up in the same events, too, coming in 13th in the long jump.
While sitting down to talk before practice this week, Condon and Christy praised each other's performances and reflected on their MVRHS track careers so far. Both left club sports to join the track team. Condon, a senior, said it wasn't her first choice, but an injury and persistent recruiting by track coach Joe Schroeder convinced her.
"I broke my hand playing field hockey my freshman year, so track was the only sport I could play. I begrudgingly joined," she said.
Christy, a junior, said he had never jumped a hurdle until the end of his first outdoor track season his freshman year. He said during one of his last races, the decathlon, he had to compete in the 110-meter hurdles, with fortuitous results.
"I wasn't bad," he said.
"I knew you were going to be good," added Condon. "It's pretty impressive to do what Dash did because he became a hurdler this year. You can be a good sprinter, but hurdling takes time."
Christy quickly referred back to Condon and said her leadership as team captain and work ethic have spurred his growth as a hurdler. "I've always looked up to her as my inspiration for a really crazy athlete. Everything you put her in, she can do," he said.
Condon emphasized that her success comes from treating every practice like a meet and zeroing in on each aspect of her events. She said that in the long jump especially, there are a lot of them.
"It's like a math problem to me," she said. "There's the angle, making the distance of all your strides normal but your last step shorter, and if you don't have that right the whole jump is trash. It forces you to focus in a different way than any other event."
She added that her final jump is her favorite because she has learned from each prior jump what to correct.
"That's why I've become a better long jumper. I love the sixth jump," she said. "It would be great to win on the first jump, but I can rely on my ability to rise to the occasion."
Christy is the latest in his family to compete at a state meet after his eighth-grade sisters Eloise and Adrienne Christy helped propel the high school cross-country team to a Division 5 state championship. Christy said much of this success is due to support from their father, Chilmark Coffee owner and long-distance runner Todd Christy, who is always there to put new spikes in Christy's cleats when he forgets or text him hurdling videos while he's at school.
"He inspires me everyday. He's always on my side and goes to every meet of the season. He's part of the team," he said.
Christy said he also has a pre-race ritual and a mantra. He said to settle his heart rate, he does a few practice runs on the hurdles and while walking back counts the seconds by clicking his cleats together.
"I have to remind myself that time is passing slowly. The ritual helps a lot where I do the same thing to get the nerves out," he said.
He and Condon said they share the same mantra: "What you put in is what you get out." They echoed this means you create your own success through work on and off the track.
"I'm big on doing all of the little things right so no matter what happens, you feel you did everything you could," said Condon. "I've learned that the good things feel even better when I know I created them and it wasn't just luck."
"All the little things start adding up," added Christy.
Top performances at All-States could catapult Condon and Christy to the upcoming New England meet, or the Nationals in New York city. That means practice every day in the MVRHS gym and school hallways, the only way to simulate an indoor track environment. They said they don't mind, and thanked Mr. Schroeder for his commitment to their training, even if it's under a basketball hoop.
"Joe puts in so much time with us on and off the track. He's the all-mentor in everything we do," said Christy.
Looking ahead to potential collegiate track careers, Condon said she is already being courted by several schools to compete in the 400-meter outdoor hurdles and the heptathlon. Christy said he'd like to continue running in college, too, and could also see himself taking the teaching route.
"I would love to coach track," he said. "I love watching the younger kids come up and begin their own stories. I don't even care if they beat my time. I want to see other kids become great and love the sport and grow it."
Condon said that sounds a lot like herself, adding that though her success at the state meet is validating, it's what the sport has taught her in other aspects of her life that means the most.
"Track teaches you discipline and accountability and patience," she said. "If you get nervous before a race, it's not because you're bad, it's because you care...In school it's definitely helped me with confidence and knowing a lot of things are an effort game. You can put in more than you think you know you can. I think track teaches you that."