Worries about the Steamship Authority dominated a town hall meeting hosted by Cape and Islands state legislators on the Vineyard Monday night.
Islanders turned out in large numbers for the meeting with state Sen. Julian Cyr and Rep. Dylan Fernandes — more than 100 people crowded the Katharine Cornell Theatre in Vineyard Haven to air concerns and questions on a variety of topics from a bill to ban rental mopeds to water contamination near the Martha's Vineyard Airport.
But the SSA was the front and center topic of the night.
"These people aren't hearing us," Fred Condon of Edgartown told the two state legislators who were re-elected to second terms in November. He urged them to send another strongly-worded letter to the SSA similar to one that was sent last year during a series of mechanical breakdowns and communications failures.
Joy Robinson-Lynch of West Tisbury urged the legislators to have the state review the SSA enabling act to ensure it's best serving the interests of year-round Islanders, and not just a financial bottom line.
"I think the government needs to step in so it's not looking to increase revenue, but serve the public," she said.
But Tisbury selectman James Rogers said while the SSA has major problems with transparency and accountability, reconsidering the enabling legislation could be a slippery slope.
"Sometimes you want to be careful what you ask for because you might just get it," he said.
The boat line holds its own public meeting on the Vineyard tonight to discuss the results of an independent study completed in December. The meeting begins at 6 p.m. in the high school Performing Arts Center.
Mr. Fernandes and Mr. Cyr both cautioned against state intervention in the SSA.
"We've seen how state-operated transportation works, and it's not great," said Mr. Fernandes, a reference to the to the Massachusetts Bay Transportation Authority which operates public transit in Boston.
In another key topic Monday, both Mr. Fernandes and Mr. Cyr said a home rule petition to ban rental mopeds in Oak Bluffs faces an uphill battle on Beacon Hill.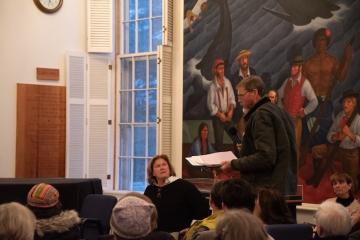 "This is going to be a really hard bill to pass," Senator Cyr admitted during questioning from Tim Rich, a leading member of a citizen group that has been working for years to outlaw rental mopeds in Oak Bluffs. The rental moped ban has strong backing from elected leaders and citizens in Oak Bluffs and around the Island.
The first home rule petition was filed last year but never made it through the committee process and died at the end of the legislative session in December.
"How could that have happened given the widespread support on Martha's Vineyard and the safety implications?" Mr. Rich said.
Mr. Fernandes, who recently re-filed the bill, said it faces roadblocks from other legislators since it could carry statewide precedent.
"If you allow one town to ban a transportation method, you're opening up a door to allow the other 351 towns to ban a mode of transportation," he said.
Speaking about a different home rule petition initiative, Mr. Fernandes said a bill that would give towns more power to regulate pesticide use is having more success, with 50 co-sponsors.
"We are hopeful that either this will pass or influence the discussion to pass a more modest toxics bill," he said.
The legislators also gave updates on bills related to renewable energy, the planned closure of the Pilgrim Nuclear Power Plant in Plymouth, and allowing undocumented immigrants to obtain driver's licenses.
Senator Cyr, a Democrat from Truro, was recently named assistant majority whip by Senate President Karen E. Spilka. Mr. Cyr is is the only sophomore legislator in senate leadership and the youngest member of the senate. He is vice chairman of the Joint Committee on Housing, and also sits on the Health Care Financing, Public Health, Education, and Municipalities and Regional Government committees.
On the house side, Mr. Fernandes, a Democrat from Falmouth, sits on four committees: the Committee on Global Warming and Climate Change, the Committee on Post Audit and Oversight, the House Committee on Redistricting and the Joint Committee on Telecommunications, Utilities and Energy.

Both said they are excited to keep working hard for the district.
"We're fortunate enough to represent the most beautiful district in Massachusetts," said Mr. Fernandes.