After a public outcry, a letter from elected state officials and a petition to Gov. Baker with some 900 signatures, the Steamship Authority told its architects to scrap their original design for a new Woods Hole terminal building. Tuesday morning in Falmouth, boat line governors and senior managers got a look at three new alternatives from BIA.studio, the Boston-based architectural firm working on the project.
The options are being called Saltbox Roof, Gable Roof and Three-Story Crossing Gable. All three are 10 feet shorter than the previous design, although they will still block much of the water view from town—that would be the case even for a single-story building with a flat roof, according to a study conducted by the architects, SSA and Woods Hole community members in December.
Boat line general manager Robert Davis said the design changes were made based on public comments, including an October letter from state Sen. Vinny Machado and Rep. Dylan Fernandes, and input from the Woods Hole Community Association and the Woods Hole Business Association.
"These are just schematic designs," Mr. Davis cautioned. The architects will discuss the design concepts in depth, and answer questions during public meetings, on March 28 at 6 p.m. at the Falmouth High School auditorium and April 8 at 5 p.m. at the Katharine Cornell Theatre above Tisbury town hall.
In response to public comments and concerns, the new concepts lack the expansive glass windows that had some people likening the previous design to the lodge at a ski resort.
The SSA has also agreed to replace a staffed food counter with vending machines, in order to take up less building space.
"How many people is this designed to accommodate?" asked Falmouth governor Kathryn Wilson, who joined the board last month.
"Three hundred," replied Bill Cloutier, the SSA's project manager for the Woods Hole terminal reconstruction.
"It will be tight" on busy summer days, Mr. Davis acknowledged. "People will wind up outside."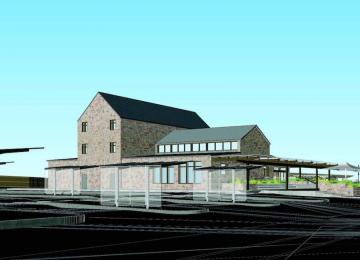 Roof overhangs and pergolas will offer additional shelter from the elements outside the building, he said. There is also a planned row of shade umbrellas that has not been eliminated in the new schematics.
"In the wintertime, if we have a cancellation, we can easily fill that lobby up with passengers," Mr. Davis added.
Board chair Robert Jones of Barnstable asked if the size of the planned building will meet the boatline's needs in years to come, particularly with several new positions being created following an independent study by HMS Consulting.
"Are we boxing ourselves in for the future?" Mr. Jones wondered.
The new positions will be all assigned to the Palmer avenue administration building and not the Woods Hole terminal, Mr. Davis replied.
Mr. Jones remained skeptical. "When it comes up to a vote, I want assurance that this is adequate to our needs," he said. "I wouldn't want to vote for something that's just marginal. I'm putting that on the plate for further discussion."
Also on Tuesday, Mr. Cloutier showed recent slides of progress on slip 3, the bulkhead and the sewage pump-out facility, which is being tied into the town of Falmouth's force main.
"Bill assures me we will have slip 3 operational by the end of May," Mr. Davis said.
"Or else, right?" Mr. Cloutier responded wryly.
In other business, the board reauthorized its investment policy, which it reviews every two years, and took a first look at both the unaudited results of boat line operations in 2018 and the draft capital budget for 2019.
The SSA ended last year in the red with an operating loss of nearly $70,000. The largest increase in expenses came in maintenance, which jumped to $20,092,481—27 per cent above 2017 and 24 per cent above the 2018 budget.
"What plans do we have in place to not have maintenance expenses be so out of whack with the budget?" asked New Bedford governor Maura Tierney.
Mr. Davis said that as the boatline puts into practice more recommendations from the independent review by HMS Consulting, he expects that company estimates will be more accurate.
One of the recommendations is to hire a project engineer, Mr. Davis said.
"They would be going from boat to boat, not only for drydocks but for overhauls and engine work, and be able to identify what has to be done and get bid packages out much sooner and in a much more comprehensive way," he said.
"If shipyards have more of a lead time, we should be able to get some better prices."
The board also voted to award Avis-Budget a four-year contract to continue renting cars from its Palmer Avenue and Hyannis locations. The Parsippany, N.J.-based firm emerged the top bidder of three vying for the SSA locations.