In a dramatic scene just off the coast of Fairhaven Monday morning, Steamship Authority crew members and Menemsha Coast Guard performed a full evacuation of the ferry Nantucket.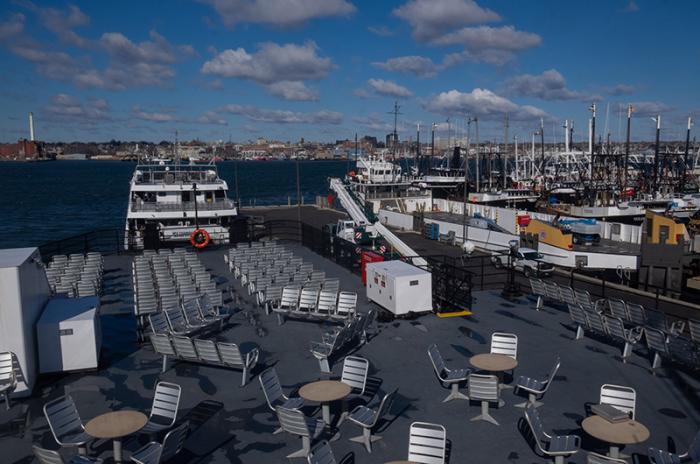 "At this time we are going to have to abandon ship," Capt. Charlie Monteiro announced over the loudspeaker at approximately 9:15 a.m. "Everyone please calmly proceed to marine evacuation system one on the boat's starboard side."
"April Fool's," said director of engineering and maintenance of Carl Walker. "This is just a drill."
Every year the Steamship Authority tests its Marine Evacuation System (MES), a state-of-the-art life raft evacuation system that was installed in the Island Home in 2007 and now is in every one of the ferry service's larger boats. The MES has the capability of evacuating 768 passengers in approximately 30 minutes, using triangular evacuation slides that connect to life rafts on the starboard and port sides of the ferries.
"If they ever need to evacuate the boat, this is how they would do it," said Steamship Authority communications director Sean Driscoll. "But they haven't had to do it yet."
This year the SSA performed the annual test evacuation on the M/V Nantucket with the aid of Massachusetts Maritime Academy cadets, as well as Coast Guardsmen and boat line crew. Members of the regional press were invited to attend. Life raft experts from an Australian company responsible for the MES readied everybody for the day no one hoped would come.
"This is the only system by which you could safely evacuate every person on the vessel," Captain Monteiro said. "These work. I feel they're state of the art. They're safe."
Every boat in the SSA fleet has two 30-foot, inflatable slides that deploy off each side of the vessel after a sequence of lever pulls opens a steel door. At the bottom of the slide is a linking raft that catches evacuees as they debark the boat and wait for the marshaling rafts, which deploy from canisters in the boats' sides and inflate in the water. Each raft can fit 128 passengers.
As the training displayed on Monday, the whole process sounds a lot more complicated than it is.
"It unrolls. It unravels. And at the end of it, there's a raft," Captain Monteiro said. "It's really not too bad. You just slide down."
On Monday, the Massachusetts Maritime cadets were chosen as the ceremonial evacuees. There were splashes, and a few soggy feet. But anyone who got wet probably didn't do it right.
"Elbows out, feet spread. Those are your breaks going down the slide," Coast Guardsman Ray Rock said. "By doing the training it gets them all used to it. It's like hopping in the car and putting the seatbelt on. It's natural."
Vlad Prato, a product engineer for the company that makes the life rafts and marine evacuation system, said everything went smoothly.
"It was excellent, as always," Mr. Prato said. "As you saw today, they are doing a good job and are training to do these things. In an emergency they will perform well."