The Stop & Shop store in Vineyard Haven was closed Friday morning following the Thursday job walkoff by workers on the Vineyard and around New England.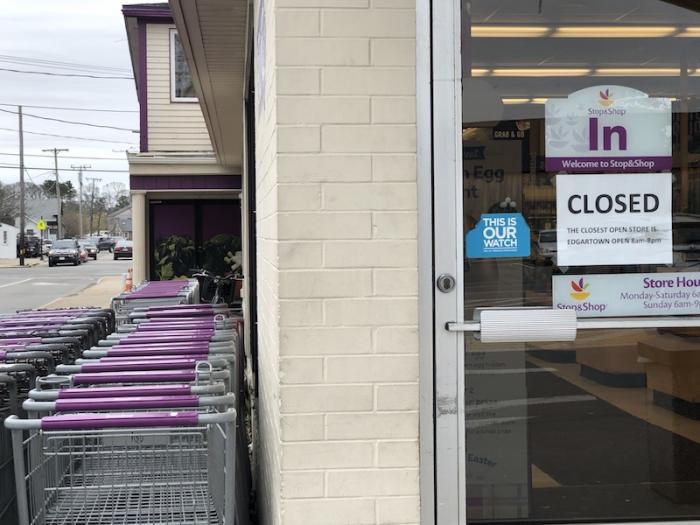 The Edgartown store remains open, where striking workers are picketing. Speaking to the Gazette by phone Friday, Stop & Shop spokesman Jennifer Brogan confirmed that the Edgartown store will remain open — hours have been changed from 8 a.m. to 8 p.m.
She said the store will be staffed with managers and corporate personnel.
The Edgartown pharmacy remains open, Ms. Brogan said. All associate-level pharmacy employees are part of the strike as well.
Ms. Brogan confirmed that the strike has affected delivery trucks. "I can confirm we did not receive delivery today. I can't make any projections as to what's going to happen in the future," she said.
Many of the delivery drivers are part of the Teamsters union. According to union representative Erikka Knuti, Teamsters 25 will not cross the picket line.
Stop & Shop workers on Martha's Vineyard joined their counterparts around New England Thursday afternoon, walking off the job to protest stalled contract talks.
The workers are members of the United Food & Commercial Workers union. Union and management have been negotiating a new contract since February. The union voted to authorize a strike last month.
Salaries and benefits are at issue.
On Thursday employees received notice of the walkout at 12:30 and exited the building immediately after that. "We got to go, we got to go," a surprised customer reported hearing the workers say.
"Everyone just walked out, it seemed orderly," shopper Jennifer Haynes of West Tisbury said, who was in the Edgartown store at the time of the walkout. "But they left deli meat on the counter."
At 1 p.m., more than 30 employees were standing outside the Edgartown store with signs that said "On Strike — Do What's Right" draped around their shoulders. Drivers on Main street honked their horns in support.
A similar scene played out at the Vineyard Haven store.
Inside the Edgartown store, a pound of roast beef and a half pound of turkey were the only signs of a deli counter that was bustling with employees and customers less than an hour earlier. Two members of the store's managerial staff worked the checkout lines, which had grown sizable.
"This just happened," store manager Mary McEvoy said.
The strike is taking place at stores in Connecticut, Rhode Island and Massachusetts.
On Friday, Ms. Brogan said Stop & Shop will continue to actively workto provide full service customers.
"We know and understand the importance of these stores to the community, and are working very hard to service the folks on Island," she said.
Home page picture by Albert O. Fischer 3rd.