From the grande dame Harbor View Hotel Edgartown to the pastoral Lambert's Cove Inn in West Tisbury, more than half a dozen hotels changed ownership on Martha's Vineyard last year — a notable trend on a small Island with an even smaller hotel landscape.
"I did notice a bunch of hotels changing hands," said Kahina Van Dyke, who bought the Narragansett House in Oak Bluffs in October with her husband Claudio Casarotti for $1.5 million. "It's an interesting trend. It seems like a weird coincidence."
Ms. Van Dyke and Mr. Casarotti are longtime seasonal residents of the Camp Ground. When the old Narragansett House went on the market last year they saw an opportunity.
"I've been passing by that porch for 30 years," Ms. Van Dyke said. "So we were very familiar with the property, and it was just always one of those properties that I admired. People were always on the porch, laughing . . . we weren't looking to be hoteliers, we were just intrigued by this hotel."
The Narragansett House has a nearly 140-year history that Ms. Van Dyke and Mr. Casarotti hope to preserve. Although they plan minor changes — with zoning permits still pending — for the upcoming summer, they said larger-scale changes will take place slowly.
"We just wanted to maintain this property and keep something in the community we already loved," Ms. Van Dyke said. "That's why we purchased it."
Other new hotel owners had grander plans.
Bernard Chiu, an Edgartown seasonal resident and owner of a Boston-based asset management and real estate investment group, bought the Harbor View Hotel in Edgartown for $30 million last year and immediately launched plans to update the 127-year-old, 130-room facility overlooking the picturesque outer harbor with its lighthouse and beaches.
The hotel closed in October for extensive renovations, and reopens on May 1.
It will include two new restaurants and has announced the hiring of internationally-accalimed chef Patrice Martineau, who has worked in the Savoy in New York and the Peninsula in Tokyo. The restaurants will be called the Bettini and Roxana Bar.
The Clarion Inn on Upper Main street and Edgartown Inn on North Water street are also now operating under new ownership.
Longtime Clarion owners Deborah and James Carter sold the hotel in June 2018 to a limited liability company for $8 million. David Roseberg is named as a principal owner. Renovations have been under way on the facility all winter.
General manager Juciara de Oliviera said a new restaurant called Town Bar and Grill is expected to open by April 25, and the 34 rooms have been renovated.
"They're changing the furniture, that kind of thing," Ms. de Oliviera said. "They're upgrading the rooms."
Meanwhile, Milton real estate developer Charles Hajjar continues to expand his holdings in Edgartown. In December Mr. Hajjar bought the Edgartown Inn for $5 million. He also recently acquired and renamed the Sydney, Christopher and Richard hotels in town. He has a business affiliation with Lark Hotels, which owns Summercamp (formerly the Wesley House) in Oak Bluffs, and also is developing an apartment complex at the Triangle.
The Edgartown Inn is situated on North Water street up the street from the Chappy ferry. It dates to the 18th century and past guests have including John F. Kennedy and Nathaniel Hawthorne.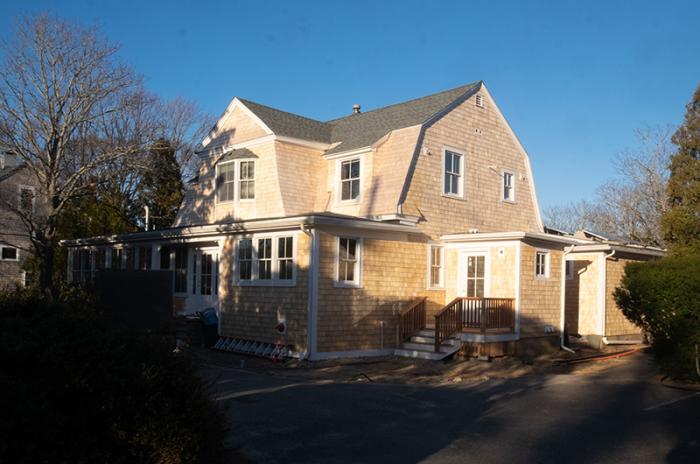 In West Tisbury, John Cain bought the 15-room Lambert's Cove Inn last spring for $5.5 million. The town zoning board of appeals denied his request to add five guest cabins to the property, but he too has updated rooms and plans a new farm-to-table restaurant.
"It's called Woods and will source ingredients from the Island and build inventive dishes off of those," Mr. Cain said in an email. "We are going to create a whimsical and fun vibe."
Other inns, after changing ownership last year, will cease to be inns altogether. The former Hanover House in Vineyard Haven, a bed and breakfast that dates to 1906, was bought by the nonprofit housing developer Island Housing Trust in August 2018 for $1.85 million in partnership with the Martha's Vineyard Hospital. IHT is converting the building into housing for hospital workers.
Also in Vineyard Haven the Thorncroft Inn changed hands in October of 2018 and is no longer a business.
"Clearly, there's something going on," Ms. Van Dyke said. "With this many hotels, and so many hotels that have been in the same hands for a long time, there's something happening. Maybe a generational changeover."
She said the Narragansett House has operated continuously for the last 140 summers. That's something they don't want to change.
"My children are [young]," Ms. Van Dyke said. "We hope to have this long term and generationally, and I hope the other hotel owners are the same. We want to preserve what is special about Oak Bluffs."
"Legacy," her husband added. "We like the term legacy."