The Vineyard Haven store has been shuttered since Friday. The Edgartown store is open for business with few customers, sparse shelves and an even sparser parking lot. The picket line is ever present.
This was the scene at the two Stop & Shop stores on the Vineyard Tuesday as a regional job walk-off that began last week entered its sixth day.
"People are supporting us," said store butcher and picketer James Sumner. "It's not as busy as it normally is. We've managed to keep the parking lot pretty empty."
By 11:30 a.m. on Tuesday, Mr. Sumner said he'd seen fewer than ten customers pull into the parking lot all morning. Inside the store, most produce and dairy aisles remained stocked but at lower than normal quantities. The pastry section was entirely empty and the deli counter was not open for service.
"You don't want to mess with the food chain," Mr. Sumner said.
Stop & Shop spokesman Jennifer Brogan countered the claims, saying in an email to the Gazette that the Edgartown store "has been quite busy" since the strike began and has not had to donate any rotten produce. She added that the store would work with Island Grown Initiative and other local partners if that changed.
Contract negotiations between management and the three unions that represent the 31,000 Stop & Shop workers in Rhode Island, Connecticut and Massachusetts fell apart last Thursday. At approximately 1 p.m. employees at the Edgartown and Vineyard Haven stores heard news of the strike and abruptly walked out of the stores, leaving deli meats on the counter and confused customers in the check-out line.
All Stop & Shop associate-level employees on the Island are part of the UCFW Local 1459 union. Stop & Shop's stand-alone pharmacy in Edgartown remains open for service.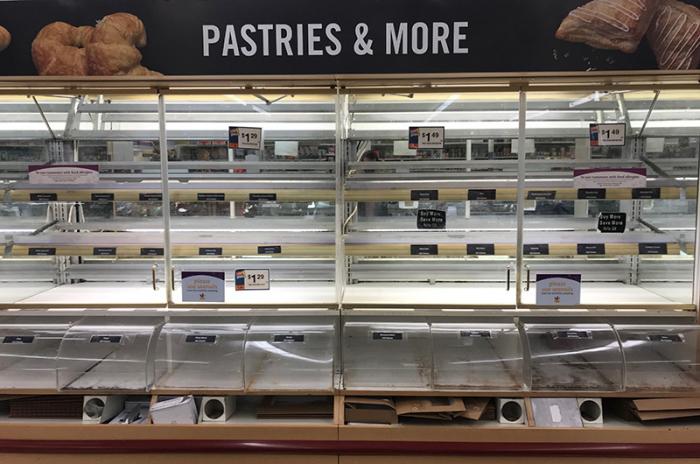 Ms. Brogan said managerial staff and a few corporate administrative personnel are currently working in the Edgartown store.
The grocery chain is owned by the Dutch holding company Ahold, which owns other supermarkets.
At issue in the contract talks are proposed increases to employee out-of-pocket health care contributions and the company's growing reliance on automation inside the stores, according to union representative Erikka Knuti. Mr. Sumner, a butcher at the Edgartown store, said the company wants to outsource meat-cutters.
"We're expensive and hard to find," he said. "They want to replace us with pre-prepared and pre-packaged meats."
Ms. Brogan said Stop & Shop is asking associates to make an increased health care contribution of $2 to $4 per week, depending on their coverage plan.
Standing outside the Edgartown store on Tuesday, Mr. Sumner said a few delivery vehicle drivers are in solidarity with the strikers and haven't crossed the picket line, including Cape Cod Express trucking service and those who drive with the Teamsters 25 union.
Ms. Brogan said in an email to the Gazette that the Edgartown Stop & Shop is getting deliveries.
Mr. Sumner also said that local businesses and customers have supported the picketers with hot chocolate, coffee, and food, including Sharky's, the Dock Street Diner, Dippin Donuts, Espresso Love, and others.
"I'm eating better now than I ever did," employee Dennis Logan said with a laugh.
The strike has earned the support of politicians around the region. State Rep. Dylan Fernandes and state Sen. Julian Cyr have voiced support for the strikers, while senators Ed Markey and Elizabeth Warren have joined picket lines.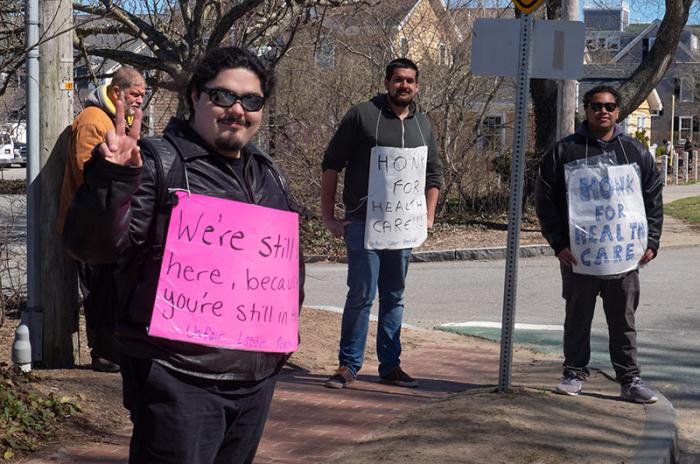 Although picketers on the Island said they've had a few angry customers, on Tuesday many driving by the Edgartown store honked in support.
"Some people are getting grumpy. We've gotten a few fingers," Mr. Sumner said. "And we're understanding, this is the only place WIC is accepted."
WIC is a Massachusetts state aid program that provides nutritional support, free of charge, to women and children who qualify based on income.
Picketer Michael Goslin is due to marry his fiancee, Alexandra, in four days. When he goes off-Island on Thursday for his wedding and honeymoon, he said he plans to picket in Brockton and Providence beforehand.
"This affects a lot more than just the vendors," Mr. Goslin said. "This affects life."
Ms. Brogan said both sides are back at the negotiating table and hope to reach an agreement soon.
"The only thing I can say right now is that bargaining is continuing and we are working to come to an agreement as quickly as possible," she said.