With five towns now calling for further review, the plan to create an Islandwide housing bank is officially on hold. West Tisbury voters decided Tuesday night to reconsider an earlier vote to approve the housing bank and join four other towns in a call for continued work on the issue.
"Without the support of the other towns, it does nothing to address the housing crisis," said Ted Jochsberger, a member of the town affordable housing committee who led the call to reconsider the original vote.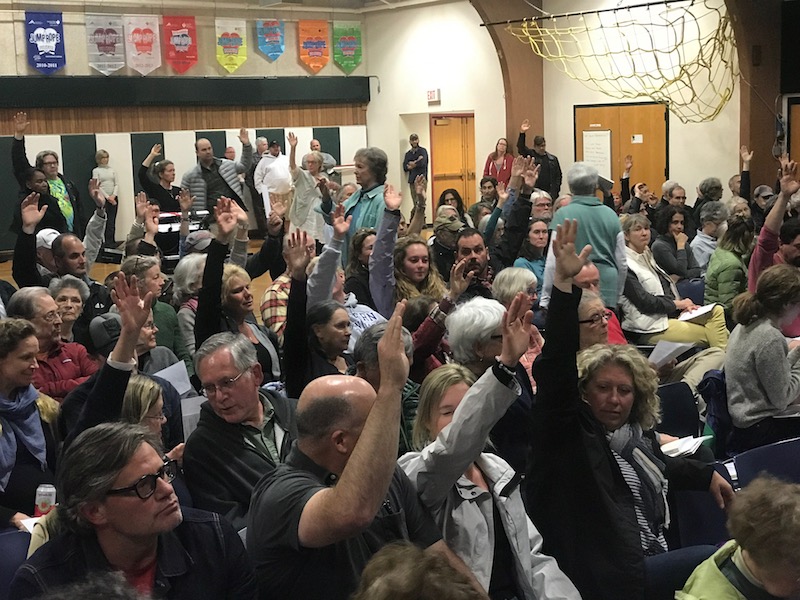 The decision in West Tisbury capped a third night of the annual town meeting that included debate on two key regional issues: the housing bank and a long-planned project plan to overhaul the regional high school athletic fields.
That project is now cleared to begin after voters narrowly approved the use of surplus funding to pay for an owner's project manager.
After about 40 minutes of discussion, West Tisbury voters joined their counterparts around the Island in postponing action on the housing bank proposal. The proposal to create a new government entity modeled after the land bank and funded by the new short-term rental tax has been fiercely debated in every town this year. West Tisbury originally approved the housing bank at their annual town meeting three weeks ago, but put off voting on a related article to create a funding mechanism until the meeting reconvened Tuesday.
With four other towns opting to take more time to study the housing bank proposal, selectmen urged voters to reconsider the matter for the sake of Island unity.
On the town meeting floor Tuesday, Mr. Jochsberger proposed referring the article to a study committee. He acknowledged the town's long track record in supporting affordable housing, including the enthusiastic approval of the housing bank.
"West Tisbury has been a leader in housing and I think we should continue to do so by going through with this," he said. He noted that as a strong supporter of the original proposal, it was not an easy motion to make.
Some voters said the original vote should stand.
"That article may not get to the statehouse or anything, but I feel like it's important that we made the statement and we should back up that statement that we're in support of the housing bank," said Larry Schubert.
Susan Silk agreed. "Here we are being told that instead of respecting the voice of the voters, a two-to-one majority of whom said they wanted to create a housing bank, you the selectmen want to form another committee to study the issue," she said.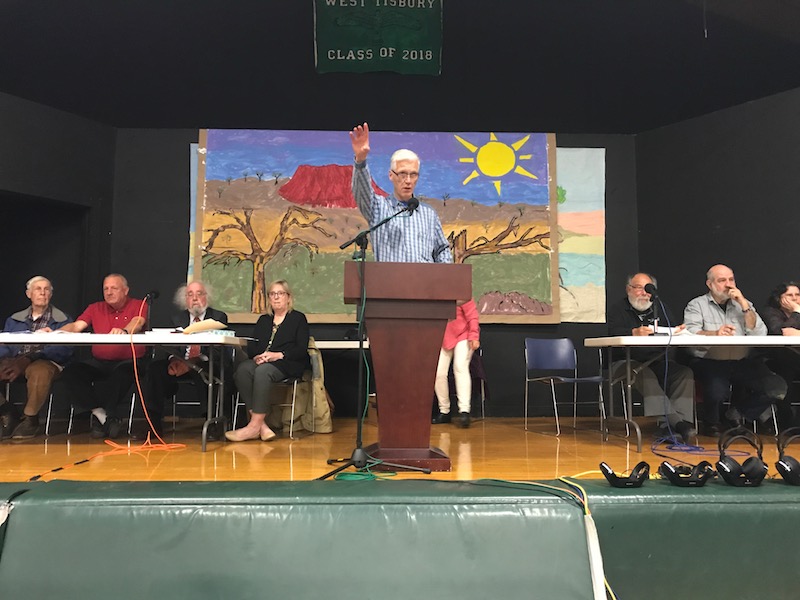 But others saw the move as a realistic vote for the ultimate success of the proposal. Doug Ruskin, an ardent housing bank proponent, said he was willing to send the proposal to committee on condition that there is a real commitment to moving forward.
"If I have some comfort this committee will really produce a result and will involve our state legislators, I will vote yes," he said.
Susanna Sturgis said more study would not diminish the first vote on the housing bank.
"I'm extremely proud of West Tisbury for having supported it and I think there's absolutely nothing that can take that away from our town," she said.
Voters agreed on a voice vote to refer the housing bank to a study committee. A second article that would establish a funding mechanism for the bank was indefinitely postponed.
Aquinnah is the last town left to vote on the housing bank at its annual town meeting May 14. Whatever the outcome in that town, the proposal is on pause.
In another pivotal regional issue Tuesday, voters agreed after brief debate to allow the use of surplus school money to begin work on the failed high school track. The issue has also been debated. Student athletes lined the entryway of the meeting encouraging voters to okay the plan, which includes a synthetic turf field surrounded by a new track.
The article sought permission to use $350,000 from high school excess and deficiency funds for design work on the first phase of a broader athletic fields overhaul project. The project has been vigorously opposed by a group that is promoting all-grass fields over the plan to use some artificial turf.
On Tuesday night high school leaders described a pressing need to overhaul the track. Longtime track and field coach Joe Schroeder said short-term repairs that were made a few years ago were only a quick fix,
"The surface is in its third year," he said. "This is a band-aid on a gusher."
Superintendent of schools Dr. Matthew D'Andrea framed it as a wellness issue.
"We at the high school work tremendously hard to make our students make good, healthy choices," he said. "One way to do that is to provide them with healthy alternatives, particularly in sports. This vote yes vote is in support of students and healthy choices."
Responding to a question about funding for the project, Mr. D'Andrea said the first phase is estimated to cost $6.7 million, most of which he intends to raise from donors.
"Our plan is to fundraise for this project. We have private donors that are ready to come forward and support this project. I feel confident that we can fundraise most of the money if not all," he told voters.
Some voiced concerns. Up-Island school committee member Kate DeVane said she opposes the order priorities when a major high school facilities overhaul is on the horizon.
"To me, this is akin to emptying out your 401k to put in a swimming pool when your roof has a hole in it," Ms. DeVane said.
Selectman and high school committee member Jeffrey (Skipper) Manter 3rd said E and D funds should be used for emergencies only.
"I do not like using E and D in this method. I would prefer the $350,000 be given back to the towns and then the school could ask the towns to re-appropriate their apportioned share," he said.
In the end, the use of the money was approved 108-100.
Chilmark voted against use of the funds for the project last week, and Aquinnah is slated to vote on the question at a special town meeting next week. But with Edgartown, Tisbury and Oak Bluffs already backing the use of the funds, West Tisbury's approval clears the way for the project to begin.
Voters also quickly approved a separate article seeking permission to put $316,000 in E and D money toward a $1.4 million feasibility study to eventually renovate or replace the high school building.
The meeting adjourned at 8:30 p.m.
Chuck Hodgkinson, a retiring member of the finance committee who sat on stage for part of the meeting, praised voters for a job well done.
"I just want to compliment everybody. We could teach our representatives in Washington how to govern," he said.