Abigail Chandler isn't just the new director of the Martha's Vineyard Regional High School Minnesingers. She's a former Minnesinger herself.
Ms. Chandler has also worked with the group for nine years as second in command to Janis Wightman, who retired as choir director following last year's 50th-anniversary concerts. She directed the band for this year's high school play As You Like It, which featured many Minnesingers in the cast and chorus, and she teaches voice to many of the singers.
"I moved back home and stumbled into a part-time job and loved it," Ms. Chandler said.
It's not the music career she had envisioned when she graduated from MVRHS years before, a Chappaquiddick teenager headed out into the world.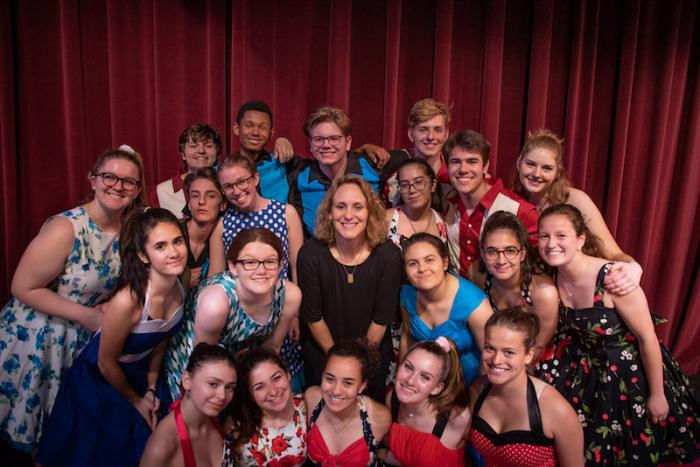 "I wanted to be an opera singer," she said.
But after earning bachelor's and master's degrees in vocal performance and music education, Ms. Chandler embarked on a singing career and "pretty quickly found out I didn't have the temperament for it.
"I spent six weeks in New York city and that was enough," she said. "I came home, met my husband, we have two kids and I'm working my dream job."
Making her public debut as Minnesingers director with this weekend's concerts at the high school Performing Arts Center, Ms. Chandler is introducing some changes to the traditional format. Instead of dividing the program into two halves — a serious choral concert with the singers wearing black and white followed by a colorfully costumed song and dance set — Ms. Chandler has designed a three-part, multi-costumed show that spotlights American music from the last 90 years and includes dancing from start to finish.
Titled An American Mosaic, the concert begins with songs from the 1930s, moving from smooth and elegant numbers like Night and Day to livelier dance and big band tunes.
The next set is all 1950s music. "The skirts get shorter, and it gets bouncier," said Ken Romero, who is choreographing the dances. Chelsea McCarthy is designing the concert's costumes, which include swing skirts with crinolines for these sections.
The final part of the show celebrates contemporary pop songwriters, such as Billy Joel, Dolly Parton (Light of a Clear Blue Morning, with senior Maddy Tully as soprano soloist), Justin Timberlake and the Academy Award-winning duo Pasek and Paul (This is Me, from The Greatest Showman).
In this section, the Minnesingers are "always moving, there's never a stop till the end of the show—it's so them," Mr. Romero said of the teenage singers.
There is one classical choral work in the show, composed by one of the singers. Senior Christian Schmidt, who played the singing Duke Senior in As You Like It, has written a four-part Ave Maria for the choir, Ms. Chandler said.
"He took an [Advanced Placement] music theory class and is pursuing an education in music composition," she said.
Mr. Schmidt is one of more than a dozen Minnesingers graduating next month—nearly half of the 30-member choir— along with fedora-wearing sound technicians Reinaldo Dos Santos and David Krauthamer.
"We're sad to see them go," Mr. Romero said.
"It's a really special group," Ms. Chandler said.
The Minnesingers present An American Mosaic at the Martha's Vineyard Regional High School Performing Arts Center this Saturday at 7 p.m. and Sunday at 2 p.m. Tickets are $12 for adults, $10 for students and seniors.