On May 14 the comedian Tim Conway died. Louise DuArt of Edgartown spent a decade performing with Tim Conway and Harvey Korman, both of the Carol Burnett Show.
Ask almost anyone and they will tell you that Tim Conway was one of the funniest people on the planet. Just one look at that cute, mischievous face and you'd know he was about to do or say something to make you laugh. I mean really laugh.
While co-starring with Tim on tour, I was able to study him for 100 performances a year for over a decade.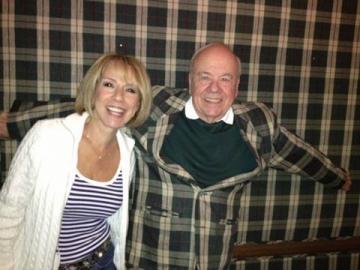 Tim could get a laugh by taking the simplest thing and giving it a ridiculous twist. For example, his most famous routine on the Carol Burnett Show was called The Dentist Sketch. An impatient man with a toothache shows up at the dentist's office and finds a dental student on duty. Played by Harvey Korman, the man groans as the student, Tim Conway, fails in applying the novocaine, repeatedly stabbing himself instead, causing legs and arms to fall limp.
Another example of Tim taking the simplest thing and turning it ridiculous was the time my husband SQuire and I showed up at his house. He greeted us wearing a bold green plaid jacket inviting us into a room that he'd wallpapered in the exact same plaid, just for the joke. When he leaned against the wall and nearly disappeared to the eye, he got the intended laugh.
Let me tell you how I met my hero.
As a kid my favorite program was the Carol Burnett Show starring Tim Conway and Harvey Korman. While other kids were out playing softball and riding bikes, I was up in my room doing pretend sketches with my idols. I dreamed of being able to perform with them. Of course the question did occur to me, how could I ever meet my heroes? I was taught by my strict Italian-Catholic mother that on matters of great importance, I should pray about it.
My mother had a weekly regimen, sending me to church with a quarter to light a candle for the souls in purgatory. I'd get there, light the candle, drop the coin in the box, bow my head and always utter the same prayer: "Please God I just want to meet Carol Burnett, Tim and Harvey."
Was anyone listening? I had no idea. I was just a kid.
Years later, I landed a role on a cable TV show in which I did an impression of Carol Burnett. I was in my glory. After all, I had plenty of practice.
But here was the Godwink. Someone who knew Carol sent her the videotape. The next day I got a call at my home. The person on the other end said, "Hi Louise, this is Carol Burnett. I saw you do an impression of me and thought it was a hoot and I would love to meet you."
That was the day that changed my life. I spent two hours with one of my idols and as I left the studio I looked up and said, "Thank you God, now if I could just meet Tim and Harvey."
A short while later I got another Godwink. Out of the blue Tim Conway called me. He said that he and Harvey were putting together a touring show based on some of the favorite sketches from the Carol Burnett Show. They'd seen a videotape of my comedic impressions and asked me to join them. That's how I got to travel and laugh myself silly with Tim and Harvey for over 10 years.
Every night before I went on stage I pinched myself, thinking how did God do that? Hearing and answering a child's prayer, years before in Massachusetts some 3,000 miles away from Los Angeles?
Tim Conway, one of America's most beloved comedy icons, is still in my prayers. He's still my hero and inspiration. I will miss my beautiful funny friend.
Louise DuArt lives in Edgartown with her husband SQuire Rushnell.