NANTUCKET --- After months of excavation and construction, the controversial third slip at the Steamship Authority's Woods Hole terminal goes into service for Memorial Day weekend.
"[General contractor] Cashman and all the subcontractors have really pulled together this last month and gotten all the pieces in place so that we can be operational for the weekend," said Bill Cloutier, the boat line's project manager for the terminal reconstruction.
"It's quite an effort, and they should be complimented on what they accomplished," Mr. Cloutier told SSA governors at their monthly meeting Tuesday morning in Nantucket.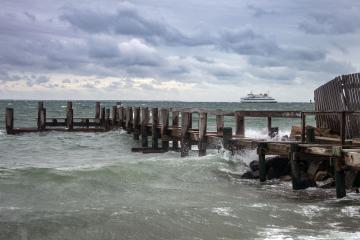 The boat line tested the third slip earlier this month, briefly bringing in the ferry Martha's Vineyard to try it on for size.
"The test shows everything fits according to what was designed," said Steamship Authority general manager Robert Davis.
Returning Vineyard travelers may be startled to see the new transfer bridge, which is three feet higher than those of the existing slips. The elevation change is "pretty dramatic when you get out there and look at it," Mr. Cloutier said.
The new third slip also brings a more significant change to the Woods Hole waterfront: the potential of a 50 per cent increase in vehicle traffic, which has raised hackles on both sides of Vineyard Sound.
The old slip 3 was used as an overnight and maintenance berth, under an agreement between the SSA and Woods Hole residents that limited active ferry operations within a certain distance of the village.
But when the time came to rebuild the terminal, the SSA decided to move the third slip a few yards to the south, placing it outside the distance spelled out in the prior agreement. With the pact now moot, the boat line is free to operate as many commercial runs from slip 3 as it does with slips 1 and 2.
Islanders worry that the extra slip will send more vehicles and more seasonal gridlock to the Vineyard, while Woods Hole villagers and people in Falmouth expect increased trucking and passenger auto traffic on already burdened roads.
Meanwhile, tension continues to escalate between the boat line and Woods Hole residents over the new shoreside ticket building.
Last week, the Woods Hole Community Association voted to end its participation in talks with the boat line about the building's design.
"It is clear to us that management is committed to a plan that will impose on our village an ungainly sprawling structure alien to our community character," wrote Catherine Bumpus in a letter dated May 16 that was made public Tuesday.
At the meeting Tuesday, Falmouth governor Kathryn Wilson elaborated further.
"Communications are quite strained between the authority and the town of Falmouth, particularly Woods Hole," she said. "It seems as if the parties all have different points of reference in terms of priorities, in terms of expectations," Ms. Wilson said. "I think we have to be mindful of these opinions . . . I know that at this point there are so many things in play that we can't really roll back the big aspects of the project, but I don't want to lose sight of the concerns that are being voiced."
Ms. Wilson said the Falmouth selectmen have called for a meeting with the SSA in open session to discuss the situation in Woods Hole.
"Things are strained in Falmouth right now, and I think everybody ought to know about that," she reiterated.
Mr. Davis said the boat line wants to take into account as many concerns about the building as possible, but "we recognized going into this that there would be conflicting outcomes for both sides."
The SSA is waiting for the results of a site survey by the Woods Hole Group, an environmental consulting firm that was expected to submit a report last Friday, he also said.
In other business Tuesday, governors voted to support federal legislation that would make Nantucket Sound a National Historic Landmark.
The designation has been proposed by the Alliance to Protect Nantucket Sound, a Cape-based environmental advocacy group.
"Portions of the Erie Canal have been so designated, and Nantucket Sound could also get that designation," Mr. Davis said.
"We were concerned whether this would fall under prohibited acts for us as a political activity, so we sought guidance from the state ethics commission and they confirmed there would be no conflict of interest for us in lending our support to this," Mr. Davis said.
"Does this protect the sound from windmills and oil rigs and all that kind of stuff?" asked New Bedford governor Moira Tierney.
"That's what they are attempting to do, in light of previous efforts to site a wind farm in the sound," Mr. Davis replied. "This would effectively preclude that from happening."
Three of the four governors present voted in favor of supporting the landmark designation. Ms. Tierney abstained and Robert Jones of Barnstable was absent.
The vote means the Steamship Authority will sign a letter to state congressional delegates from the nonprofit Alliance.
"The Hy-Line has signed onto it and the Passenger Vessel Association is waiting to hear our position on this," Mr. Davis said.