The Martha's Vineyard Public Charter School celebrated its 19th graduating class in a ceremony today held under a large and colorful tent on school grounds. Teachers, families and friends stood as the seven graduates processed. Many of the graduates were barefoot, and all wore laurel crowns.
The graduating class of 2019 consisted of Layla Buckley, Aiden Donovan, Julia Kane, Ryan Laslovich, Kyle Ribeiro, Tatianna Reyes-Major and Charlotte Rooney.
Charter School director Peter Steedman delivered the welcome address.
"On their last day of high school these students led a youth summit discussing the steps our kids can take to save the planet," he began. "I ask the older people in the audience, myself included, what did you do on your last day of high school?"
The crowd erupted in laughter and applause.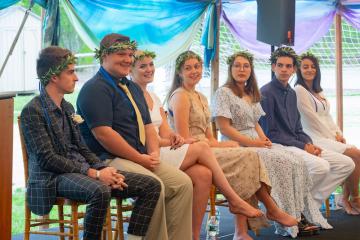 "Each of these graduates is selfless...and fearless," Mr. Steedman continued.
Following the welcome address, the ceremony was turned over to the younger grades. During the year, each senior is paired with a younger class as a mentor, and on graduation day receives a gift from that class.
The third and fourth grade combined classroom presented Layla Buckley with a scrapbook emblazoned with sea glass to remind her of the Island.
Fifth and sixth graders gave Charlotte Rooney a book of advice and a map of the T, so Charlotte will not get lost next year while attending Massachusetts College of Art and Design.
Lori DiGiacomo's kindergarten class presented Aiden Donovan with a Queen T-shirt. The children and teachers then put on Freddie Mercury-style mustaches and led the crowd in Aiden's favorite song: We Will Rock You.
Deborah Cutrer's class gave Ryan Laslovich a chef's hat, whisk and a knife bag. Ryan will study culinary arts at Johnson & Wales University next year. Ms. Cutrer, or D.C. as everyone calls her, began to cry as she spoke about Ryan.
"Since I have met him he has grown more than I thought was ever possible," she said.
Presentations of gifts to the graduates continued with scholarships.
The Martha's Vineyard Garden Club and the Trustees of Reservations gave Julia Kane two scholarships in honor of her commitment to environmental education and sustainability. Joan Silva presented the Trustees of Reservations's Foster Silva Scholarship in honor of her father Foster Silva.
The Permanent Endowment Fund awarded scholarships to Ryan Laslovich to support his pursuit of culinary arts, and Julia Kane for her environmental studies.
Charlotte Rooney received an award from the Martha's Vineyard Art Association, and MVYouth gave Julia Kane an iPad and $1,000 dollars in bookstore credit to support her studies at Bard College.
Layla Buckley earned a scholarship from the Holy Ghost Association of Martha's Vineyard.
To round out the scholarship presentations, Mr. Steedman awarded the entire group the Claudia Ewing Continuing Education Scholarship provided by Options in Education Inc.
Freshman through junior high school students transformed the seniors into superheroes, bestowing capes emblazoned with names like Green Girl and Fashion Devil.
English and portfolio teacher Sarah Smith gave each graduate an individualized award. Kyle Ribeiro won the Ben Franklin award and will study electrical engineering at New England Institute of Technology next year.
Tatianna Reyes-Major and Ryan Laslovich delivered the class speeches, thanking family, friends and their teachers.
Aiden Donovan presented the class gift, announcing that the seniors had planted a viburnum, a shadbush, three white azaleas and a lily of the valley tree on the school grounds.
Mr. Steedman and school board president Steve Nierenberg conferred the diplomas.
At the end of the ceremony Mr. Steedman urged the crowd to appreciate the moment.
"When I hand out these diplomas, I'm asking us to consider how many minutes, hours, days weeks months years went in to this simple act of giving this diploma. Graduates, you've earned it and we are so proud of you."