Two boats were destroyed in a fire at Lake Tashmoo Sunday morning at about 3:10 a.m., Tisbury fire chief John Schilling told the Gazette Monday. Both vessels, a 32-foot Pursuit and a 28-foot Cape Dory, were a total loss.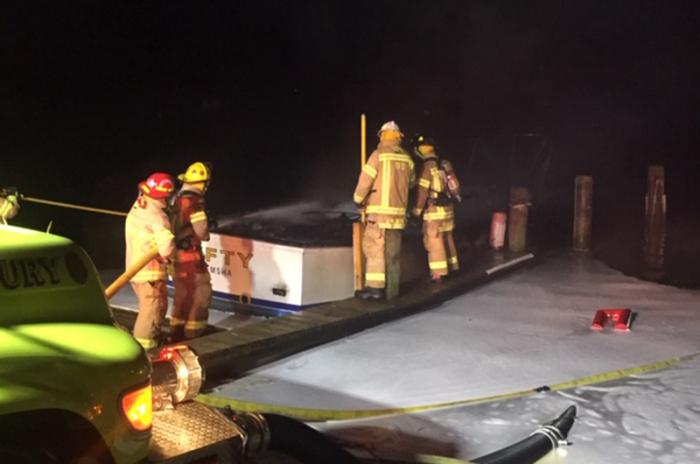 By the time the call came in, both boats were fully engulfed in flames, Chief Schilling said. Tisbury fire, police and EMS responded.
The chief said the boats were tied together at the south side of the pier at Tashmoo boatyard. First responders were able to release the other boats on the north side of the pier to prevent them from being damaged, Chief Schilling said.
He described a scene where firefighters brought the truck down the boat ramp and fought the fires from shore using lake water. Eventually though, the lines were burned and the boats began to drift out into the lake, he said. Firefighters waited for the wind to blow the boats back in, and subsequently secured them on shore before dousing the boats again.
Chief Schilling said the pier sustained minimal damage and there were no injuries or spills from the fires.
But he said the circumstances of the fires made them difficult to fight. Visibility was one major challenge with wind blowing smoke and debris toward shore.
"There were times we couldn't see our firefighters at the end of the dock," the fire chief said.
Getting the response vehicles to the scene was also challenging.
"We only had a little wider than width of truck access to scene," Mr. Schilling said.
The cause of the fire is under investigation, the chief said.