As early evening sunlight streamed through the windows of the Katharine Cornell Theatre, three Island writers discussed what it meant to devote their lives to the private act of writing and the public act of sharing.
On Wednesday evening poet Rose Styron, scholar Philip Weinstein, and writer Alexander Weinstein (no relation to Philip) gathered for an event titled, The Writing Life: Public and Private.
The event was sponsored by the Martha's Vineyard Institute of Creative Writing, now in its 10th year. Alexander Weinstein, director of the writing institute, moderated the event, and provided the vases of daisies that framed the stage.
"My mother picked these today at our home in Aquinnah," he said.
Rose Styron said the nature of West Chop inspires her.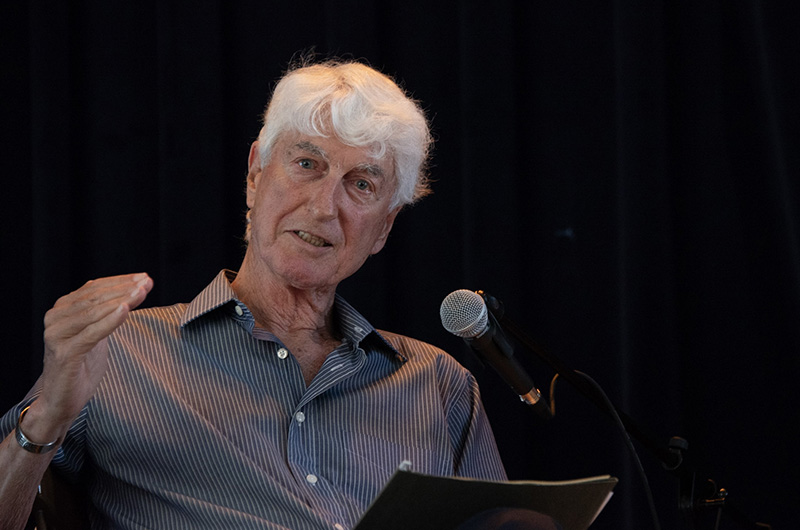 "Poetry is what I'm about. That's my private life, that and my family, and nature. There is always poetry bubbling up, living on the Vineyard in the most gorgeous nature imaginable. That has sustained me. After my husband died, I just stayed here at the house, enjoyed nature and wrote poetry."
When asked by an audience member why they had chosen to spend their lives with words, Ms. Styron replied: "Because it's easier than being on stage trying to talk."
The crowd laughed, and Philip Weinstein, professor emeritus of Swarthmore College, jumped in.
"I don't think I can beat Rose on that one, but I write because that's how I most make sense of myself," he said. "I need something other than to perform. So much of social activity is, I think, a form of self performance."
The idea for the evening's public conversation developed from a private social activity. At a New Year's Day celebration hosted by Philip Weinstein, Ms. Styron told a story filled with public figures, political and literary, including Gabriel Garcia Marquez, Castro, the Clintons and James Baldwin. The story sparked a conversation that Alexander Weinstein felt would benefit the greater community of Vineyard writers.
On stage, Philip Weinstein steered the conversation to an important member of the Island's literary legacy, Bill Styron.
"When literature and politics meet, the literary figure is not in control of the situation. Which I'd like to segue on, by going to Bill Styron's Confessions of Nat Turner. That came out in 1967. He took remarkable chance, as a white southerner speaking the voice of insurrectionary, maybe crazy, maybe genius, Nat Turner in 1831. And he wrote that book in the first person. There was a great backlash from accomplished black critics."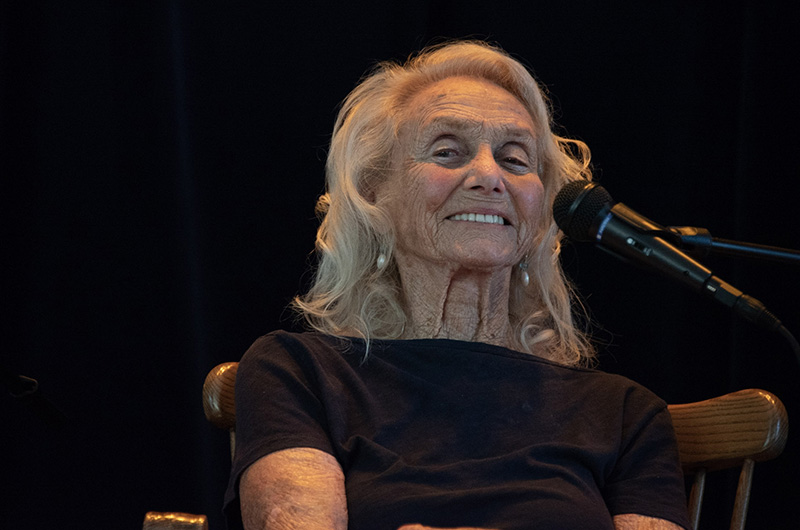 For Ms. Styron, the backlash to her husband's book was unexpected. "Jimmy Baldwin was living with us at the time, who encouraged Bill to write Nat Turner in the first person," she told the audience. "I don't think either of them guessed what the consequences would be. Bill was crushed. He kept saying, this isn't history. It's a meditation on history. It's a novel."
Philip Weinstein made the connection to today's literary landscape. "I want to hear a contemporary writer speak about crossing lines that you're not meant to cross. For Faulkner, for Bill, that was the race line. Alex?"
Alexander Weinstein writes speculative fiction about a near future world dominated by technology. "Today there's no way that I would write from a black or non-white perspective," he said. "This is pretty ingrained from the MFA programs, the current culture is that you simply do not write across gender lines, color lines or sexual orientation lines...The philosophy is that it is a form of colonization, to take over, to take a microphone away from communities."
But sometimes the work itself changes the nature of the story and the course of the creative decisions, he said. "My characters would talk back to me. They'd say, hey, I'm a woman, or, hey, I'm a man and my partner's name is Mark not Susan. My job was to use a pen and follow the outlines of their stories."
"That idea has an uncanny echo of Faulkner," Philip Weinstein said. "When his work was good, he said he listened to the voices and wrote them down."
As the conversation continued, and audience members asked questions of the panel, someone asked: "How do I know if my work is any good?"
Alexander Weinstein said he urges writers to turn to the Island for answers. "Part of the Martha's Vineyard Creative Writing Institute's philosophy is being able to address this question. So many people show up and they think, am I allowed to write? Am I any good? That's really the fear. We all have it...This is where finding readers and sharing, and hearing, and being careful with who you share it with is important."
After the event, Alexander Weinstein spoke with a group of audience members waiting for their books to be signed. As the crowd thinned, he looked to the future.
"We're planning for 2020 now, and year-round programming, that sort of deep engagement. That's where the real work is done."