For 45 years Island Theatre Workshop has performed a summer family classic theatre production. This year is no different. Once Upon a Mattress will premiere at the Performing Arts Center on Friday July 19, at 7:30 p.m. Performances continue until July 27.
The show's artistic director, Kevin Ryan, has worked with Island Theatre Workshop (ITW) for 28 years. For Mr. Ryan, the summer show is made for family audiences in mind.
"Much of modern theatre is very dark," he said. "And the retreads, when they do these revivals on Broadway they frequently darken them, and make them more edgy... I don't understand why we can't have happily ever after, with our little kids and our families."
While full of happy endings, Once Upon a Mattress still leaves room for narrative surprises.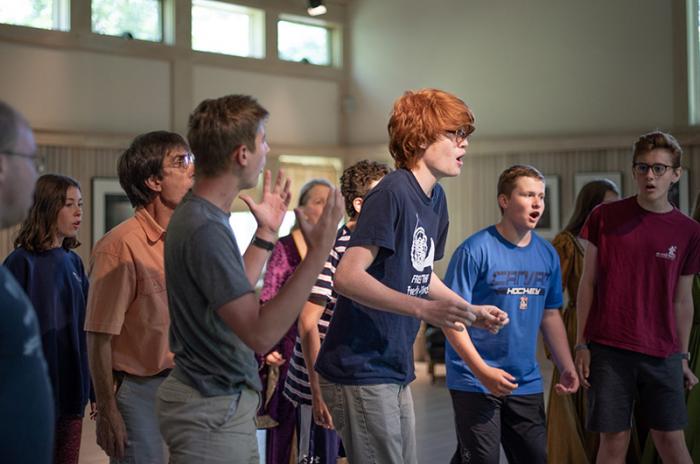 "With casting, we have some unusual things happening," Mr. Ryan said. "I don't want to give twists away, but I thought, why not? Why stick to the cookie cutter? This is a very unusual cast, and one I think the audience is just going to eat up with a spoon."
He estimates that of the 31-person cast, about 75 per cent are year-round Islanders. While originally the script did not have specific roles for children, roles were created for them. Having room for the large cast to rehearse was an integral part of the production process. Last Saturday, the cast met at Sally Cohn's dance studio in Edgartown.
"This is a state of the art studio," Mr. Ryan said at the rehearsal. "Lights, sound, air conditioning, you name it."
"Sally is amazing," he added. "She says, 'whatever I have is yours. We are a part of the ITW family and you are a part of the Cohn family. Take the space and respect it.'"
After rehearsal, Mr. Ryan and the group meticulously cleaned the space, sweeping, taking out the trash and turning off the lights.
Due to the range of ages taking part in each year's production the cast can often resemble a family.
"These are sisters, brothers, moms, grandmas. George is a grandson," said Mr. Ryan.
George is George Luton, the show's musical director who started with ITW as a young boy. Mr. Luton grew up in Tokyo, spending summers on the Vineyard with his grandparents, and working on ITW's annual show. At Vassar College he wrote an original musical about an expedition to the arctic circle and served as the drama department's music specialist. After graduating from Vassar in May, Mr. Luton received an offer to become ITW's musical director. He accepted.
Once Upon a Mattress, composed by Molly Rodgers, represented an exciting and musically challenging return home for him.
"This is an old score from 1959," he said. "I've been trying to update some of the orchestrations, especially with the reduced orchestra we're going to have. You can tell she was the daughter of Richard Rodgers, because there's some crazy stuff in here. Modulatory complex harmonies."
During the rehearsal on Saturday, some of the younger cast members took breaks from the complex harmonies by playing in the yard outside the studio, complete with rocking chairs and swings. Sofia Fisher, a fourth grader at the Oak Bluffs School, plays the part of a village child. This is her second production on ITW's mainstage.
"I like this show better than last year," she said. "The main lady is weird in this one, and I like people who are weird."
Island Theatre Workshop's production of Once Upon a Mattress opens on Friday, July 19 and continues through July 27. There are no shows on July 23 and 24. All shows begin at 7:30 p.m. with an additional matinee performance on Sunday, July 21 at 3 pm. For tickets visit ticketsmv.com.