Steamship Authority governors came to Martha's Vineyard Wednesday for a day at the Tisbury EMS building. The regular monthly meeting of the boat line board of governors took place in the morning, followed by an afternoon workshop with communications director Sean Driscoll on how to rewrite the SSA's mission statement.
At the morning meeting, the board chose a vendor to develop a quality management and a safety management system for the boat line, voting to enter into a $585,526 contract with Safety Management Systems LLC of Portland, Me.
"Their entire specialty is implementing these systems, literally from ground zero, and not only that but on ferryboat systems," said Angela Sampson, the Steamship Authority's health, safety, quality and environmental manager, who headed the team evaluating four bids that came in response to the SSA's request for proposals issued in January.
Safety Management Systems bid the job at more than double the next-highest financial proposal. But Ms. Sampson said the Maine-based firm has much more experience and understanding of ferry management systems than the three other bidders.
"That is their specialty, and for that reason, unanimously they were our first-choice vendor," she told the board.
Two divisions of the marine engineering firm Martin, Ottoway, which has offices in New Jersey, New Orleans and the Netherlands, submitted bids of $248,650 and $231,000, while Marine Safety Consultants Inc., a Fairhaven firm specializing in marine surveying, proposed doing the work for $169,980.
Developing systems for quality and safety management, both of which will be required to meet the International Maritime Organization's International Safety Code, were among the top recommendations in a comprehensive review of boat line operations conducted late last year by Seattle-based HMS Consulting and Glosten.
The boat line has retained HMS to assist in putting the recommendations into practice, with the understanding it would not bid on the management systems job.
Instead, SSA general manager Robert Davis told the board, HMS staff took part in reviewing the bids with Ms. Sampson's team.
Mr. Davis said the work is expected to take 12 to 18 months. "This is going to take some time," he said.
The cost of maintaining the systems is expected to be $50,000 to $75,000 a year, Mr. Davis added.
Other HMS recommendations are also being followed up by SSA teams, he told the board.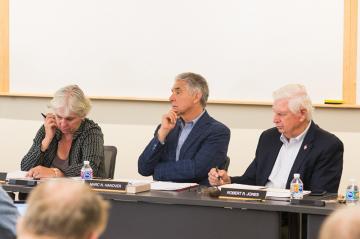 Human resources director Janice Kennefick is already using new marine learning system materials to train employees, while communications director Sean Driscoll is gathering public comments on rewriting the boat line's mission statement. And Ms. Kennefick and director of marine operations Mark Amundsen are interviewing prospective employees to bolster the SSA's engineering resources.
"We're moving along in all areas of the recommendations that HMS has provided us," Mr. Davis said.
In other business Wednesday, governors took a first look at the proposed operating schedule for the summer, fall and winter of 2020. It will look very similar to this year's schedule, Mr. Davis said.
The new schedule for the Vineyard route proposes no changes to sailing times, number of boats running or crewing levels of the boats, he also said.
The proposed schedule will be advertised in local papers and online to solicit public comment before returning to the board for action in September.
During public comments, governors heard a complaint from Peter Stam of Vineyard Haven that the steam whistle aboard the Island Home is too loud.
"When they're in the fog, they use the electronic horn, which is half as loud," said Mr. Stam, who asked that the electronic horn also be used before 9 a.m. and after 6 p.m. instead of the vintage steam whistle.
"It frightens my granddaughter when she's here, because it's so loud," he said. "I live 800 feet away."
Board chairman Robert Jones responded: "Noted, we'll look at it."
Environmental activists Noli Taylor of Aquinnah and Emily Gazzaniga of Edgartown also addressed the board about moving to electric ferries in the future.
"The question of electrifying the fleet of ferries has come up recently in discussion among concerned citizens," said Ms. Gazzaniga, a senior at the Martha's Vineyard Regional High School who said she had researched the boat line's website before attending Wednesday's meeting.
"The Steamship Authority uses over three million gallons of fuel per year," she said. "What is the SSA doing to move toward electrifying the ferry fleet to reduce carbon emissions?"
"Really, nothing at this point," responded Mr. Jones. "It's very costly — extremely costly — but that's where the industry is heading and when we get a new boat, it's obviously something we will look at," he added.
"Is there anything that concerned Island residents, members of the community, students can do to speed up the process?" Ms. Gazzaniga asked.
"As an activist, keep doing what you're doing," Mr. Jones replied.
Ms. Taylor requested the board consider commissioning a feasibility study on converting the ferries and shifting to all-electric boats in the future, as well as considering a long-term sustainability plan.
"There are so many of us in the community who would like to support your efforts," she said.
Carbon emissions, climate change and electric engines came up again at the afternoon workshop, held to gather comment from Islanders on how to rewrite the boat line's mission statement.
"It's a huge issue," said Ben Robinson of Tisbury, a member of the Martha's Vineyard Commission who urged the SSA to commit to alternative fuels as soon as possible.
"The mission statement, whether it's a five-year mission statement or a 10-year mission statement, absolutely has to reflect that piece of the puzzle," Mr. Robinson said.
But while Mr. Driscoll and SSA treasurer/comptroller sought to elicit specific wording suggestions from the small group, of whom nearly half were either Martha's Vineyard commissioners or MVC employees, the discussion persistently veered toward larger, more complex topics.
The fate of an agreement to cap the number of cars carried to the Island at 1995 levels, and the impossibility of reducing traffic without reducing development and consumption were among the issues aired during the workshop, which was scheduled for two hours but crumbled into smaller discussion groups after 90 minutes or so.
The next public session on the mission statement is Tuesday from 2 p.m. to 4 p.m. at the SSA administration building on Palmer Avenue in Falmouth. The governors hold their next regular meeting August 20 in Hyannis.