Mark Alan Lovewell is the real thing: a chanteyman who knows the sea he sings about, and the people who sail and fish it.
A longtime writer and photographer for the Vineyard Gazette, Mr. Lovewell has traveled by sea as a journalist, a crew member and passenger. He's voyaged east to the Georges Bank fishing grounds and west to the Pacific via the Panama Canal.
As a maritime singer, songwriter and poet, Mr. Lovewell has appeared at seaports on the American coasts and in Hawaii. He's been a repeat performer at the annual FisherPoets Gathering in Astoria, Ore., which draws hundreds of people to hear songs and stories from the fishing industry.
Mr. Lovewell's new CD, With the Fishes, pays tribute to fishermen, their boats, their prey and the communities — social and economic — that support them.
A generous 18 tracks in length, With the Fishes reveals Mr. Lovewell's deep affection and empathy for the working fisherman in song after song, along with three stories and a poem. The playlist mixes traditional sea chanties and whaling songs with contemporary originals by Mr. Lovewell and others.
The leadoff track, Fishing Boat Sarah, is a cheerful song by Mr. Lovewell that captures the optimistic feeling of a family crew heading out to the fishing ground and returning later with a full hold, to the chorus "Riding on the ocean/Turning with the tide/Hauling in that net/Our friends by our side."
After that bright beginning, though, the rougher side of life at sea begins to reveal itself in Mr. Lovewell's rendition of Shoals of Herring, by Ewan MacColl and Peggy Seeger, "There was little kindness and the kicks were many."
Jack's Catboat, an adaptation of the chantey Get Up Jack, John Sit Down, wryly traces the misadventures of a sailor ashore.
Three tracks — Bad Weather, a Story; Roann, a Poem and the traditional disaster song Three Score and Ten — form a mini-suite on the perils of storms at sea. In days gone by, "fishermen had a far more treacherous life than we know now," Mr. Lovewell says in his story. "It's still risky, though a lot safer."
Two of the new CD's most compelling tracks address a more contemporary threat to fishermen: the loss of their livelihood to dwindling catches. Scottish songwriter Archie Fisher's heartbreaker The Final Trawl is an elegy for the herring fisheries that once sustained a fleet, its chorus "Haul away, my laddie O" a wistful lament.
The Final Trawl was written in the 1970s and Mr. Lovewell has found its 1990s counterpart in Shelley Posen's No More Fish, No Fishermen, which was inspired by the closing of the Canadian Atlantic cod fishery after cod stocks collapsed in the late 20th century.
Mr. Posen's 1996 song piercingly evokes the misery that followed the closing in traditional fishing communities like Newfoundland, with contemporary lyrics set to a Victorian carol from 1871: "Men who walked a trawler's decks/now line up for welfare checks. . . See it on the news at 10/No more fish, no fishermen."
But there's plenty to smile at in Mr. Lovewell's songbag, as well. In Edgartown Whaling Song — a previously undiscovered, century-and-a-half-old chantey he ran across at the Nantucket Athenaeum while killing time before a gig — young whalemen want the girls of town to know that sailors are better than "the lazy landlubbers who stay at home with you. . . We haven't any barnyard smell about our dungarees." (Never mind that whiff of cooked whale blubber.)
Another traditional chantey, Song of the Fishes, introduces a half-dozen finny characters, from the mackerel to the regal swordfish, each with his shipboard job.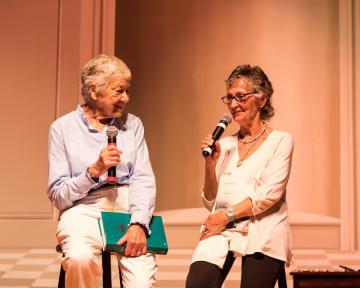 A deft, but never showy, instrumentalist, Mr. Lovewell switches easily between acoustic guitar, five-string banjo and concertina, adding harmonica to his string playing on several tunes.
These simple instrumentations form the ideal setting for Mr. Lovewell's voice, a gleaming tenor he can throw clear to the rafters, or the cross-trees of a ship, in a chantey, and drop low and intimate for a quiet ballad like Shenandoah.
Mr. Lovewell heralded the release of his new CD with a concert August 7 at the Old Whaling Church, bringing a crew of special guests to open the show: historian Matthew Stackpole, authors Cynthia Riggs and Janet Messineo and musicians Tristan Israel, Nancy Jephcote, Paul Thurlow and Sara Piazza.
"There's family in this room," Mr. Lovewell told the audience.
"You folks help define this Island. I could not perform what I do without you, and I don't think this Island would be a place for me if you weren't here."
With the Fishes is available as a CD or online. For more information, visit markalanlovewell.com.