Just a few days remain to see the current group show at Featherstone Center for the Arts in Oak Bluffs. Conversations in Art will close August 18, ending one of the most thought-provoking exhibitions the community art center has presented this year.
Many months in the making, the show began by pairing six Island artists in teams of two. Each of the three duos then decided on a theme to explore through what Featherstone executive director Ann Smith called a "visual dialog."
The result — encompassing photography, poetry, abstract and landscape painting and a conceptual restaurant — is more like three shows than one, and each has a distinctly different feeling and message.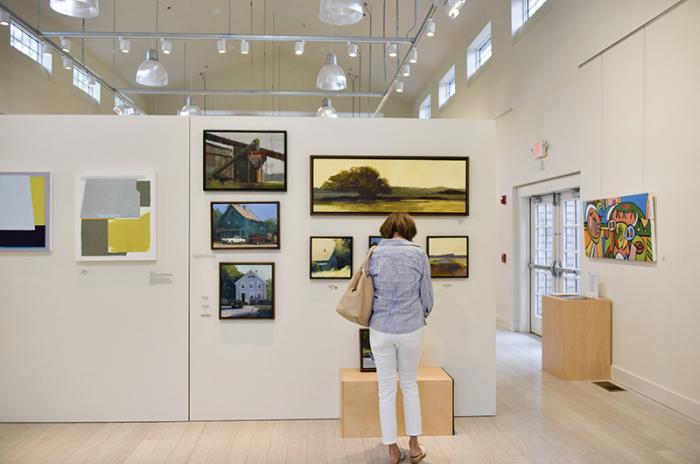 Lovers of Island landscape painting will be drawn to the paired works of Leslie Baker and Anne Besse-Shepherd. Titled Two Artists/Two Views, their collaboration included painting together outdoors and visiting each other's studios in the off-season. In brief panel texts accompanying their works, the artists comment on how the interaction influenced their paintings.
"We both begin using different formats for our works and respond to the unexpected color choices each other was employing. Through the winter, we both began to push color," Ms. Besse-Shepherd writes.
Both painters also share a fascination with natural light. Ms. Besse-Shepherd's houses and farms gleam with sunshine and Ms. Baker's seaside abstracts ripple with reflected or filtered radiance.
While Two Artists/Two Views is almost pure pleasure, photographers Justen Ahren and Mila Lowe challenge their viewer's assumptions about how migrant people are received in new lands.
There are no people depicted in Mr. Ahren's black-and-white views that trace the grueling journey of Syrian refugees who fled to the Greek island of Lesbos, where many thousands remain in camps years later. A graveyard of discarded life vests, impounded boats in a junkyard and tattered clothing hanging from a tree near a landing site all silently testify to the enormity of suffering among countless displaced people.
Along with his photographs, Mr. Ahren's poems on the gallery wall give voices to the refugees themselves, whom he declined to photograph for their protection.
Ms. Lowe's full-color portraits of young people from other nations who have come to Martha's Vineyard offer a startling comparison to Mr. Ahren's study of loss and devastation. Wearing traditional clothing from their home countries, the young women and men — from Thailand, Turkmenistan, Cameroon, Romania and half a dozen other lands — also spoke with Ms. Lowe about their experiences here. Their words, accompanying their portraits, describe what it's like to be transplanted here, and their views give Islanders some new perspectives on the place we call home.
"Everybody is trying to build a strong community," said Slavic, from Moldova. "That is what I saw back home, where I grew up, and that is what I see here."
Lora, from Bulgaria, said she is glad she grew up here "because everybody is so welcoming. They accept everybody and I don't know if it's like that with other places, but I just find this place magical."
"Living on Martha's Vineyard has been very great and very exciting," said Yolani, a Marshall Islander photographed with a lei and ukulele at the Gay Head Light. "It's way bigger — even Chappy is bigger than our island."
The third collaboration paired two Island chefs who are also artists: Michael Rottman and Gavin Smith.
Mr. Rottman, who cooks at the Outermost Inn in Aquinnah, is an abstract expressionist painter who draws inspiration from 20th-century masters Picasso, Miró and Basquiat for his exuberant, dynamic acrylics.
Mr. Smith studied music, art and philosophy in college before returning to his early love of food, working as private chef who occasionally cooks pop-up dinners at local restaurants. For this show he and Mr. Rottman created a pop-up eatery of their own. Named Chez Nous — after a home pop-up Mr. Smith and his sister created as children for their parents — the "restaurant" has a real reception podium, menu, after-dinner mints and toothpicks.
The dishes themselves exist only in high-resolution photographs, placed flat on stands at tabletop height. But Mr. Smith has added an installation of real bread, one crusty boule made with flour, water, salt and yeast, and one pre-sliced machine-made loaf with an ingredient list that includes chlorine and high-fructose corn syrup.
"In modern society we struggle with health vs. convenience," he writes. "Though these two items are the same in that they are both bread, the process by which they are each made and the ingredients used are dramatically different. Slow food is something that many people appreciate, but few people practice."
Conversations in Art is on display at Featherstone Center for the Arts through August 18.