No soccer tournament is complete without a trophy — preferably a homemade prize fashioned from a gold painted, recycled soccer cleat and ball. A jar of Vineyard purple jelly beans glued to the bottom didn't hurt either.
At the West Tisbury School fields on Sunday morning 12 teams were in hot pursuit of the homemade trophy created by the father and son team of Sam and Henry Hall, and the title of Summer Cup champions at the first Field Fund soccer tournament.
The event was organized by Rebekah Thomson, Dardenella Slavin and Mollie Doyle, who founded the Field Fund in 2017 to continue and maintain grass fields at Island schools. On Sunday, everyone's mission was to enjoy some soccer and come together as a community.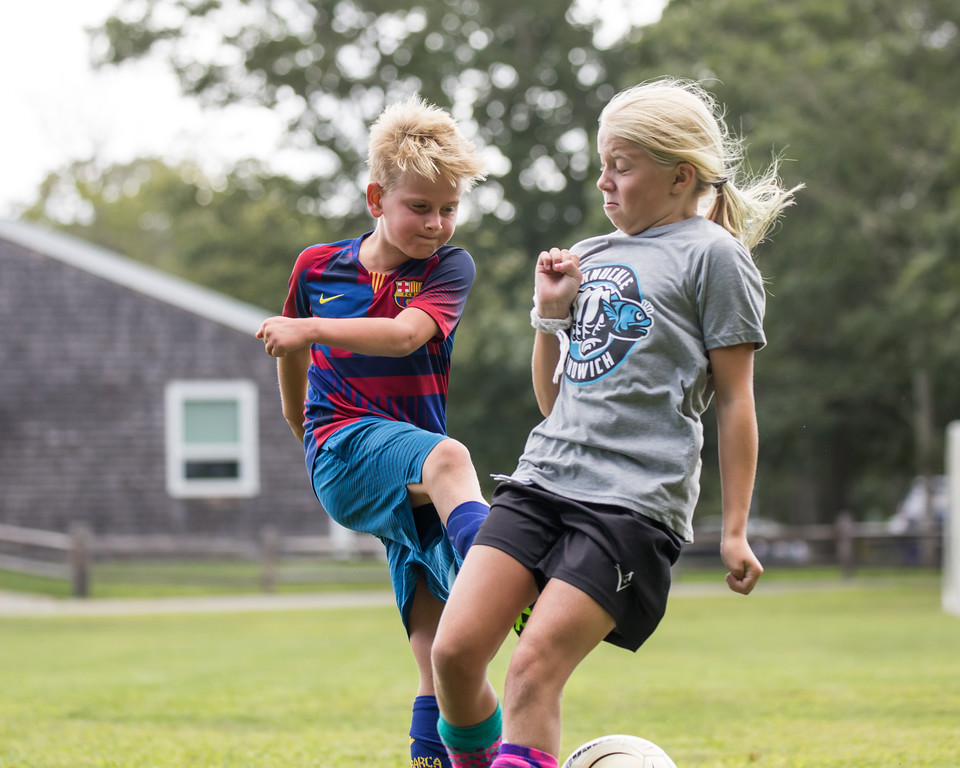 "This is our first year doing a tournament, but it's going so well we're already hoping to make this an annual thing. It's all about having fun," said Ms. Thomson. "We had a bunch of people show up today and everyone who wanted to play on a team."
Twelve teams took the field for the seven on seven round-robin style tournament. The squads were intergenerational, as each team was required to have two players over 40 and two players under 10 years old on their rosters. Five year old Liam Merry was the youngest goal scorer of the day.
The Beach Bums faced off against FC MV for the championship, while Wellington's Crew and the Purple People Eaters made it to the semi finals.
"Does the winner gets to eat the jelly beans?" asked tournament participant and West Tisbury seventh grader Quinlan Slavin.
The Beach Bums won the trophy and shared their spoils. The crowd enjoyed purple jelly beans along with watermelon from Morning Glory Farm and bananas donated by Stop & Shop.
"It was really a community effort to make this happen, everyone helped out," said Ms. Thomson. "We even have a port-o-potty donated by the Araujo brothers."
The event was sponsored by Martha's Vineyard Bank. Breakfast sandwiches and coffee were available for purchase from the Food Truck operated by Josh and Angela Aronie.
Each community organization helped out in their own way, while each team brought their own flavor to the field. The Crab Cakes made pincer motions after every goal. The Purple People Eaters wore purple tutus.
Clarissa Pinto of Wellington's Crew shared her team's secret. "That's my cousin, that's my brother, that's my uncle. Everyone on this team is related. We are all family," she said.
Clarissa is 13 years old and a student at the Edgartown School. Soccer was a last minute weekend plan for her. "My aunt Christanne called last night and we all came," she said.
Clarissa's five-year-old cousin, Salmao Marcal, was her teammate for the day. He wrapped himself around the legs of another teammate, his mother Elizangela Marcal.
"Salmao loves soccer. He's in the mini kickers program" said Ms. Marcal.
While enjoying a piece of watermelon between games, head referee Richard Bennett looked out over the fields. Mr. Bennett is director of recreation and director of referees for Friends of Vineyard Soccer. On Sunday he volunteered as the Summer Cup's head referee.
"I was injured for awhile, so my knee hurts a bit and I haven't refereed in a long while. This is my first day back. But wow, what fun this is. Feels good to be back and to be here."