The end of summer marked the first day of school for many West Tisbury kids and the last day of work for one of their favorite adults. Children's librarian Nelia Decker retired on Tuesday after 26 years with the West Tisbury Library.
Ms. Decker moved to the Vineyard in her early 20s to run Book Den East in Oak Bluffs. Soon after, she fell in love with the libraries on the Island and began volunteering. She started at the West Tisbury Library in 1993 and over the years has been a volunteer, a trustee, a friend of the library, a young adult librarian and the children's librarian.
Ms. Decker was also one of the original founders the Martha's Vineyard Public Charter School and received her master's degree in early childhood education. Serving her community has made all the difference, she said at Tuesday's celebration. "I can say that this, the library, all of you, has been the most rewarding aspect of my adult life."
The daylong party in Ms. Decker's honor began at 10 a.m. with thank you card and bookmaking activities, and ended at 5 p.m. with refreshments. A cake featured the cover of A Wrinkle in Time, Ms. Decker's favorite book.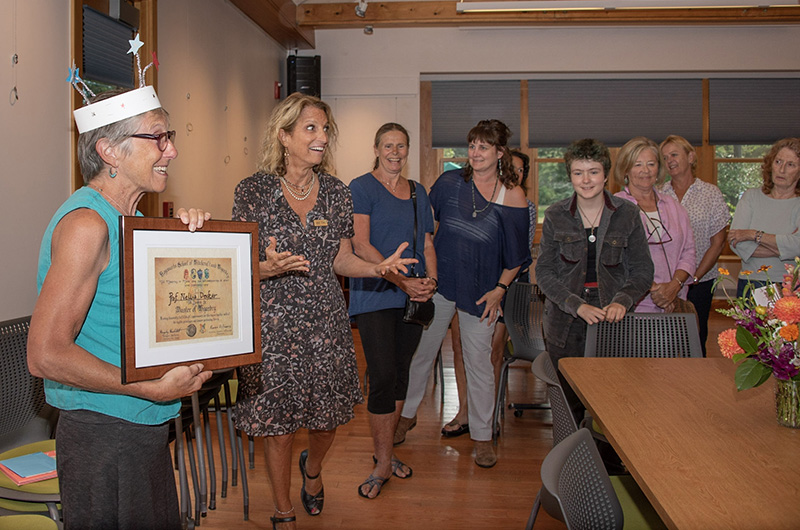 "Would you look at that. Wow. I think I'm going to cry," Ms. Decker said.
"I'm reading Charlotte's Web to my mother right now," she added. "The power of literature to move people never ceases to amaze me. Even if you don't expect it. But you get to the end of the book and it can just leave you breathless. I love that feeling."
While children and their families wandered in to show their appreciation for Ms. Decker, library director Beth Kramer helped organize the space. Unable to stop working even on her last day, Ms. Decker put out plates and utensils alongside Ms. Kramer.
"It's been amazing working together," said Ms. Decker. "We're a really good team. We've had so much fun."
"Today has been a really hard day," Ms. Kramer said. "But tomorrow will be even more difficult because you won't be here."
The job of leading storytimes and recommending chapter books now belongs to Alexandra Pratt, who began working in the Vineyard library systen in 2017 and received a master's degree in library science from Syracuse.
"Alexandra is so fantastic," Ms. Decker said. "I hope I taught her some things. It's a different world. It all had to be in my head, because I didn't have the internet. But Alexandra knows how to find and use resources."
The passing of the torch was emotional but not final, Ms. Decker said. "They can always call me. I'll be around."