In just two years, Ladyfest has gone from Oak Bluffs debutante to belle of the ball. Founded by Martha's Vineyard musician Rose Guerin and Kelly Feirtag, manager of the Ritz, the female-centered live music festival began as a showcase that overflowed the bar in 2017 and took over Circuit avenue in 2018.
Saturday night, the town of Oak Bluffs again closed the avenue from 5 p.m. to midnight for the third Ladyfest, which brought out hundreds of music-loving revelers to hear women performing as soloists, collaborators and bandleaders throughout the night.
Singer-songwriter Lucy Mayhew opened the event, singing and playing electric guitar under a festival tent in front of Post Office Square. This was Ms. Mayhew's second year at Ladyfest, which helped launch her career when she appeared in 2018 in one of her first-ever public performances.
Of more than a dozen other acts performing Saturday, audience favorites included a super-trio of Island singer-songwriters Kate Taylor, Jemima James and Ms. Guerin, the popular folk-roots group Missis Biskis and rockers Auntie Em & the Bedspins.
The ever-soulful and funky Sabrina and the Groovers closed the outdoor performances with a high-energy set that kept the crowd dancing to songs like Take Me To The River.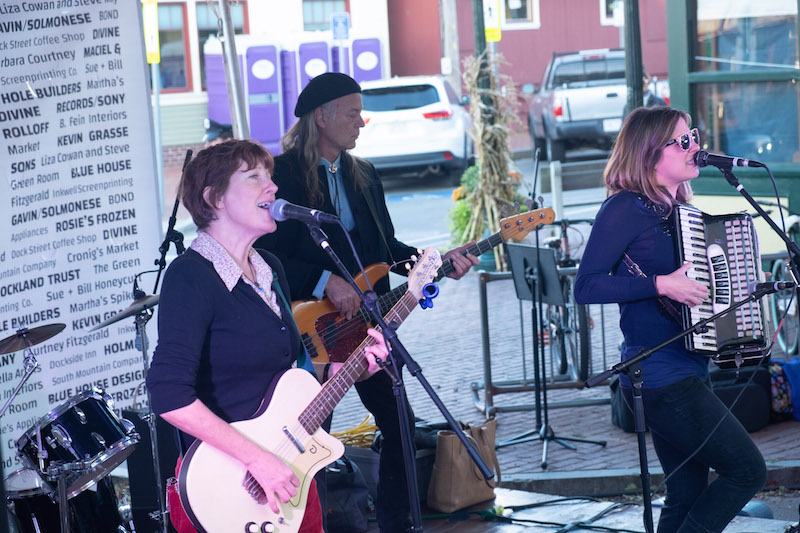 With cars banished, festival vendors sold crafts, cosmetics and other goods from tents and some Circuit avenue merchants moved part of their business into the street as well.
Both Sharky's and the Ritz set up fenced-in areas for eating and drinking, with the Ritz's beer garden by the main stage featuring an outdoor bar for hard seltzer, cider, beer and ale. The crowd inside the fence was standing-room-only by the time Sabrina and the Groovers took the stage. The evening ended with female DJs spinning music inside the Ritz.
A collaboration between the Ritz, the Island music community and Martha's Vineyard Community Services Connect To End Violence, Ladyfest collected donations at the door to benefit the domestic violence prevention program.