The Manuel F. Correllus State Forest holds a long, complex history in its densely packed thickets of pitch pine and scrub oak. This month, the Friends of the State Forest have embarked on a mission to add a new chapter to that history.
The mission is to build a pavilion in the overgrown, grassy field by the forest headquarters. With help from the Sheriff's Meadow Foundation, lumber from trees felled within the forest have been milled to build a 24-by-36-foot, post-and-beam gathering place with a hip roof.
But for state forest superintendent Chris Bruno and friends of the state forest co-chairman Robert Woodruff, their aspirations for the project extend far beyond the walls of any tangible structure.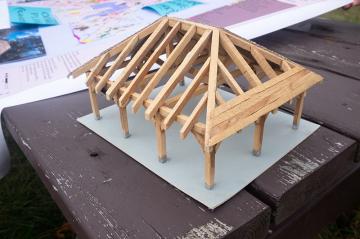 "Through and through, it's about education," Mr. Woodruff said while holding a palm-sized model of the pavilion. "Education and collaboration."
The educational aspect of the project will begin at the Martha's Vineyard Regional High School, where students under the supervision of building and arts teacher Bill Seabourne will play an integral role in making precise cuts into the lumber to form the braces and post-and-beam joinery.
Mr. Bruno said in years past students volunteered to build the post-and-beam information kiosk at the head of one the state forest trails, which is still standing today.
Once the cuts are completed the project will continue with the help of the Guild of Timber Framers, a network of worldwide carpenters dedicated to the craft of post and beam timber framing who will lead the finishing phases of construction and educate community members on the process.
"People will be coming in from all over," Mr. Bruno said. "This kind of thing is rare. It's not your everyday construction job."
Once the pavilion is completed, it will serve as an educational hub, hosting talks on conservation, the ecological history of the state forest and the 60-some species of rare plants and animals found there.
Mr. Woodruff estimated that the project will cost $50,000, straining an already tight budget. He has been raising money through private donations, memberships and applying for local grants but has a ways to go. Mr. Woodruff said he is seeking more donations along with volunteers to help complete the project.
Donations to the Friends of the Manuel F. Correllus State Forest can be made through the Permanent Endowment for Martha's Vineyard at endowmv.org.