On Jan. 6, the Tisbury school's upper-grade classes will return to their home campus, following a four-month separation that came after peeling lead paint was found in classrooms late last summer.
Tisbury students got an unexpected extra week of summer vacation as school and district officials scrambled to reorganize kindergarten through fourth-grade classes into safe areas of the building, while grades five through eight started the school year in borrowed space at the regional high school in Oak Bluffs.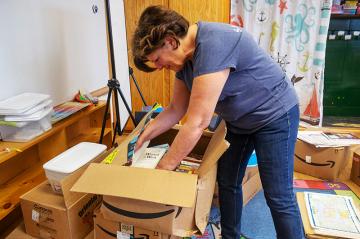 Now the scramble is happening in reverse, as the relocated Tisbury teachers move out of their high school digs and back into their remediated home school in time for classes to resume Monday.
"I'm really grateful we had a two-week [Christmas] vacation this year. It's usually not that long," principal John Custer told the Gazette on New Year's Eve.
Even with the extra time, he said teachers and staff have been putting in long days and working weekends to set up their classrooms in time.
"It's gratifying see things take shape, to walk around the building and see some rooms looking the way they typically do before the first day of school in September," Mr. Custer said.
"It feels in many ways like we're getting ready to open the school for the year. It has that feeling.
"We didn't get that feeling this past September."
When all nine grades return to the 1929 school building Jan. 6, Mr. Custer said, it will be a reunion for many and a new experience for some newcomers in the older grades, who will be arriving in Tisbury for the first time.
Across the grades, Tisbury students have largely taken the disruption in stride, Mr. Custer said.
"I've learned a lot about kids," he said. "They're much more flexible than we often them give credit for.
"They were arguably most flexible group in this whole ordeal."
Teachers also had to be flexible, particularly those for the relocated grades who suddenly found themselves teaching middle school on the high school campus.
"It's hard for many people, me included, to accept and get used to new conditions," Mr. Custer said.
"It required a lot of creativity from our teachers, who are a very creative group."
Mr. Custer also praised high school teachers and staff for welcoming and accommodating the Tisbury classes.
"The whole high school community was wonderful to us."
Back on the Tisbury campus, Mr. Custer said, things were not the same without the upper grades.
"We get used to working at a school where there are kids who are five and students who are 14," he said.
"K-eight schools are increasingly rare, and there's an interesting and wonderful sense of community," he said.
"It was really unsettling knowing that half my school staff and students were literally at another location, even if it was just a few miles away."
When the school reunites Jan. 6, Mr. Custer said, no special celebration is in the works until after lunch, when everyone's had a chance to settle in a bit. Then the whole school community will gather for a brief welcome in the gym, all the grades and their teachers assembled for the first time in the academic year. "I can't wait to have everyone together under one roof," Mr. Custer said.