In a basketball game that was a story of two halves, senior captain Jared Regan scored 31 points as the Vineyarders locked in after halftime and put the clamps on Bishop Stang's offense to complete a 50-41 comeback victory Tuesday at home.
After getting torched in the first half by Stang's captain Declan Markey, who had 20 points by halftime, the team began to turn it around after head coach Mike Joyce switched his squad from a 1-3-1 zone defense to man-to-man. It was as if a completely different Vineyard team emerged from the locker room, holding their opponents to just 12 points in the second half while digging their way out of a nine-point hole.
Nico De Paula shut Declan Markey down, keeping the Spartan's captain to only two points in the second-half, and Rammon Dos Santos set the tone with an emphatic block that rattled the visiting team. Four minutes later, the Vineyarders cut Stang's lead to five as they built momentum and left a frustrated Spartans team begging for fouls from the referees.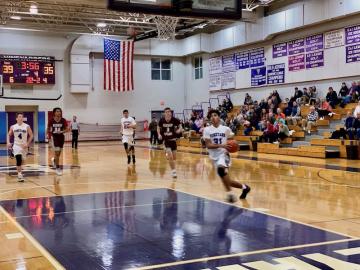 With two minutes left in the third, Regan drained a turnaround jumper to knot the score at 34 all. Then, as time wound down in the period, De Paula delivered the dagger that deflated Stang for good. The junior forward denied a Markey shot close to the basket and the home crowd erupted.
De Paula opened the fourth period with another block, then Regan sank a three that gave the Vineyard their first lead of the game. De Paula continued his defensive tear with a steal and fastbreak layup that pushed the Vineyard's lead to six. Regan then converted eight of nine free throws in the final three minutes of the game to pull the Vineyard further away while the Spartans desperately chucked up three-pointers to no avail.
Regan said Coach Joyce told them at halftime to "work as a team."
"We've known each other for a while now, so we play well as a team," Regan continued. "We got together and out-hustled Stang because we were getting out-hustled in the first half."
Coach Joyce agreed. "The first half we were slow. Slow to the ball, slow on defense, they got a lot of open looks. We switched to man because I thought we were just being lazy in the zone. After we switched they played a lot harder. I thought Nico De Paula did a phenomenal job on Markey. That was a big deal, him stepping up and playing defense like that was a difference-maker for us in the game."
In addition to his 31 points, Reagan stuffed the stat sheet with seven rebounds, five steals, three assists and a block. De Paula contributed 10 points, three rebounds, two blocks and a steal. Rammon Dos Santos was a bully down low with 10 rebounds, six blocks, five steals while adding three assists and a bucket on offense.
After stumbling out of the gate a little bit, the Vineyarders have strung together three straight hard-nosed wins against high caliber competition.
"It absolutely feels good after a slow start, but we have to keep rolling. We stepped it up in practice, a lot more intensity, those first two losses were eye-opening, kind of a wake-up call for us and now we're trying to rebound," Regan said after the game.
Next up for the boys is another home game Saturday against Cape Cod Academy, tipoff is set for 4:30.