Girls basketball bounced back in a major way against Monomoy Thursday afternoon in Harwich as Kiley Estrella drained nine of her 13 total points in the final period. The junior forward sank back-to-back jumpers to give the Vineyard their first lead of the game, then converted two free throws with less than 10 seconds left to capture a 35-33 victory.
The game against the Sharks came on the heels of a rough 49-27 home loss at the hands of Cardinal Spellman Wednesday afternoon. Against the Cardinals, the Vineyarders were out-hustled and had their will shattered after Spellman jumped out to a 28-7 lead halfway through the second period. The home team played tougher defense in the second half, but the deficit was too great to overcome.
After the game, head coach Sterling Bishop said his team needed to find a way to get over the mental block that's hampered the Vineyard as they battled through the first half of their season.
"I want them to take responsibility," he said. "I told them when I was playing, if we lost a game like this, the first words out of my mouth would be an apology to my team because I know I'm better. And I should've been better. If we can have that, have somebody lead by that example and have everyone follow that we'll take responsibility and work hard as individuals and ultimately as a team."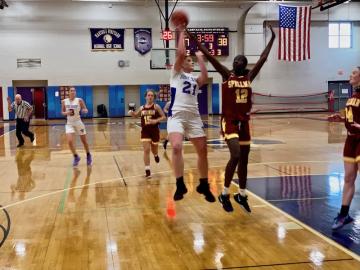 Back-to-back games are never easy, especially when the opponent isn't facing the same challenge. However, the Vineyarders stepped up and showed that while spirts were not high after the loss to Spellman, they certainly were not broken.
Having played Monomoy once already this season, Coach Bishop said his team would know what to expect. Sasha Lakis had eight blocks in the Vineyard's previous contest with Monomoy as a heavily outnumbered Vineyard team hung in as long as they could before the sharks pulled away late in the game. Yesterday, however, with no winter vacation to deplete their team, the Vineyarders kept it close while playing from behind and displayed the mental and physical toughness their coach knew they had in them.
"They came together and motivated each other,"Coach Bishop said. "Kiley was huge down the stretch. In the fourth period, she took the role of leadership, asked for the ball, pushed the offense and created a lot of shots for herself. Her teammates supported her and got behind her. This was huge for us to have this win and walk out of there with our heads held high believing we can be successful."
Estrella's 13 points led the Vineyard in scoring. Lakis and Taylor Hughes both contributed seven points and Riley Yuhas drained a clutch late-game three. Next, the girls are away Saturday against Cape Cod Academy in Barnstable. Their next home game Tuesday against Sandwich; tipoff is set for 4:30 p.m.