Illuminated by black lights and highlighted with glow sticks and laser beams, the Barn, Bowl and Bistro hosted a packed house of Islanders on Saturday to benefit Vineyard House with an afternoon of pizza, prizes and sober bowling.
Vineyard House was founded in 1997 and is the Island's only sober living community, helping those in the early stages of recovery from drug and alcohol addiction.
Event organizer Mike Sisco said he hopes to make the bowling fundraising event an annual tradition.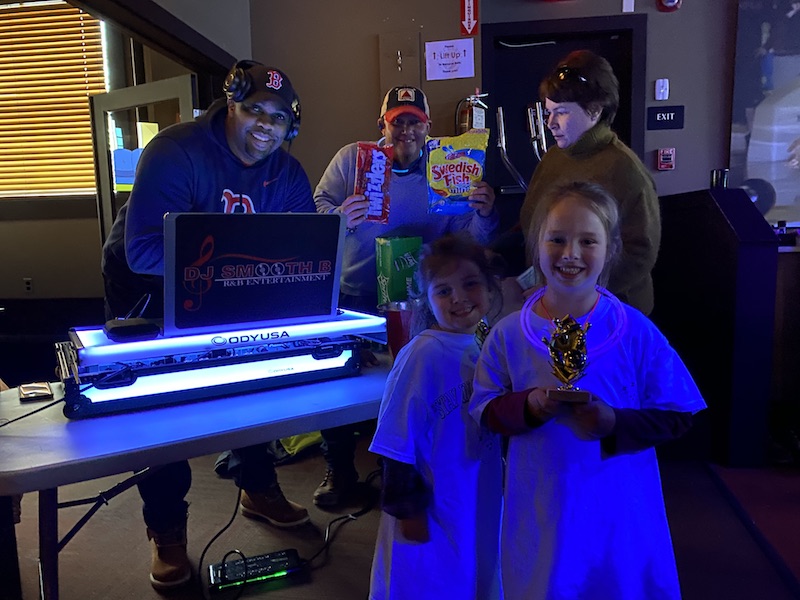 "Vineyard House is an awesome thing for the community to have, it's helped a lot of people including myself turn their lives around. I'm very proud to be supporting this cause."
There were trophies for the lowest score, the most stylish bowler, the best moment of the afternoon and best bowling shirts.
"Sometimes when you go into a sober house in early sobriety you've got nothing really going for you," Mr. Sisco said. "You're miserable, you're down and out, then you go bowling, get a strike and guess what, you're feeling better, happier and you go again. If I can save one person just by going bowling with them, then that's 24 hours down and we'll do another 24 tomorrow."
Sterling Bishop, aka DJ Smooth B, kept everyone grooving as bowlers took breaks to buy raffle tickets donated by the community, including season tickets to the MV Sharks, tennis lessons at Vineyard Family Tennis, YETI ramblers, a C.B. Stark bracelet, Mocha Mott's apparel and gift cards for the YMCA, Mansion House, B Strong, Le Roux, Stop & Shop, Up-Island Automotive, E.C. Cottle and numerous Island restaurants.
"We have a strong recovery program on the Vineyard and to see everyone come together for this event to raise money for the Vineyard House is a testimony to that," Mr. Sisco said. "To see the smiles on all their faces is worth a million dollars to me. It's pretty awesome."