This week, schools around the country shut their doors leaving parents and children scrambling for routines and learning how to home school on the fly.
On the Vineyard some 2,300 school children are now at home — with their parents of course.
Many said the spirit of perseverance rests on the novelty of the experience.
Natasha and Rich Huffam are both nurses at the Martha's Vineyard Hospital. The work hours are long, they said. And on the home front they face another challenge: keeping their six children not only entertained, but educated.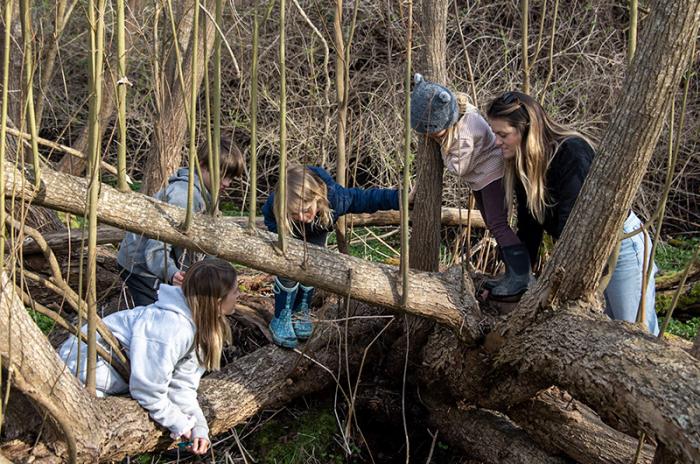 "It's an uncertain time," said Natasha Huffam, speaking to the Gazette by phone as her children searched for shark teeth on Lucy Vincent beach. "The fear is not knowing what's next or how much longer we're going to have to keep our kids at home."
"It can be stressful trying to keep structure, especially with six kids," added Rich Huffam. To mainain a routine he is still packing lunchboxes, but now for home schooling sessions.
"Schooling is our biggest concern," he said. "Teaching is such a craft, and we're not teachers. But we're doing the best we can."
Sean Slavin, a Chilmark police sergeant, had established the High Meadow Preparatory School for Boys — his two boys that is. As headmaster and de facto dean of discipline, Sergeant Slavin is teaching his two sons, ages nine and 13, math and reading in addition to landscaping projects and virtual field trips to museums and zoos. The school mascot, he said, is their Staffordshire bull terrier.
Jen DeLorenzo, who teaches yoga, drumming and mindfulness in town schools, has been able to keep in touch with her K-8 students through live video instruction. She said she tries to teach the virtual classes during what would have been regular school hours. She said the class size has expanded in some cases to as large as 50 students. Parents are joining the classes, too.
"The whole point of having yoga in schools was to help students find that calm and focus," Ms. DeLorenzo said. "It seems even more important now to keep the practice going."
Lindsay Kleeman, who with her husband Charlie has four children between the ages of three and 12, said her kitchen table is filled with drawing paper, from sketches by three-year-old Fyfe to tables of fractions by 12-year-old Volkert.
"One minute we're all kumbaya and the next minute someone is wrestling in the living room and a window gets broken," she said. "Luckily I can work from home. We're fortunate not to be feeling that stress."
Vito Aiello, a senior at the regional high school, organized a video-chat book club with about a dozen of his classmates. The book they are reading, he said, is Joseph Heller's Catch-22.
"Where we're at right now, Yossarian is talking about how he always thought the fighting would end. A couple days, a couple weeks. Several months later, he still has to fight," he said. "He's in the hospital and he's just talking. Some of it's more subtle, but you see how they're all going insane in their own way."
"It definitely feels relevant," he added. "No one really knows how long this is all going to last."
At the Allen Farm in Chilmark a different kind of preperation has been underway.
Just before dawn on Tuesday, Ned and Kaila Allen-Posin gave birth to six-pound, three-ounce baby girl at their home on the farm. The family had been preparing for a home birth all along and everything went as scheduled. The baby doesn't have a name yet, but the family feels she is a ray of light amidst the current uncertainty.
"She's perfect," said grandfather Mitchell Posin. "Very bright-eyed."