Social distancing is becoming routine on Martha's Vineyard as social service agencies adjust to the coronavirus pandemic.
Food service agencies have switched to curbside pickup, school lunches are grab and go and many of the older residents who make up the core of the Island's volunteer work force are stepping back for fear of infection.
The Island Food Pantry, on Church street in Vineyard Haven, has marks on the pavement outside to show where clients should stand as they wait to pick up a bag of pre-packed groceries at the door. It's a far cry from less than a month ago, when clients could browse among shelves, cases and stacks of assorted groceries inside.
Things have also changed for the elderly, shut-in Islanders in the Meals on Wheels program, who no longer get an in-home visit from the friendly volunteers bringing them lunch.
Instead, the volunteers give a knock at each door and place the food basket outside, while making sure the resident is present, able to respond and well, said Megan Panek of Elder Services of Cape Cod and the Islands.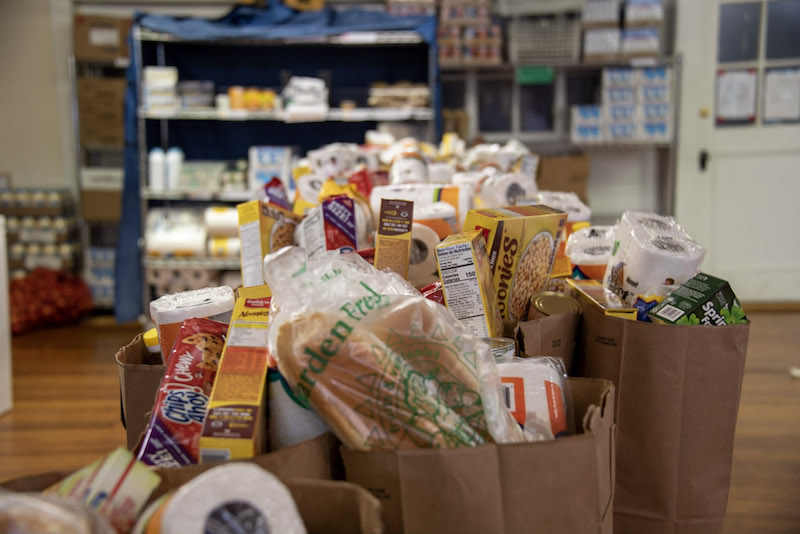 Rebecca Haag, executive director of Island Grown Initiative, said she expects to see the demand for free and low-cost groceries, including prepared foods for frail and disabled Vineyarders, continue to increase over the coming weeks and months.
With schools closed, Ms. Haag said, most of the nonprofit's Island Grown Schools staff are now preparing for spring planting in a greenhouse that's usually closed this time of year. Island Grown is also adding more acres to its regenerative agriculture pilot, to produce more food for Islanders in need.
At the same time, she said, Island Grown is extending its cooking season in the Camp Jabberwocky kitchen, turning out soups with vegetables from Thimble Farm and other Island growers. Kept frozen, the soups will provide for future need.
"Even if this virus starts to peter out a little bit in June, a lot of people will be facing economic hardship," Ms. Haag said.
The food pantry hasn't yet seen a spike in demand, but Ms. Morris said there has been an explosion of new volunteers—just when they were urgently needed.
"We've had a huge outpouring from the community for volunteers, which is wonderful," she said, estimating that close to 95 per cent of the pantry's previous volunteers had stepped back since early March.
"I think it was a really hard decision that a lot of our longtime volunteers really struggled with, but ultimately the highest priority for our staff is their safety," said Ms. Morris, who asks anyone wishing to volunteer to contact the food pantry through its website at islandfoodpantry.org.
Ms. Morris also encourages Islanders coming to the pantry to also bring food to their neighbors in need.
"If folks want to pick up for others, we're completely in support of that and we'll help," she said. The food pantry is open Saturday from 10 a.m. to noon and Monday and Wednesday from 2 to 4 p.m.
Martha's Vineyard Community Services, which has programs for Islanders from early childhood onward, is open both online and by phone, executive director Julie Fay said.
Most behavioral health appointments are being handled by phone, and emergency mental health evaluations at the hospital now take place over a video link from the emergency room to a clinician, Ms. Fay said.
"We set up a way to make all our emergency services remote," she said. "We gathered laptops from across the agency."
Jail services will also go though the laptops, Ms. Fay said. "All of our counseling staff are working remotely."
While the child care center is closed, she said, teachers are staying in touch with children and families.
"The teachers are taking videos of themselves doing circle time stories and songs and emailing them," she said. "The Head Start staff teachers are connecting very directly with kids."
Clients of Daybreak Clubhouse, a program for those with mental illnesses, also get direct contact, Ms. Fay said, with drop-offs of supplies and medication and frequent phone conversations to stave off isolation.
Among other programs at MVCS, the Island Wide Youth Collaborative supports families with children, providing food, diapers, formula and other necessities.
"A lot of our donors have been wonderful," Ms. Fay said. "We have gift cards for the most vulnerable: Stop & Shop cards, gas cards."
This week, MVCS set up its Care for Community volunteer matching service at https://www.mvcommunityservices.org/care-for-community/. Ms. Fay said more than 200 people have already signed up to be matched with one of seven Island nonprofits seeking volunteers.
For those who would like to contribute financially to the Island's coronavirus response and recovery, the Permanent Endowment for Martha's Vineyard has established an emergency response fund for Island nonprofits suffering from the pandemic closures.
"This is for needs that are immediate," said executive director Emily Bramhall. "It can be operational; it doesn't have to be a program."
The fund will prioritize nonprofits that work directly with the Vineyard's most vulnerable residents, Ms. Bramhall said, but the endowment will also consider requests from organizations affected by lack of income.
Examples might include a preschool that, absent tuition during the mandatory closure, could not pay its rent, or a nonprofit in danger of losing its staff, she said.
Ms. Bramhall said the emergency response fund is off to a good start, with more than 40 donors contributing from $25 to $5,000 and pledges of $15,000 and more on the horizon.
A simple grant application on the endowment's website will streamline the approval process, Ms. Bramhall said. The grants will be awarded on a rolling basis and she encourages donors who wish to support specific Island causes to give directly to those nonprofits as well.
"We're worried about the nonprofits that rely on events and fundraisers to operate," she said.