Ferries were shutting down and Beach Road was partially closed as a northeaster lashed the Vineyard with rain and wind Friday.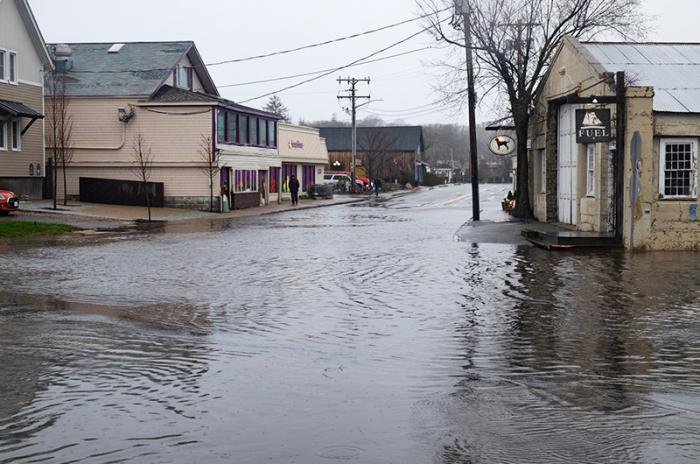 The coastal storm blew up overnight with gusty winds and pelting rain. As of mid-morning Friday there was widespread flooding, from Five Corners in Vineyard Haven to the finger piers in Edgartown.
The Steamship Authority began canceling ferry service early Friday. An advisory on the SSA website said the 10:45 a.m. and noon boats are canceled, but the 1:15 is scheduled to run. That will be the last ferry of the day, according to the website.
Parts of Beach Road between Vineyard Haven and Oak Bluffs are closed; motorists are advised to take alternate routes.
Maj. Susan Schofield at the Dukes County communications center reported that Lagoon Pond Road is closed from Skiff avenue to Five Corners. Beach Road is closed from Five Corners to the shipyard and Packer facilities. One vehicle attempting to drive through the flooding became disabled, she said, and Tisbury police are now stationed at Five Corners to redirect traffic.
Tri-Town and Tisbury ambulance are being redirected to the hospital via Barnes Road or County Road. Residents needing to go to the hospital are advised that the best route is from Edgartown-Vineyard Haven Road to Barnes Road.
The Vineyard Transit Authority is re-routing the number 13 bus through Barnes Road.