This summer Nancy's Restaurant in Oak Bluffs will mark its 60th year in business.
The iconic Island eatery on the harbor has fed generations of Islanders and visitors and is a favorite of the Obama family.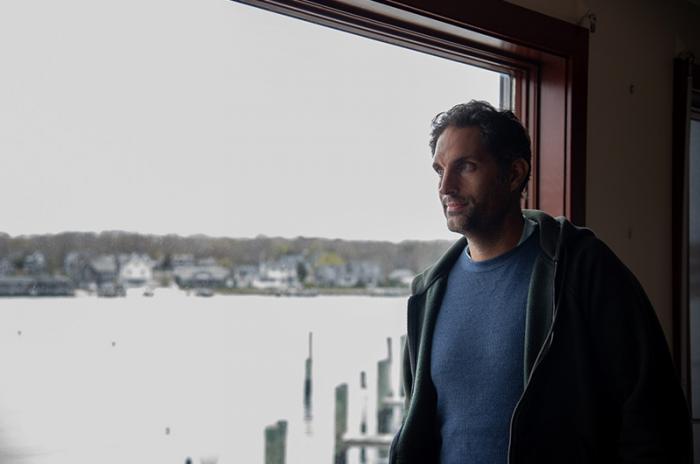 Co-owner Doug Abdelnour, also co-owner of Nomans and 20x9 (which is headed to a new location), started busing tables at Nancy's when he was 10 years old. Now 43, his 33 years in the business make him a grizzled veteran of the Vineyard restaurant community.
Despite a worldwide pandemic and an economy in freefall, he's moving ahead with plans to open Nancy's and Nomans.
"I'm in a lucky spot because I already do a lot of takeout," Mr. Abdelnour said in a phone interview this week. "At Nomans we'll have online ordering from the website or the Toast app. We're going to set up racks inside the restaurant where you can grab your food that will have your name on it. We're prepared to regulate how many people will be allowed in the building at one time. We'll have designated parking spots where you tell us what car you have, when you pull up, you pop your trunk and we put the food in your car for you. We have the opportunity to make Nomans a really solid takeout place that's really safe because there's tons of space outside and inside the building."
Nancy's will also have online ordering. The menu will be a combination of offerings from the upstairs restaurant and the snack bar. It will have a generous offering of Middle Eastern food, like it did when his grandfather, an emigre from Lebanon, opened the restaurant in 1960.
"Our Middle Eastern food has always been popular with Islanders, so it'll have a big presence on our menu," Mr. Abdelnour said. "Hopefully you'll be able to come to the snack bar window and pick up your food. It would be great if people could come to the window and order it too, but at this point we don't know. We've got a six-person management crew at Nancy's and we've been meeting and going through every possible scenario. If it's just takeout, how do we do it? How many staff members is it going to take?"
Restricted outdoor seating, now allowed in some states, remains a moving target. Even if limited seating is eventually allowed on the Vineyard, Mr. Abdelnour thinks it may not be economically viable. "Some states are allowing 25 per cent capacity, the highest I've heard is 40 per cent capacity," he said. "At Nancy's and Nomans, it's very hard to make a profit every year with 100 per cent occupancy. Right now we're guessing at what the space requirements will be. We've talked about having plexiglass between tables on the patio and at the snack bar window. We could literally spend ten grand on plexiglass without knowing if it's required or not. And it might be ridiculous once you put it up. If just masks are required, what kind of masks are acceptable? Is a bandana okay? We don't know if we should be sourcing [N-95] masks. There's so much up in the air that it's truly impossible to plan."
Late last month a 17-member reopening advisory board was created by the Baker administration to provide a strategy for restarting the state economy. The board consists of business owners, public health officials and municipal leaders and it will make its recommendations to Governor Baker on May 18.
Mr. Abdelnour advocates the creation of a similar advisory board on the Island. He thinks it could include representatives from the hospital, health agents, public officials from each town, business owners, Steamship Authority and others.
"I agree that public health is top priority. I just want us all to be on the same page and sharing information equally," he said. "Right now there's a lot of mixed messages and you don't know what to believe. The health agents have to do the contact tracing for each case of Covid-19 and that's a lot of work. It seems like an advisory board working on a set of Islandwide regulations, with the health agents' input, could expedite the process. I think the health agents will find that restaurants will be very happy to work with them."
Nantucket recently created a draft reopening plan for restaurants that allows for two seatings for breakfast, lunch and dinner at 40 per cent capacity, on a reservation-only basis. Dinner seatings would be at 6:30 and 8:30 with an hour maximum dining time.
But in Mr. Abdelnour's view, it's not a workable plan.
"The theory is you'd be allowed to clean the dining room between the two seatings. That might sound reasonable to a health agent but there's no way you can make that work in reality," he said. "You can't have a server help all those people at one time and your kitchen couldn't handle it either. Nobody is set up for it, unless you're a banquet hall."
He said the plan is also questionable from a public health standpoint. "What if you have 200 people waiting outside Nancy's at 6:30 at night and then those 200 people leave and pass by 200 people waiting for the 8:30 group?" he said.
"This is why it's important that we're all involved when regulations are put together. We need business people helping make the policies. We might have a different idea that will work for both sides, and might help keep more people in business."
Clarification: Seaweeds, a wine bar owned by Olivia Pattison and Danielle Pattavina, is opening in the space formerly occupied by 20x9, which is moving to a new location, still to be determined.