In a major development for Martha's Vineyard, Island health officials have announced a unique, public-private partnership with Quest Diagnostics to make coronavirus testing available for all Vineyard residents, with a drive-through testing facility at the Martha's Vineyard Regional High School.
The program is set to begin at the end of May, officials said at a Zoom press conference Friday afternoon, with an eye on a May 28 start date.
The initiative is being spearheaded by Steve Rusckowski, who is chairman, president and CEO of Quest Diagnostics, his wife Deb O'Hara-Rusckowski, who is a registered nurse, Cynthia Mitchell, executive director of Island Health Care, and the Island boards of health.
The Rusckowskis are seasonal residents of Edgartown, where they own a home.
Currently, the Martha's Vineyard Hospital has the only certified Covid-19 testing laboratory on the Island, with testing strictly limited to symptomatic patients and their close contacts. Nearly 30 Islanders have tested positive for the virus or antibodies since the outbreak began in mid-March.
The new project announced on Friday will mark the start of dramatically increased capacity for testing on the Island, officials said, and will put the Vineyard in line with some of the most comprehensive coronavirus testing locations in the country.
The goal is to eventually test every Islander who wants to get tested for the virus, regardless of symptoms, officials announced. They used the word "universal" to describe the scope of the project, emphasizing the importance of widespread testing for all Island residents.
"This is a glaring example of the importance of testing," Mr. Rusckowski said at the press briefing. "I never expected in the many years I've been with Quest Diagnostics that testing would be on the front page of all the major newspapers and news outlets, but it is. We now understand the importance of testing."
The idea for the project began with a simple backyard conversation between Mr. Rusckowski and his landscaper, Edgartown selectman Michael Donaroma, who then involved attorney Ron Rappaport, Ms. Mitchell and other health leaders on the Island.
"From there, things blossomed. And took on a life of its own," Ms. O'Hara Rusckowski explained. "Without our friendship with Mike Donaroma, none of this would be happening."
Officials outlined many of the details and logistics of the testing process at the press briefing on Friday.
The first phase of testing will target front-line workers, first responders and vulnerable populations, including people who are 65 and older, Edgartown health agent Matt Poole said at the press conference. Later phases are set to progressively expand testing to all year-round Island residents, regardless of their symptoms, with a plan to eventually include summer residents as well. Ms. O'Hara-Rusckowski said they hoped to eventually expand capacity at the site to 500 tests per day.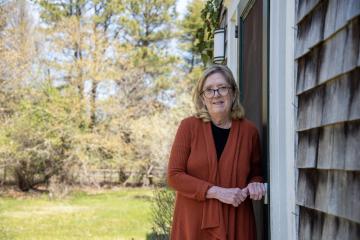 Testing individuals without symptoms reflected a different public health philosophy from criteria for testing established at the hospital, officials explained Friday.
"The role of universal testing in a community like Martha's Vineyard comes at a slightly different angle than if you were seeking testing as a response to symptoms or illness," Mr. Poole said. "This testing we are going to provide is more of a surveillance and prevention focused opportunity for Islanders who are exhibiting no symptoms, perhaps, or have a suspicion, or someone exhibiting symptoms. This is very much a service to everyone, with or without symptoms."
Mr. Rusckowski said at the briefing that he had spoken with Gov. Charlie Baker, Massachusetts General Hospital president Peter Slavin and Martha's Vineyard Hospital president and CEO Denise Schepici, who said they were on board with the proposal. Although the hospital is not a partner in the project, Ms. Schepici expressed her excitement in an emailed statement Friday.
"I think this is terrific for the Island," Ms. Schepici wrote. "Martha's Vineyard Hospital continues to test and treat patients who are symptomatic of COVID-19, and we remain focused on providing care to all our residents and visitors."
Mr. Rusckowski said the testing at the high school would work in tandem with the symptomatic testing occurring at the hospital.
The tests will be conducted using a self-swab medium and administered in a drive-through format at the high school, via appointment only. Individuals will insert the swab into each of their nostrils and twist for approximately 15 seconds, Ms. O'Hara Rusckowski explained, with Quest then collecting the tests.
Licensed health care workers will observe Islanders as they conduct the swabs themselves, in their vehicles, with test results available in one to two days. The health care workers will all be serving as volunteers, and there will be employees of IHC on-site at all times as well.
Registration, screening, appointment scheduling and results notification for the tests will all be coordinated by Island Health Care, which contracted with the Island boards of health to conduct contact tracing since the outbreak began. On Friday, Ms. Mitchell, who moderated the briefing, said it had long been IHC's goal to help expand testing.
"Part of our scope of service is to be available to help plan disasters, and respond," Ms. Mitchell said. "We absolutely jumped at the chance."
The expanded testing will also coincide with an expansion in contact tracing, Ms. Mitchell and Tisbury health agent Maura Valley said at the briefing. The expansion will include new volunteers and assistance from the state's contact tracing initiative, if needed.
"Obviously, with expanded testing, we are going to have more positive cases, and we'll have to do more expanded contact tracing," Ms. Valley said. "I believe that we will be in a good place to do that, and hopefully stem the spread of this illness."
The testing is set to continue at least through Labor Day.
There will be no out-of-pocket costs for the tests, and with a $100,000 donation from the Martha's Vineyard Bank, testing will also be free for the uninsured, CEO James Anthony announced on Friday.
"Ubiquitous testing for all Island residents provides insight on the spread of the virus and therefore, protects everyone," Mr. Anthony said.
Since the outbreak began in mid-March, Quest Diagnostics has been one of the leading private testing labs in the country, accounting for nearly 50 per cent of the Covid-19 tests conducted at the peak of the pandemic, and approximately 45 per cent of the testing in the state.
In late April, Governor Baker announced that Quest would partner with community health centers throughout the state to expand testing capacity to underserved populations, including in towns like Boston. The announcement took place at the Quest lab in Marlboro, where the Island tests will be sent for analysis.
The partnership with Island Health Care marks an effort Quest has made to expand testing access across the country through federally qualified healthcare centers. It is a first-of-its kind partnership for the Island.
On Friday, Ms. O'Hara Rusckowski said that organizing the expansion of testing was a "no-brainer" for her and her husband, who said the Island had become an integral part of their lives.
"The Vineyard is a very special place for our family," Ms. O'Hara Rusckowski said. "We therefore are always looking for ways to give back, and make a contribution to the Island that has given us so much."