Traffic is climbing and so are revenues, but as Memorial Day approaches the Steamship Authority is still projecting a massive year-end deficit, with requests for aid from the state and federal government going largely unanswered and pressure mounting to capitalize on the boom-time summer months.
Although an influx of federal CARES act money will allow the boat line to operate through Labor Day, senior managers painted a bleak picture to the board of governors at their meeting Tuesday, predicting a $35 million deficit if the SSA runs at 75 per cent capacity for the rest of the year. Losses could run as high as $60 million if numbers continue at the April levels.
"Do you serve Tums?" gulped Barnstable governor Robert Jones, only partly in jest.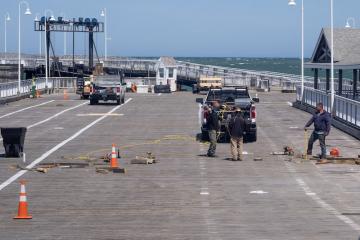 The SSA is approximately $6.5 million off budget as of the end of April, according to numbers presented at the meeting. General manager Robert Davis said the SSA would only hit expected revenues if it ran at 100 per cent capacity for the rest of the year — an unlikely scenario considering extended travel advisories and stay-at-home orders around the country.
The SSA generates about half its annual operating revenues between June and September each year.
"None of these are crystal balls," Mr. Davis told governors. "These are projections, and what we put on paper five minutes ago, could be different from now. We are just working on a range at this point."
In early April, Mr. Davis sent a letter to Gov. Charlie Baker detailing the SSA's unprecedented financial situation and requesting aid. A similar letter was sent last week to legislators on Capitol Hill by Rep. Bill Keating and Sens. Elizabeth Warren and Ed Markey.
On Tuesday, Mr. Davis said there had been communications over both letters with no definitive answers.
"They do recognize that there's an obligation there," he said. "But in terms of identifying what that number ends up being, part of it is that we have to wait to see what traffic levels we'll be having this season, and what expenses we'll be able to contain."
After ferry traffic crashed in March and April, it has steadily ticked upward in recent weeks, especially automobile traffic. Passenger traffic has emerged from its April doldrums as well, but is still off 73 per cent in May over 2019. Cars are running closer to 50 per cent of 2019 numbers. SSA managers and governors speculated that seasonal residents are arriving on the Island, while the number of day-trippers remains low or non-existent.
"There are days when we are at capacity with vehicle space," Mr. Davis said. "The numbers we are seeing, however, are primarily associated with vehicle traffic. We are not seeing a dramatic increase with walk-on passengers at this point."
Overall revenues have also climbed from their April lows during May, but still remain below projections. The seven-day average for credit card receipts on May 16 was over 60 per cent of 2019 numbers, up about 40 per cent from the low point in April.
"We're seeing an increase, which is a nice trend to have," treasurer Mark Rozum told the board. "And yesterday was the first day since March 10 that we had more credit card receipts for that calendar day from the year before."
But advance summer bookings still remain a question mark. Reservations in June, July and August are down about 20 per cent, and there have been about 4,000 cancellations in May. But September and October have stayed strong.
"I'm hearing from different vendors on both Islands that they are seeing a shift from early in the spring to September-October time period," Mr. Rozum said.
The meeting Tuesday saw more congenial tone than last week's combative gathering, when Vineyard representative James Malkin was blasted by his fellow board members for approximately 20 minutes over comments he made at a Dukes County commission meeting about the SSA's audited financial statements.
On Tuesday Mr. Rozum gave an explanation for the delayed audit, noting that the boat line had begun a new accounting system in April and that staff was "stretched thin" with furloughs. He said he expected the audit by the end of the month.
"We are not as efficient as we have been. I take responsibility," Mr. Rozum said.
Mr. Malkin said he appreciated the explanation. Nantucket governor Robert Ranney, who clashed with Mr. Malkin at the prior meeting, thanked Mr. Rozum for his hard work and diligence during what he described as an "extremely stressful time."
"I think you are doing an incredible job," Mr. Ranney said.
In other business, the current phase of the sprawling Woods Hole terminal project has been delayed approximately three to four weeks due to the pandemic, according to project manager Bill Cloutier. Because of increased safety precautions on the tight site, work has slowed, with an expected finish date now pushed to the first week of July. The shoreside project, whose costs have ballooned to north of $70 million, will take several years to complete, but construction halts during the summer.
The much smaller Oak Bluffs terminal repair project, however, remains on schedule after the SSA received an early shipment of materials, according to director of marine operations Mark Amundsen. Managers said they plan to get the Island Home online for the Vineyard route next week, and are planning to ramp up the schedule come Memorial Day. Currently, both the Woods Hole and Martha's Vineyard are triple-crewed, meaning each can run seven round trips per day to the Vineyard.
Governors also learned that the Hy-Line, which normally begins passenger ferry service to the Vineyard from Hyannis the week of Memorial Day, would be delaying its start date to mid-June due to "dismal" booking numbers. The Seastreak Ferry, which runs high-speed passenger service between New Bedford and Nantucket, with a stopping-off point in Oak Bluffs, will honor Hy-Line tickets for inter-Island travelers.
Governors also voted to extend the off-season Island excursion rate until June 21. The vote comes after a request at a previous meeting from Islander Francine Agnoli, who said that many Island residents couldn't leave for off-Island appointments because of the pandemic.
Although the measure will cost the boat line approximately $100,000, according to Mr. Davis, governors felt it was a necessary step for Island residents affected by the pandemic.
"This is a vote out of my heart, and not out of a good business decision," Mr. Jones said. "I'm willing to go with my heart on this."