Ray LaPorte has been a member at Farm Neck Golf Club for 25 years. Each spring he looks forward to getting back on the fairways after a long winter.
"Even though I mountain bike and road bike and walk every day, there's something about flying out of the nest on a golf course for the first time since the fall, it's just pure fun," he said.
This year, Mr. LaPorte and every other eager golfer had to delay the start of the season when golf courses around the state were closed on March 24 due to the coronavirus pandemic. But on Monday, Mr. LaPorte was back on the fairways after Gov. Charlie Baker announced golf courses could reopen.
"The first round I played with two other people and it was great," he said. "The course was lusher than a normal April opening so that was a plus. It's just a thrill to be out there and play the game."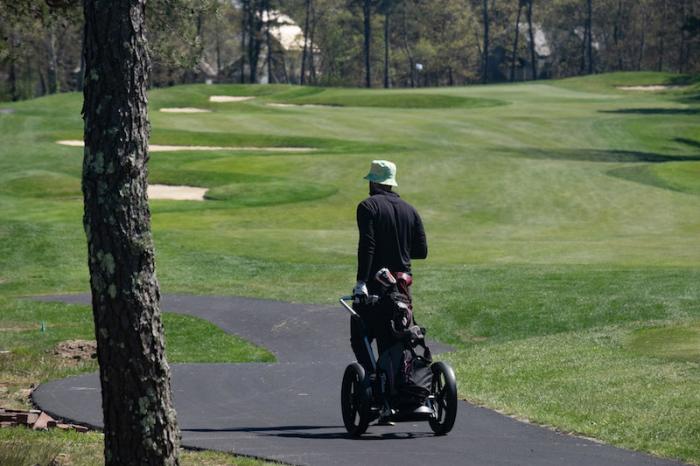 Golf could be called the original social distance sport, but there are still a number of rules and limitations to follow. Caddies, ride-on golf carts, rental clubs, bunker rakes, ball washing stations and driving ranges are all prohibited for now. Pins cannot be removed and the holes must have inserts so golf balls can be retrieved without reaching into the hole. Clubs cannot book tee times less than 15 minutes apart and golfers must wait in their vehicles until their tee time and pay over the phone as club facilities, pro shops and restaurants must remain closed.
When the courses were closed in March, even the groundskeepers were not allowed to do spring maintenance. On April 27, they were given the go-ahead to go back to work.
"They got back on track after two weeks and it looks beautiful," said Allan Menne, PGA professional at Mink Meadows Golf Club in Vineyard Haven. "The fairways are perfect and the greens are running awesome. The groundscrew did a great job."
Edgartown Golf Club general manager Mark Hess said his groundskeepers had almost everything in place when the okay came from the governor's office.
"Right now, playing golf under the current restrictions is absolutely no problem at all and perfectly safe," Mr. Hess said.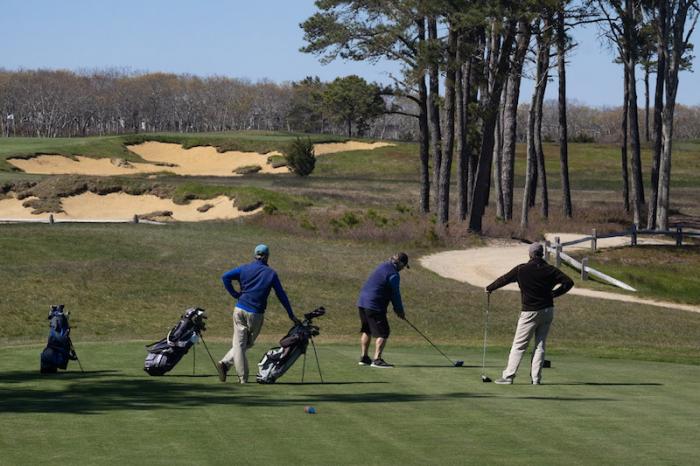 Vineyard Golf Club also opened this week, but for now a signature element of the club is missing: caddies. The club has many loyal caddies who come to the Island every summer, some of whom have been with the club since it opened in 2001.
"They're part of the fabric of Vineyard Golf Club and they love the Island just like we do," said club president, Drew Conway.
Mr. Conway said the club is hoping caddies will be allowed to return to work in the coming weeks even if it's in a limited capacity.
"Down in Florida you have scenarios where foursomes go out with pull-carts and a caddy," he said. "They spot the balls, give you distance from the green, then read your putts for you."
Warmer weather and blue skies greeted the opening this week. At Mink Meadows, Mr. Menne reported "quite a bit of play" since opening on Monday. He anticipates the number of golfers will increase in the coming weeks.
"They're really happy to be out there," he said. "Everybody is acting correctly and it seems like the safest place to be is outdoors in the breeze with separation."