Jake and Sarah Gifford made their first trip to the Vineyard in 2003 when a friend invited them to visit his house in Oak Bluffs, where they found themselves surrounded by décor depicting the Island from above.
"It was like a Rorschach test for Jake," Ms Gifford said. "He was looking at the shape of the Island and I can remember him saying how he thought it looked like a lazy frog."
The rest is history.
Soon after returning to their home in Quincy, Mr. Gifford sketched the iconic Lazy Frog logo. Two years later, the Giffords opened their first Lazy Frog store in the lobby of the Harborside Inn in Edgartown. Four years later, they moved to their current lily pad on Circuit avenue in Oak Bluffs.
"Growing up we never came to Martha's Vineyard," Mr. Gifford said. "As adults we fell in love with the place and wanted to figure out a way to move here and stay here for good."
Not only did the couple find a way to drop anchor on the Vineyard, the Lazy Frog logo now stretches coast to coast on the Island, on board games and puzzles, to backyard activities and disc golf. Mr. Gifford is the face behind the counter at the store (and a major force in the Island disc golf movement) while Ms. Gifford is the business manager at the Vineyard Gazette.
Mr. Gifford grew up in South Weymouth, "right on the Hingham line by the South Shore."
Ms. Gifford describes herself as an "army brat who moved everywhere."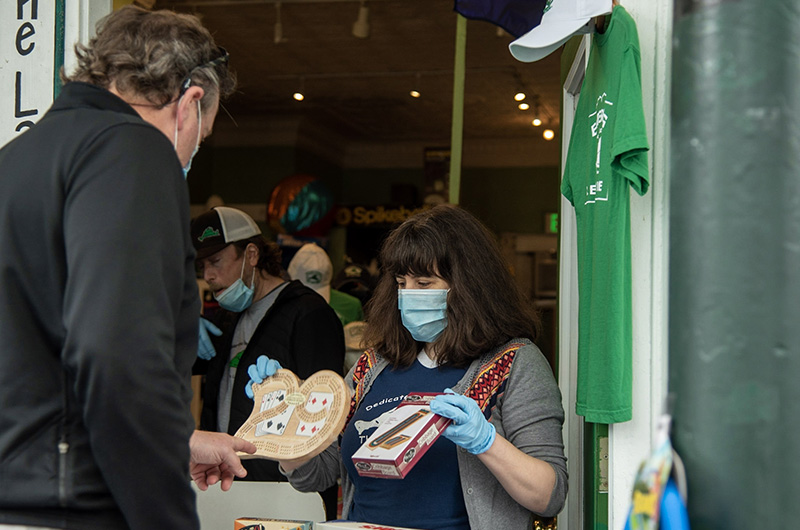 They met at Quincy College. "We were college sweethearts," Ms. Gifford said, with a smile and a laugh.
Over the years, the store's best-sellers have ranged from classic lawn games such as horseshoes, bocce and cornhole to board games like Monopoly, Risk and Settlers of Catan. In recent years, the Giffords recalled high demand for beach favorites like Spikeball and KanJam, while Jaws, the board game, has gained popularity.
For now, during the coronavirus epidemic, the Lazy Frog is open only for curbside pickup and on-Island delivery as well as nationwide shipping.
"We've always wanted to tailor it to fun with family and friends and now more than ever it's all about being with the people you love and having fun," Ms. Gifford said.
"Our motto is, Dedicated to Leisure," she added.
After 15 years in business, one of the Giffords' favorite things about owning their business has been getting to know the families who return year after year.
"It's really cool to be a part of their life in that way," Ms. Gifford said. "When we opened the store I didn't really think about that. Spreading the fun has been great."
"We hope when people see the Lazy Frog on the Island they think of the most fun store, the most fun you can have on Martha's Vineyard. That's what we want to represent," Mr. Gifford said. "Ribbit."