Martha's Vineyard experienced its slowest, quietest and least congested Memorial Day in recent memory this past weekend.
Maybe that's because everyone was on bicycles.
"Sales were insane," said Hans Selvog, who manages Edgartown Bicycles, a bike sales, rental and repair shop on Upper Main street. "It was a record. We're going to be out of bikes in two weeks and won't be able to get any more until August."
"The whole country is selling out of bikes," Mr. Selvog added.
While almost every other business throughout America has felt the pangs of the pandemic during the shutdown, bike shops have experienced an unexpected boom over the past two months, causing wheels to spin and spokes to fly off the shelves across the country.
For the Island's small, independent bike retailers that normally rely on summer rentals for their income, the unprecedented increase in sales has come as a surprising springtime windfall. But it has also presented its own array of challenges as summer approaches, disrupting international supply chains and forcing the Vineyard's tourist, rental-based businesses to rapidly shift gears in an effort to keep up with an unprecedented sales demand.
"I've been incredibly swamped," said Greg Politz, who manages Martha's Bike, a bicycle rental and repair shop in Vineyard Haven. "My bike sales have quadrupled. For the year last year, I've already matched them."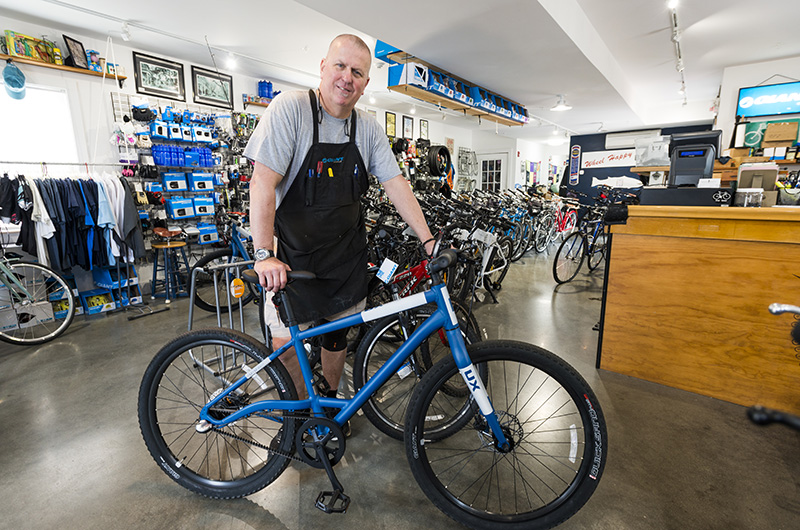 "On paper, it's been fantastic," he added.
Mr. Politz said he had sold approximately 60 new bikes since the pandemic began. He sold fewer than that over the entire 2019 season. Including used bikes, the number reaches over 200. And those were gone in days.
"Normally, used bikes would have sold out around this week. After Memorial Day, we would have been telling people, no more used bikes, we need them all for rentals. I've been telling people no used bikes for a month at least," Mr. Politz said. "Used bikes were gone within a week of the schools being closed."
Whereas most city bike sales have ballooned because people want to avoid public transportation, the situation on the Island is different.
The reason for the boom, owners said, is primarily twofold. As families scramble for outdoor activities and youth sports leagues are cancelled, parents have turned to bikes to get kids out of the house and provide independence. And with gyms, yoga studios and indoor pools closed, adults have returned to the trusty — and sometimes rusty — two-wheelers themselves.
Most discovered they didn't have bikes. The ones that did needed a tune-up.
"What's the best solo form of exercise?" said Phil Hughes, who owns the Wheel Happy bike shop in Edgartown. "Bike riding."
Ironically the increase in sales has come as the normal bread-and-butter of Island bike shops — rentals to tourists and seasonal visitors — remain virtually non-existent. After closing them initially, Gov. Charlie Baker deemed bike shops essential in early April, allowing sales and repair to continue but leaving the issue of rentals murky for boards of health. While Edgartown allowed rentals over Memorial Day weekend, Vineyard Haven did not.
Regardless, no Island bike shop is profiting from rentals yet, even during Memorial Day. Mr. Selvog said rentals were way down over the weekend, with the brakes still treading heavily on the seasonal economy.
Mr. Politz said his business is normally 75 per cent rentals, most of which are scheduled in advance for short-term vacationers, and 25 per cent sales and repair. Mr. Hughes said his business is normally 60 per cent rentals.
In order to keep up with demand, Mr. Hughes decided to sell off some of his rental fleet over the past month. But with summer on the horizon, he has since stopped, knowing he has to preserve stock for when seasonal visitors start to arrive. He said his two main vendors — Giant and Brooklyn Bicycle Company — are low on new bikes, making inventory a problem if he continues to sell, with wait times from suppliers in the two-month range, if the bike is in stock at all.
"I've got to have some bikes for rentals," Mr. Hughes said. "It looks like there's no bikes to get from any of my vendors."
Despite the temptation to sell, Mr. Politz is holding on to his 300-bike rental fleet as well, knowing that the Steamship Authority plans to route all five boats through Vineyard Haven until at least the end of June. He said the bikes are worth more as rentals than they are as one-time sales.
"If I wanted to sell what I have, I could sell it all off in two weeks easily . . . and I could take the rest of the summer off," Mr. Politz said. "But we wouldn't make as much money as we do renting. And I can't get more bikes . . . So I'm not going to shoot myself in the foot and sell off what I have."
The nationwide lack of inventory has also caused prices for new bikes to skyrocket on the Island. Mr. Politz said his entry-level bike used to sell for approximately $500. Now the price tag is $1,400. And he can't custom-order any bike cheaper than that, either. He said he has had to tell parents that the only bike available for their 12-year-old might cost $1,200.
Finding parts has also become a problem. With the boom in repairs, bike tires and tubes for popular models have sold out.
"It's affecting everything," Mr. Politz said.
But businesses on the Island say the increase in sales has more than counteracted the tepid rental economy. Mr. Hughes said the "ship was steady" at his shop, and Mr. Politz said likewise.
"I hope people continue to look at their small local bike shop as an essential service, as essential as their car mechanic," Mr. Politz said. "Because in times like this, it's clear that if we weren't here, there would be problems."
John Stevenson, who owns and manages Cycle Works in Vineyard Haven — the only Island bike shop that doesn't do rentals — said the mini-boom in bike sales augurs well for the future, not just for the industry, but for the planet.
Mr. Stevenson grew up around cars. He said the events of the past few months have only affirmed his long-ago decision to move to their two-wheeled forebears. This spring marked his shop's 45th anniversary.
"I am so happy I am in the bicycle business," Mr. Stevenson said.