Tuesday night I drove from the wilds of West Tisbury all the way to Oak Bluffs, rolling the windows down as I passed the rosa rugosa blooming along Beach Road before the drawbridge. That fragrance — the undeniable scent of summer — rushed into the car. My dog Farmer lifted his nose to the breeze as he approved of the changing venue.
We have been hunkered down all winter, and a short trip to summer-land was just what we needed. I will forever associate Oak Bluffs with my first summer on the Island, with the best ice cream, with that Caribbean-blue water that takes my breath away every time I see it. Just because I am a crusty up-Island girl does not mean I don't have a big place in my heart for Cottage City.
I was a little sad when I got to Circuit avenue and immediately found a parking spot (okay, just a little sad). Where were all the people? But soon I was happy again, as I spied a brown paper bag with my name on it waiting on the porch of the Cardboard Box.
Farmer and I returned home to share our takeout order with the hungriest member of our household. We ate fried chicken and pulled-pork sandwiches, Joe DaSilva's stuffed clams, Caesar salad and beet salad. Yum. For the first time in three months, there were no pots and pans to clean. Nice.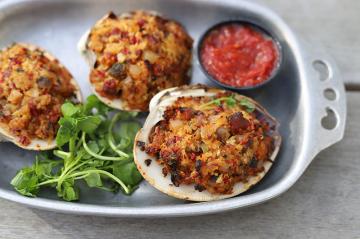 That was so fun that Farmer and I went back to Oak Bluffs for breakfast takeout Wednesday morning at the new Seaweed's restaurant. This time, we went not only for our own benefit and to support a new local business, but also to meet a friend, at a safe distance. I highly recommend this if you haven't tried it yet. Only recently have I been venturing out for socially-distanced play dates with my old friends. (Old meaning both treasured and not young. We are a cautious lot.)
Once again, a brown bag with my name on it was waiting for me. Now I'm not known for my promptness, but I swear I was right on time to both of these restaurants and that not only were my orders ready to go, but I had received several status updates along the way. (Those of you who frequently use reservation apps are now smiling at my obvious awe over this.)
I got a delicious egg sandwich with Grey Barn chorizo and Grey Barn cheddar and some buttery toasted slices of Cinnamon Starship's raisin flax bread. Cinnamon Starship of course, because Starship's Olivia Pattison is co-owner with Danielle Pattavina of Seaweed's, which has sidled into the space on Kennebec avenue that formerly housed 20byNine. Danielle, who is a veteran of the restaurant business in Boston, greeted us enthusiastically when we poked our heads inside to check out the big chalkboard menu and future indoor seating.
Seaweed's is a showcase for local food, with family-style dinners featuring Island grown meat and produce available to go Thursday through Sunday (and with a special no-preordering-needed menu on Mondays based on Mermaid Farm goodies). Breakfast, available every day from 8 to 11:30 a.m., wasn't part of the original plan, but was the result of a quick shift in strategy when the pandemic changed the landscape.
And in time, Seaweed's will be a natural wine bar where you can sip and snack like the old days. For now, you can order bottles of wine to go (up to two bottles is permissible) and Seaweed's will even deliver the wine to your door. More good news: Seaweed's is adding provisions to their online menu, starting with homemade pasta and Starship bread (of course), with charcuterie and other picnic-friendly items coming soon.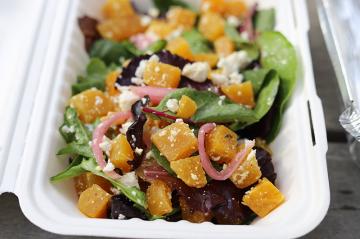 "I tell people that Oak Bluffs just added brand new benches to the park right around the corner, so why not turn take-out into a picnic," Danielle said.
In chatting with Danielle, I learned that Seaweed's is in the process of moving their online ordering from Square to an app called Toast, which is specific to the restaurant business.
Back home at my computer, I began to think about how important the online ordering experience is for both Vineyard businesses, who've had to make the change quickly, and for Vineyard customers, who have to educate themselves about the options, which vary from place to place. Menus are more limited, and most restaurants are not accepting phone orders. If you think about it, of course they're not, because they have far fewer staff right now and anybody who is part of the crew is doing 50 things at once — and not standing around waiting for the phone to ring. A third-party app is an efficient and time-saving conduit between customer and kitchen. It does remove a pretty meaningful part of the restaurant experience though — personal contact. On the Island, knowing (and seeing) your chef, your bartender, or your server is comforting and part of the experience. But at the same time, those people are the very reason we can wrap our heads around this new contactless world: We want to keep our friends working.
When online ordering goes well, it's satisfying. My friend Jared Maciel pre-ordered a fried chicken sandwich with spicy mayo and hand-cut fries from Noman's MV the other day. Not only was his food delicious and his order ready when he arrived, but he said the space at Noman's makes social distancing at pickup time easy. He admitted that having a range of take-out on the Island all of a sudden is pretty cool.
And that range is certainly wide: Some businesses are offering dinner "kits." You can get a taco kit or a grilling kit from Jefferson Munroe at the Larder. You can get a Feta Panzanella Kit or a Kale Salad Kit from the Covington. The Atlantic Fish and Chop House has family-sized dinners to go that include a meatball-and-sauce dinner and short ribs.
The Larder and the Covington, as well as Kitchen Porch and at least 10 other businesses so far are now selling online through a new local platform and mobile app called The Port Supply Co. Heck, you can use the Port Supply app to get oysters or ice cream delivered right to your home! Josh Mangerson, the app's developer, told me that when you use the platform, you help an Island business by agreeing to pay the credit card processing fees, and that a portion of every service fee is donated to the Island Food Pantry.
Other restaurants are introducing new concepts: Garde East has an elegant picnic menu that begins with a vegetarian spread and has meat options. Katama General has a new homemade pizza menu from chef Charles Granquist that looks amazing. And I can't wait to try authentic Italian classics from the new Salvatore's on Union street in Vineyard Haven.
But first I have to go to State Road, right here in my own 'hood, which opens tomorrow with a lovely variety of takeout options, Thursday through Sundays. The 11 a.m. to 7 p.m. menu includes both the State Road Burger and the Beach Road Fried Chicken. And chocolate cake. And those madeleines.
I could get used to this takeout thing.