Jaiden Edelman spent the final moments of his senior year in bed. He saw the faces of his AP statistics class, like a mosaic of small murals, bunched into a computer screen. He realized this was the last time he would be together in a classroom with his high school peers, albeit a virtual one. "Then the Zoom ended and I'm left sitting there looking at my reflection," he said. "I nodded and thought, all right, I guess that's it. Then I made lunch."
Jaiden is valedictorian of the regional high school class of 2020, and he has been named a Presidential Scholar, one of only three students to receive the award this year in Massachusetts.
He describes himself as a "math and science guy," which are the subjects he plans to study at Harvard University in the fall. But a phone conversation with the Gazette, touching on everything from the foundations of civilization to rapt meditations on moss, revealed a mind that is constantly learning beyond the pages of a textbook.
He has played saxophone since fourth grade. He is on the student council. He is president of the school a cappella group. He is on the soccer team and chess club. He has acted in school plays since grammar school, playing lead in several productions. Last year, he attended an astrophysics summer camp in Mexico. And during quarantine, he discovered a passion for writing, publishing a witty series of nature essays in the school newspaper.
Jaiden said he has trouble drawing a distinction between his academic and creative endeavors. He sees each as an opportunity to engage with the world in different ways — though he said he tends to view most things through a mathematical lens.
"I like to think about the nature of stuff at its deepest level. I think that's why I enjoy math and physics, because it is so fundamental," he said. "You look outside your window and there is a tree. We think we know what it is. But it's kind of just the manifestation of all these basic principals, following growth patterns linked to math. You can look at anything and kind of get lost, which is exciting."
He moved to the Island in fourth grade from upstate New York. His parents, Laura and Dana Edelman, visited the Island every summer before they decided to make the move. His mom is a teacher at the West Tisbury School and his dad is a musician and composer, playing in numerous bands on the Island, including the Pickpocket Bluegrass Band, and his sister Ariana is in seventh grade. The family has two dogs, one cat, a duck and two pygmy goats named Seaweed and Willow,
"I call myself an Islander," he said. "I'm technically a washashore, but we don't talk about that."
When he arrived on the Vineyard, he said his reputation preceded him. A song he had recorded with his dad, The Massachusetts Song (You Athol), which he described as a tribute to all the strange names of towns in the commonwealth, had already gone viral.
"People would be like, you're that guy from the song," he said. "I think that was the peak of my fame."
Like students throughout the nation, he has spent the last three months in what he described as a "semi-state of school." It has given him time to think, he said, time to go on nature walks and the beach.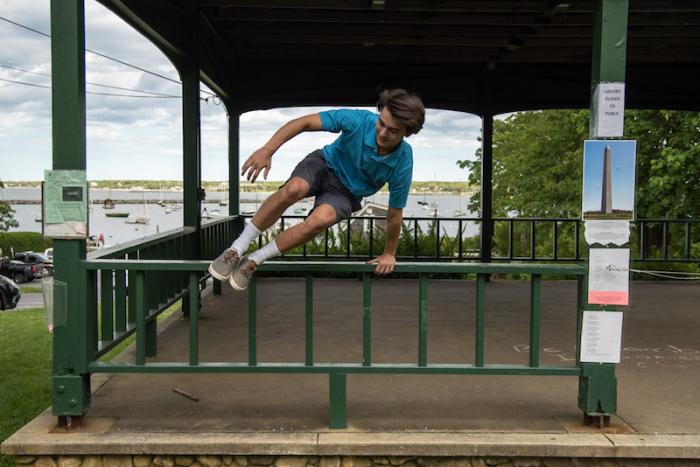 But he said it has been challenging to stay motivated in a virtual classroom, and he said he wishes he and his classmates could have taken part in the annual traditions of senior year.
He was already well positioned to tackle virtual education. Since junior year of high school he had outpaced the student curriculum for math. Instead, he has been taking online courses in multi-variable calculus and linear algebra through Stanford University. The lectures are previously recorded and streamed in many different time zones around the world.
But he said he prefers learning in a traditional classroom, where he can discuss ideas with his peers. If classes continue to be held virtually through the fall, he said he is considering taking a gap year from Harvard University — though he is unsure of what he would do instead.
"It has been interesting, learning on my own. I still enjoy it, discovering new things. But once there is a lack of that human element, it's easy to see what you're missing. [In college] I really want to be surrounded by people who know more than I do on subjects. That's way more exciting to be around."
Jaiden admitted that juggling his passions for music, sports, science and mathematics could be difficult at times.
"I used to put a lot of pressure on myself early on in high school. No one put it on me," he said. "I really just wanted to know everything all the time."
But in the last two years of high school he came to a realization.
"I began to recognize that I know way less than I think," he said. "I think that's a liberating feeling in a way. You don't have to know everything, you can't know everything. It's more fun now to see what I can learn, it's more of an adventure."
In college, Jaiden plans to narrow his academic focus to math and physics, with a minor in philosophy. He said he likes the idea of becoming either a teacher or doing scientific research. But he wants to keep his eyes wide open to whatever the future may hold.
"I'll probably keep fiddling around for a while. I don't like the idea of limiting yourself. I'd rather keep it is exploratory as possible. Professor by day, rock star-slash jazz musician by night. That's kind of the dream."