On what would have been graduation day at the Tabernacle, the Vineyard came together to recognize the senior class of 2020 with a parade of emergency vehicles and cars decorated from the tires to the roof racks.
Students and their families lined Beach Road, with every parking spot filled, from the little bridge in Oak Bluffs to Bend in the Road Beach in Edgartown.
Oak Bluffs police sergeant Dan Cassidy led the procession on a police motorcycle with an American flag bandana covering his face. Sergeant Cassidy graduated from the high school in 1997. "The turnout we have here, basically we're showing what type of community we are. We're a community that stays together," he said.
Additional police cruisers from every town along with ambulances, fire trucks and wrecker trucks, blared sirens and flashed lights in celebration. Teachers and school administrators drove by in their cars, waving, smiling, throwing candy and beads and honking their horns in recognition of the seniors who have not been together as a group since Island schools closed on March 13.
"Honestly, I'm still speechless. It was really, really cool," said senior class president Alex Rego at the conclusion of the parade. "When the teachers came out, I was a full-on mess. It was amazing. It's what the Vineyard is about. It goes so far. It was so powerful and such a nice gesture that the high school faculty put this together."
"It felt really great, especially with us not being able to come together because of the virus," added senior Owen Favreau. "We haven't really seen our community like that in a couple months. It was great to be able to see all my teachers and see friends and family members come out. It was nice to be with friends who are graduating."
The parade was not the only recognition the senior class received this weekend. Last night parents placed individual placards for every one of the 155 graduating seniors outside the students' homes.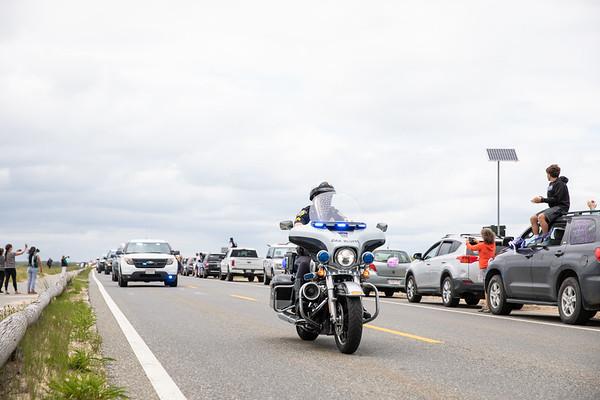 "It's never going to make up for the traditional Tabernacle graduation that should have been today but it's something and I think it shows the kids that we care," said Amy Lilavois MVRHS school councilor and senior class advisor.
A limited-attendance commencement ceremony is being planned for July 26 at the Agricultural Society fairgrounds in West Tisbury.