Closed to the public for months, the Vineyard restaurants, retailers and hotels excitedly — but cautiously — re-opened their doors to customers on Monday, wading into a summer season already changed by the coronavirus pandemic.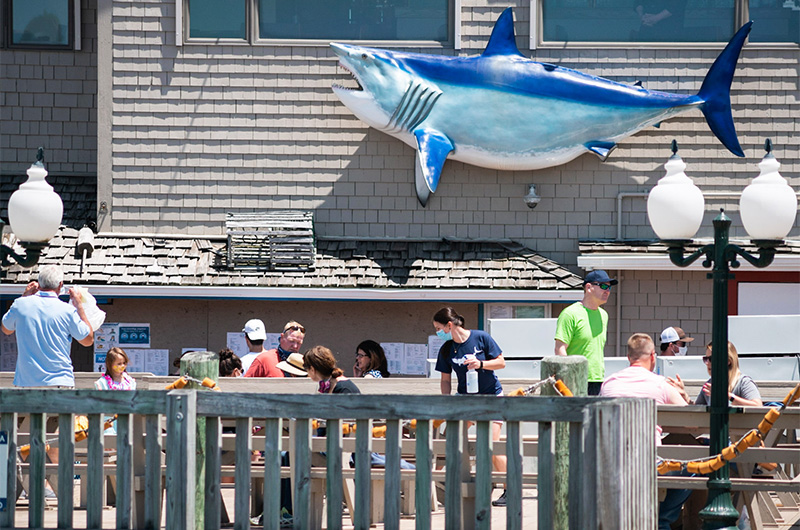 "It's like stepping into the very cool spring ocean water," said Stina Sayre, who owns a boutique women's clothing store in Vineyard Haven that reopened, with strict social distancing guidelines, on Monday. "We have to do a little bit at a time."
Over the weekend, Gov. Charlie Baker announced that phase two of the state's gradual reopening process would begin Monday. The guidelines allow retail shops and lodging establishments to reopen, with extreme social distancing precautions. Restaurants, relegated to takeout service for the past three months, can also allow outdoor dining, with restrictions.
Phase one guidelines had previously allowed limited businesses, like hair salons, to open in mid-May.
But on Monday, most of the vital tourist businesses that make the Vineyard hum in the summer scrambled to re-open, putting up new signs, limiting customers, testing staff temperatures and booking guests as they entered the unknown landscape of a season unlike any other.
In downtown Edgartown, Boneyard Surf Shop owner Trish Lyman was outside, sweeping the cobbled sidewalk for customers that hadn't seen the inside of the store for months. With birds chirping and the sun shining, she greeted shoppers outside on the street, the energy and excitement for the new phase of the reopening palpable.
A few even went in.
"Business-wise, we need to be open," Ms. Lyman said. "Curbside was okay. Upgrading the website was okay. But in our case it's important to be open. So we're excited to finally see people in the store."
Other shops along Main street dusted off their welcome mats as well, from jewelers to antique stores to Summer Shades, a sunglasses retailer. Across the street from The Boneyard, staffers at Edgartown Books were washing off winter hours from the outdoor chalkboard, preparing to open to customers over the weekend. The last time the hours were changed was mid-March
But even with the reopening, challenges still exist for retailers, who have had to completely reshape their business to align with the governor's strict safety and social distancing protocols. For the first few months of the pandemic, fashion designers like Ms. Sayre turned their attention to mask making (she made and donated over 500), upgrading websites and focusing on curbside pickup. Now, even with stores open, guidelines only allow eight people inside shops for every 1,000 square feet of space, meaning customers have to be limited and monitored.
Vineyard business owners have decided to be overly cautious, hoping to make the shopping experience comfortable for customers.
"I've had to tell a few people to wait so far," Ms. Lyman said. "But we feel it's better to be safe."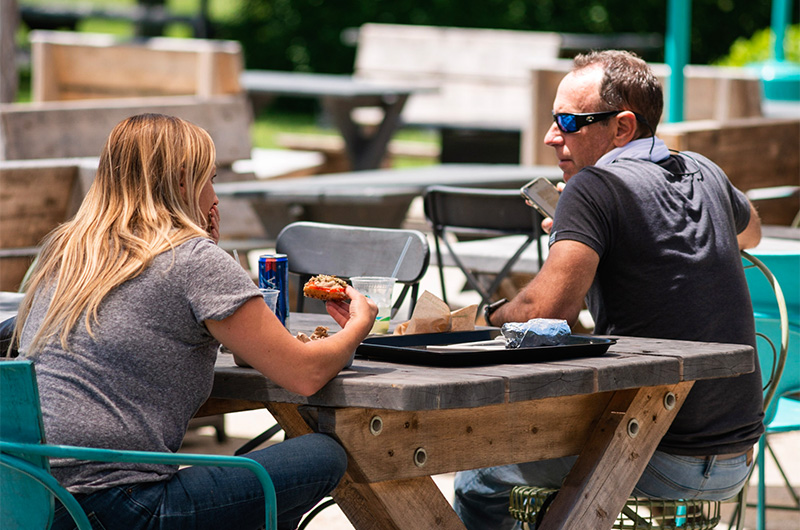 For Ms. Sayre, whose customers come into the store wanting to try on custom clothes, cleaning and sanitizing has been a particular concern. She is only allowing two people in her shop at a time, and steam-cleans any item someone tries on and decides not to purchase. That was both a safety decision and a business decision, Ms. Sayre said.
"You won't spend money if you don't feel relaxed," she said.
Contacted Tuesday, Ms. Sayre said she had been unaware of state guidelines that bar trying on clothes in-store and has now changed her policy.
Hotels, shut down to non-essential guests for the past three months, were able to start booking reservations for Monday as well. Josh Goldstein, owner of the Mansion House Hotel and Spa in Vineyard Haven, said he breathed a sigh of relief when he answered the phone on Saturday and it was someone looking to book a room.
Every other call he's received over the past 10 weeks has been a cancellation.
"We had no one calling before today," Mr. Goldstein said. "Now the phones are ringing. It feels good."
Mr. Goldstein said the governor's stringent safety protocols wouldn't be a problem for the hotel, which he said was already in the business of extreme hygiene. Dianne Carr, who manages the Hob Knob in Edgartown, and Tania Pereira, who manages the Summercamp Hotel in Oak Bluffs, said the same.
Hotels are required to inform out-of-state guests of the 14-day quarantine advisory that remains in effect. Phase three of the governor's guidelines will allow gyms, like the one at the Mansion House, as well as movie theaters to re-open, but that won't be until June 29 at the earliest.
While neither Summercamp nor the Hob Knob had booked guests for Monday, they both planned to fill rooms on the weekend. Ms. Carr even said a guest may come from Falmouth on Wednesday. They were all thrilled to be open.
"I'm very happy," Ms. Carr said. "We have everything we need. We are ready and able to accept guests. And we will work out kinks as they come — and there will be kinks, because this is not how we normally do business."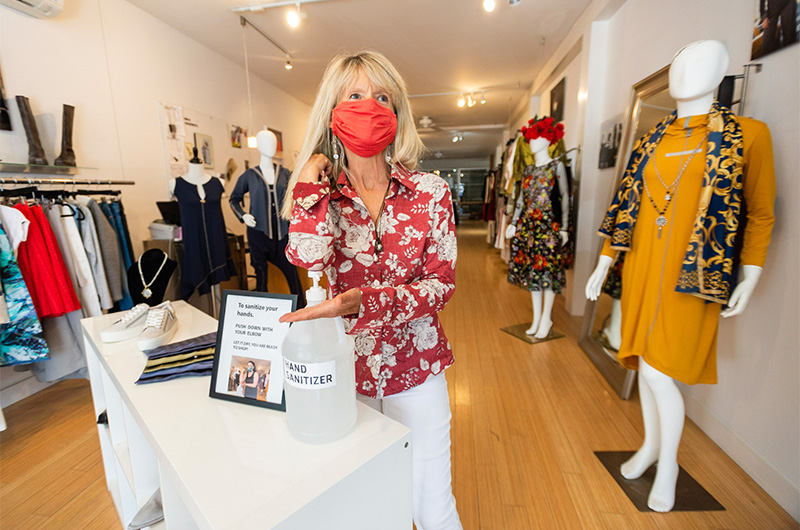 And while a few restaurants remained closed to in-customer service, either unable or not ready to provide outdoor dining, others saw a rush of customers as soon as the doors to their patios opened on Monday morning.
Candy Webster, who works as a hostess at The Seafood Shanty in Edgartown, which has about 50 per cent of its seating outdoors, said customers were waiting outside at 11 a.m., and 15 parties had been seated iby noon. Ms. Webster made sure to take down all names for contact-tracing purposes.
"It's all working," she said. "Lots of people have come in so far. And the phone just keeps ringing."
While regulations require tables to be spaced six feet apart, cutting the Shanty's capacity in half, manager Scott Hannah said he was simply thankful that the restaurant had outdoor dining options. Edgartown's plan to shut down streets, sidewalks and some parking areas for outdoor tables are still in the works. So restaurants without outdoor seating remain closed for anything but takeout.
The governor has previously stated that indoor seating, with similar six-foot table restrictions, will come later in phase two.
"We're the lucky ones," Mr. Hannah said.
Another lucky restaurant is Nomans in Oak Bluffs, which opened Monday nearly at full capacity. With many square feet of lawn space available, tables have been spaced 15 feet apart, rather than the requisite six. Doug Abdelnour, who owns Nomans, along with Nancy's on the Oak Bluffs harbor, said the past few months have been a struggle just doing takeout, and that in-person dining is necessary to survive.
"There wasn't a week that we even came close to covering payroll," Mr. Abdelnour said. "Everybody really goes to Nomans to sit outside and kind of relax. We're glad they can now."
As customers navigated their summer marketplace on the Island's main streets, one phrase was mentioned again and again on Monday.
"It's a new normal," Ms. Sayre said. "But it's not so normal yet."