The peacock and the rooster were having a standoff when I got out of the car at Down Island Farm on Sunday. It was entertaining. They made a lot of fuss but in reality they were just doing their jobs, protecting the hens and the farm.
The real scoundrels on practically any parcel of land on this Island, whether it's a farm or a small backyard, are the deer.
I had driven over to see my friend Heidi Feldman at Down-Island (home of MV Sea Salt) ostensibly to relieve her of some flowering kale she wanted to clean out of her hoop house. But we wound up doing a walkabout to see her vegetable garden and various perennial plantings around the property. The subject of deer damage came up repeatedly.
"This maple is missing all of its lower branches, thanks to you-know-who," she said.
But Heidi, who's grown everything from shiitakes to lavender on this oaky Tisbury oasis for more than 17 years with her husband Curtis Friedman, has also figured out what the deer don't like by trial and error.
It's easy enough to put your vegetables behind a tall deer fence, as Heidi and Curtis have done, but who wants landscape plants behind a fence? I'm in the process of designing and planting a perennial border, so I picked Heidi's brain as we walked around.
Our first stop was a healthy herb bed with beautiful mature mounds of lavender, savory and oregano. Deer do not like the smell or taste of many herbs, but especially many of those in the mint family, I later learned from Polly Hill Arboretum executive director Tim Boland. And while you wouldn't want culinary mint in your perennial bed, catmint (Nepeta), is an outstanding landscape plant with a long parade of blue flowers throughout the summer. It can grow rather tall, but there are nice dwarf varieties like Blue Wonder for the front of the border.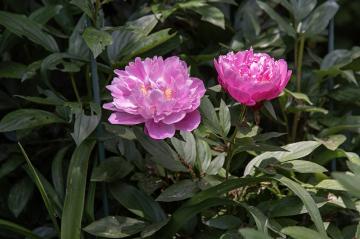 Next Heidi and I admired a swath of blooming irises. Not only do deer not like irises, but irises spread so rapidly that you can always find an Island gardener looking to give some away. You can join the MV Plant Trading and Gardening group on Facebook to stay in the loop. Heidi also mentioned the smaller wood irises, which grow happily in dappled light — something I'm only now realizing I have much more of than full sun. A common Island problem.
Perhaps the perfect flowering plant for dappled light (or a spot with morning sun and afternoon shade) is the peony. Heidi and I checked out a deep red peony, a variety called Buckeye Belle, blooming under a Kousa dogwood. I am so enamored of peonies (I've got my eye on a pink Sarah Bernhardt in the Polly Hill plant sale that's online this year) that it makes me ecstatic that deer don't like them. That's not to say that somewhere on this Island, deer have not been munching on peonies. But they'd much rather eat hostas.
Before I left, Heidi also introduced me to two other plants which deer ignore: Epimedium (Barrenwort) and Japanese spirea. Turns out there is a variety of shade-loving Epimedium called Pretty in Pink available in the Polly Hill sale: "Perfect for the spring garden, these plants are durable and critter resistant and loved for their long sprays of pink jester-like hats in spring." Epimedium is a relatively low-growing plant and can work as a ground cover. Spirea, on the other hand, is a popular full-sun flowering landscaping shrub that can grow quite big unless you opt for one of the dwarf varieties like Little Princess.
On my way home, I passed a meadow speckled with lupines. Lupines love the wild life so much that they are hard to establish in a home garden or a cultivated meadow. But if you're patient, they will take hold (and drop their seeds) and you'll be rewarded with tall spires of one of New England's most distinctive flowers. And guess what? Deer are not interested in them.
Back home, I found myself relying a little too heavily on Google to find more deer-resistant plants. I wanted more local knowledge; that's when I decided to go straight to Tim Boland at Polly Hill.
Tim promptly gave me his list of what he calls "plants not favored by deer." Because we all know there are times
on this Island when hungry deer will eat just about anything.
He explained that there are particular plant families that have chemical compounds that prevent herbivory — the eating of foliages or stems — mostly because they taste bitter, but also occasionally because they are actually toxic to deer (though not usually deadly).
First he mentioned the mint family, which includes not only catmint (Nepeta) and lavender, but also mountain mint and hyssop, which are both Island natives, as well as lamb's ears (deer hate the fuzzy foliage), bee balm, and blue skullcap.
Second, the buttercup (or Ranunculaceae) family. This includes windflowers (Anemones), clematis, hellebores, and columbine. Columbine (Aquilegia) is another Island native, and Tim notes that it is the first plant hummingbirds return to in his home garden every spring.
Next, the allium (onion) family. You could plant chives in your perennial garden, but why not choose one of the gorgeous (and taller) ornamental flowering alliums like Purple Sensation or Globemaster. All members of the allium family are too odoriferous for deer.
Tim also recommends the Amsonia species, a great group of plants that have latex in their stems, which deer hate. Commonly called Blue Star, the plant is related to periwinkle and features little blue flowers that completely cover the plant in late spring. Polly Hill has the variety called Storm Cloud. Tim also recommends Narrowleaf Bluestar.
FInally, if you like foliage and you've got a lot of shade, take a look at two native Island ferns as good alternatives to hostas: hay-scented fern and royal fern.
Once you've got your garden deer-proofed, all you have to do is worry about the bunnies. It's always something.