A star center fielder and catcher from the 2019 Martha's Vineyard Sharks roster recently signed undrafted free agent contracts with the St. Louis Cardinals.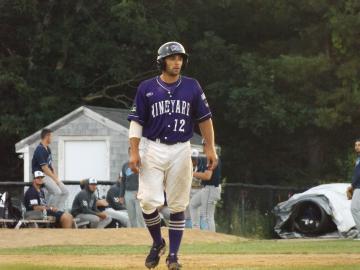 Nick Raposo and Matt Chamberlain will join the Cardinals for training camp this year after leading the Sharks to the championship of the New England Collegiate Baseball League last summer.
"It's pretty exciting. For guys like Nick and Matt who played division two and three, getting the chance to play at the next level is huge," Sharks general manager Russ Curran told the Gazette by phone.
Chamberlain, who played center field for the Sharks, hit .298 last season with four home runs, six doubles, two triples and 36 runs batted in. His defense in the outfield was notable with his keen ability to track line drives and stop extra base hits. The North Branford, Conn. native graduated from the University of New Haven last fall.
Raposo, who graduated from Wheaten College this spring, was the Sharks' catcher last summer. He also hit .298 for the season with two home runs, 10 doubles and 26 runs batted in. The Johnston, R.I., native made no errors behind the plate and threw out dozens of runners gutsy enough to try stealing while he was behind the plate.
The New England Collegiate Baseball League canceled the 2020 season in May due to the coronavirus pandemic.
But the Shark Tank will not be completely bare of activity this summer. On June 28 the Sharks are hosting a free clinic at the high school varsity field from 10 a.m to noon for kids ages 6-16 with current Sharks players and alumni. For information, email Russ.curran@mvsharks.com.