Kent Healy was reelected selectman in West Tisbury on Thursday, easily defeating first-time challenger Michael Bellissimo to close out an unconventional but spirited election season on the Island.
Mr. Healy, a civil engineer, won by a vote of 245 to 146. Mr. Healy will enter his second term as a West Tisbury selectman with longtime incumbents Cynthia Mitchell and Skipper Manter 3rd.
The selectman's seat was the only contested race in the election.
Mr. Healy is a longtime town resident who served on several committees before running for selectman in 2017. Mr. Bellissimo is a former health care executive and 20-year town resident.
Both have been campaigning steadily throughout the past month, sprinkling the town with their respective blue and green yard signs.
Mr. Healy, on learning that he had won in a call from a Gazette reporter, said, "I suppose that's good. I'm good for a few more years . . . I'm going to keep doing the same thing I've been doing for the last three years, and doing it the best I can."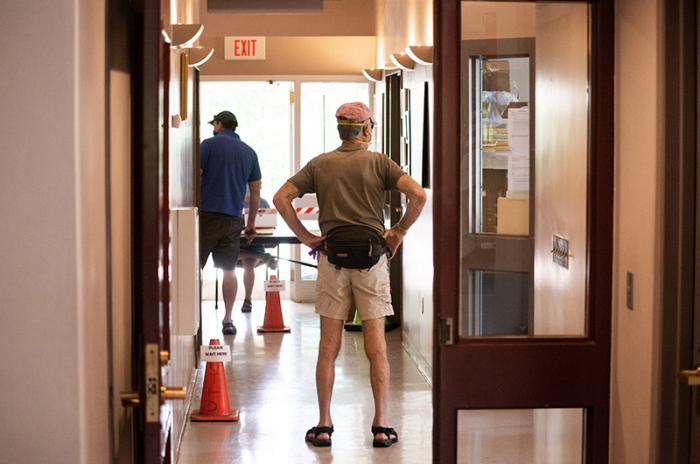 Mr. Bellissimo, also reached by phone, congratulated Mr. Healy.
"To all the people that voted for me, thank you for giving me a shot," Mr. Bellissimo said. "To Kent, good luck for the next three years. I get to enjoy my summer."
Turnout was light, but steady at the West Tisbury public safety building on Thursday, with voters trickling into the polling station through the large bay doors that house the town fire engines.
West Tisbury has 2,584 registered voters; 402 individuals cast ballots.
Town clerk Tara J. Whiting-Wells said despite the unusual circumstances, the election went off without a hitch.
"I think it went really well. I've got a great team," she said. "And I love my voting machine."
The results from West Tisbury close out an unprecedented election season on the Island that saw four strongly contested selectmen's races and two longtime incumbents in Tisbury and Oak Bluffs ousted by political newcomers.
But incumbents held on in Edgartown and, now, West Tisbury, despite fierce challenges from opponents who ran on platforms of change.
Votes in other races in West Tisbury were as follows:
Dan Waters was elected town moderator with 368 votes.
Erik B. Lowe was elected to the board of health with 355 votes.
Maria G. MacFarland was elected to the board of assessors with 328 votes.
Tara J. Whiting-Wells was elected town clerk with 375 votes.
Jeremiah Brown was elected tree warden with 343 votes.
Elaine M. Bennett was elected as a library trustee with 333 votes.
Wendy G. Nierenberg was elected as a library trustee with 319 votes.
John Christensen was elected to the finance committee with 330 votes.
Jane Dreeben was elected to the finance committee with 281votes.
Matthew Gebo and John Rau were elected to the park and recreation committee, with 326 and 311 votes respectively.
John Powers was elected constable with 358 votes.
Henry Geller and Leah Smith were elected to the planning board, with 318 and 328 votes respectively.
Peter Wells was elected land bank commissioner with 336 votes.