Two key Martha's Vineyard nonprofits, Island Grown Initiative and the Island Food Pantry, announced this week that they will merge in 2021, joining forces to strengthen and expand food equity across the Vineyard.
"It's a merger that has community good in mind, rather than making a profit," Island Grown executive director Rebecca Haag told the Gazette Wednesday as the announcement was made public.
"This merger will allow us to reach more Islanders much more effectively," food pantry executive director Kayte Morris said.
"The scale of the problem of food insecurity on this Island is so much bigger than one person can manage," Ms. Morris added. "It's really going to take an entire community and a bunch of organizations working together."
Under the terms of the agreement, which the two groups developed with the assistance of an independent consultant funded by the Permanent Endowment for Martha's Vineyard, the food pantry will continue to operate as a separate program of Island Grown, retaining its own branding.
Ms. Morris will become a senior director at IGI and three members of the food pantry board, including chairman Margaret Hannemann, will join the Island Grown board.
Founded in 1981, the food pantry was an all-volunteer organization until Ms.
Morris was hired last year and is seeing record demand in 2020, even after the pandemic shutdown ended last month and many Islanders went back to work.
"Our pantry numbers in June were higher than (the winter months) before the pandemic and twice as high as last June," Ms. Morris said.
Island Grown Initiative was established in 2005 to support local agriculture, and under the more recent leadership of Ms. Haag has expanded its focus to emphasize food equity, food waste recovery and regenerative agriculture along with its longtime educational programs.
Paddy Moore, chairman of Healthy Aging MV, welcomed news of the merger, which will combine Island Grown's production, programming and logistics strengths with the food pantry's increasing distribution network.
"I see it as a sign that we are organizing our efforts in order to focus on upcoming food insecurity," Ms. Moore said. "It prepares us for the long haul of the next couple of years, until a vaccine is available and the economy recovers."
The two nonprofits have been frequent partners in fighting hunger on Martha's Vineyard, particularly after Ms. Haag founded the Island Food Equity Network in 2016 to equalize Islanders' access to high-quality fresh and frozen food.
"We want people facing food insecurity to have the same good, healthy foods as others," Ms. Haag said.
In deer season, Island Grown works with hunters to recover venison meat, which is distributed through the food pantry. This spring, responding to the increased need for food during the pandemic, IGI began growing more crops at its Thimble Farm in Oak Bluffs and extended its off-season partnership with Slough Farm to produce ready-to-heat soups in the kitchen at Camp Jabberwocky, which is closed this summer.
The food pantry also has been a major beneficiary of Island Grown's longtime gleaning program, which sends teams of volunteers into farm fields to harvest surplus produce. Ms. Morris said IGI has been a mainstay in other ways as well.
"The help . . . from Island Grown has been absolutely invaluable," Ms. Morris said. "Not just the donations of crops they've been giving, but the back-up of help from their staff when we've needed it — helping us solve logistical issues, helping to be a sounding board."
The expanded Island Grown also will offer its resources, including freezer and pantry storage, to other Vineyard food agencies including the Island Committee on Hunger, which runs the Serving Hands monthly and Family to Family seasonal grocery deliveries, and St. Augustine's food basket program, Ms. Haag said.
"If we all collaborate and cooperate, we can better meet the needs of people who come to us, and be more efficient so we can save money for the food we need to buy," she said.
Since forming the food equity network, a coalition of social services providers, businesses and volunteers on the Vineyard, Ms. Haag and Island Grown have piloted a series of successful programs to bring better food to Island tables.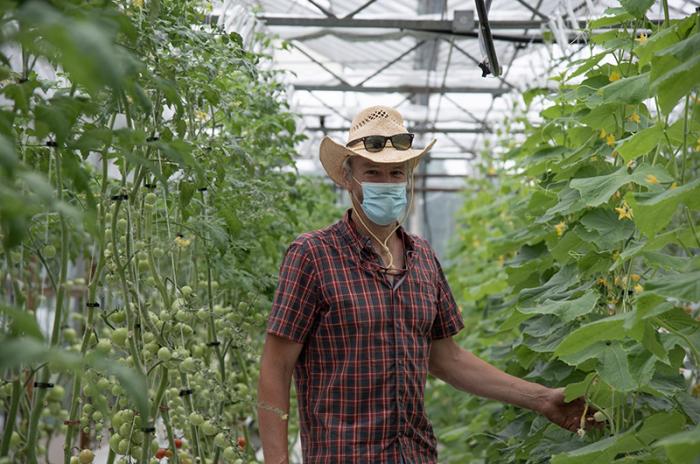 In 2017, Island Grown launched its mobile market, a truck bringing affordably-priced Island produce and eggs to local neighborhoods weekly, and a free summer lunch for schoolchildren. Both services have thrived, with IGI preparing to supply some 2,500 lunches a week beginning July 6 and the mobile market starting its rounds the same day.
The food pantry, meanwhile, has been expanding its services, which now include three pickup days a week in Vineyard Haven and a growing home delivery route. Advance ordering will be available soon, Ms. Morris said.
The idea for merging the food pantry with IGI, which originated with Ms. Hanneman and Ms. Morris before the arrival of Covid-19, took on new urgency in the light of the pandemic, Ms. Haag said.
"All of us could fall on hard times, and I think what Covid-19 did is it demonstrated we are all vulnerable," she said.
"We want a strong, robust food equity network, so that when people do need help with food they get the food they need, at the time they need it, in the right form."
The boards of both organizations voted unanimously in favor of the merger, which becomes effective Jan. 1, 2021, Ms. Haag said.
More information is available at icimv.org.