Northwest winds overnight bring loads of migrating songbirds our way. Once these nocturnal migrants get here after a 300-mile overnight flight they try to find suitable habitat to feed and rest in so they can recuperate. Their internal GPS navigation system tells them to stop flying toward the south/southeast because that would take them over the ocean. Then they start moving westward toward Aquinnah, foraging as they go. Once near the Gay Head Cliffs they discover the ocean between them and their next landfall of Cuttyhunk, Block Island or the mainland. This water barrier may temporarily stop their migration.
Bird watchers also go to the western tip of the Island in the early morning to search for migrating birds. We hope for days when there are lots of birds in the trees and shrubs, but some days birds are scarce and hard to find.
Although birds are normally nocturnal migrants, their migration may continue into the morning as they seek better foraging habitat. This movement is called morning flight. Flocks of birds fly westward over the ocean — some are bold enough to continue onward while others chicken out and circle back to land. They may try repeatedly, but the birds that do not depart will remain in Aquinnah until weather conditions are favorable for their continued migration. The southward migration is not rushed as there is a lot of time before the weather turns cold and food becomes scarce.
Some birders will be at the cliffs on most mornings this month, in search of migrants and western species that have strayed eastward. Bird (and birder) activity is greatest in the early morning, within a couple of hours of the sunrise.
Bird Sightings
Morning flight is why Lanny McDowell and Pete Gilmore visited the Gay Head Cliffs early in the morning of Sept. 1. Their highlights included purple martins, house wren, dickcissel, Cooper's hawk, common yellowthroat and prairie warbler. A great crested flycatcher was found at the Gay Head moraine and when Lanny went home he spotted a veery (migrants will appear anywhere).
Five birders (Lanny McDowell, Susan Whiting, Bob Shriber, Pete Gilmore, and Nick Bonomo) visited the Gay Head Cliffs on Sept. 5, and witnessed an excellent example of morning flight. An invasion of Cape May warblers arrived on the previous night's northwesterly winds (a good signal of heavier migration), but most of them were flying overhead, continuing their migration past the Vineyard. They were identified by their unique call notes as they flew past; some of them were even out of sight. Other less than common species they found included blue-gray gnatcatcher (which scolded them and landed on one of the hats they were wearing), warbling vireo, purple martin and purple finch. They also spotted osprey, merlin, peregrine falcon, chimney swift, ruby-throated hummingbird, red-eyed vireo, eastern wood-pewee, tree swallow, bank swallow, veery, wood thrush, clay-colored sparrow, bobolink, cedar waxwing and five species of warblers: Tennessee, black-throated green, yellow, pine, and prairie.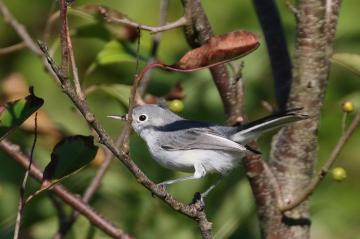 David Padulo also spotted a peregrine falcon at Little Beach on Sept. 3.
Katherine May-Waite spotted a migratory flock of at least 30 cedar waxwings at the Menemsha overlook on Sept. 1. That same day, Allison Schmidt had a female rose-breasted grosbeak visit her feeder.
On Sept. 4, Susan Whiting and Allan Keith found five blue-winged teal in the wetland by Beetlebung Corner, and a black-and-white warbler was just a short way down State Road. More blue-winged teal were spotted by Phil Edmundson on Sept. 7 at Blackwater Pond Preserve. Allan Keith has had five of them visiting a pond on his farm over Labor Day weekend, while Nick Bonomo spotted 13 on Edgartown Great Pond on Sept. 3.
Hans Goeckel had a prairie warbler visit his garden on Sept. 5. Also that day, Phil Edmundson spotted an American kestrel and four lesser black-backed gulls along the south shore of West Tisbury.
Warren Woessner visited Little Beach on Sept. 1 where he saw an American golden plover, red knots, Forster's tern, common tern, sanderlings, and many laughing gulls. He also found a northern harrier at the Farm Institute.
Nick Bonomo has been busy kayaking. He explored Edgartown Great Pond on Sept. 3, and in addition to the blue-winged teal he spotted green-winged teal, American golden plover, white-rumped sandpiper, ruddy turnstone, eastern willet, western willet, and five lesser black-backed gulls. This latter species was everywhere, as he spotted six of them on Chilmark Pond on Sept. 2 and eight more on Tisbury Great Pond the same day. He also saw western sandpiper and a Cory's shearwater there. At South Beach he spotted a very fall-like collection of seabirds: northern gannet, common eider and white-winged scoter.
Allan Keith visited Norton Point on Sept. 6 and his highlights included four red knots and one stilt sandpiper.
Finally, it is not every day that a species is sighted for the first time in the continental United States. On Sept. 5, Skyler Kardell spotted a gray heron on Tuckernuck Island, and the next day he saw it again on Muskeget Island! Will we find it here? It looks very much like our great blue heron but the side of the face is white and the white continues down its neck, where our great blue herons are gray.
Also, the streaking on the front of the gray heron's neck is pencil-thin rather than bold and thick. Suffice to say, it is not an easy identification. Photographs of the bird were sent to Dick Viet and Jeremiah Trimble, who confirmed the identification. Photos suggest that this is the same bird that was spotted at Miners Marsh in Kentville, Nova Scotia from July 15-22. Gray herons are mostly in western Europe at this time of the year although they can also be found in Southern Africa, India, Mongolia and eastern Asia.
Robert Culbert is an ecological consultant with Nature Watch LLC living in Vineyard Haven.