The Winter Street Gallery in Edgartown continues its mission of bringing cutting-edge visual arts to the Vineyard with a new show by students in the Yale School of Art's MFA photography program.
"I've always been a huge supporter of their program," said gallery co-owner Ingrid Lundgren, who opened the art space earlier this year with partner George Newall.
Midway through their two-year journey toward a master's in fine arts, the 10 degree candidates have formed an unusually cohesive group, said member Dylan Hausthor, an organizer of the exhibition.
"It is definitely our first...showing (of) our work as a collective," said Mr. Hausthor, who entered the Yale program last year.
Mr. Hausthor initially contacted Ms. Lundgren to discuss an Island exhibit in 2021 of the degree candidates' final show, which traditionally tours a small group of galleries after commencement. Ms. Lundgren suggested a mid-program exhibition for this season.The show opened on Sept. 9 and runs through Sept. 20.
Titled The Patient Visitor, the students' show offers viewers the rare experience of witnessing work by a group of artists in transition.
"I doubt any of us will be making the same stuff in another two semesters," Mr. Hausthor said. "This program is very quickly evolving (and) it forces our work to very quickly evolve."
Nine of the 10 photographers—the 10th, Ronghui Chen, is unable to return from China during the pandemic—traveled to the Vineyard for the opening last week, along with Yale School photography instructor John Pilson, who curated the exhibition.
"We've been in a bubble," Mr. Hausthor said. "It was a great excuse to mask up and make the trip over."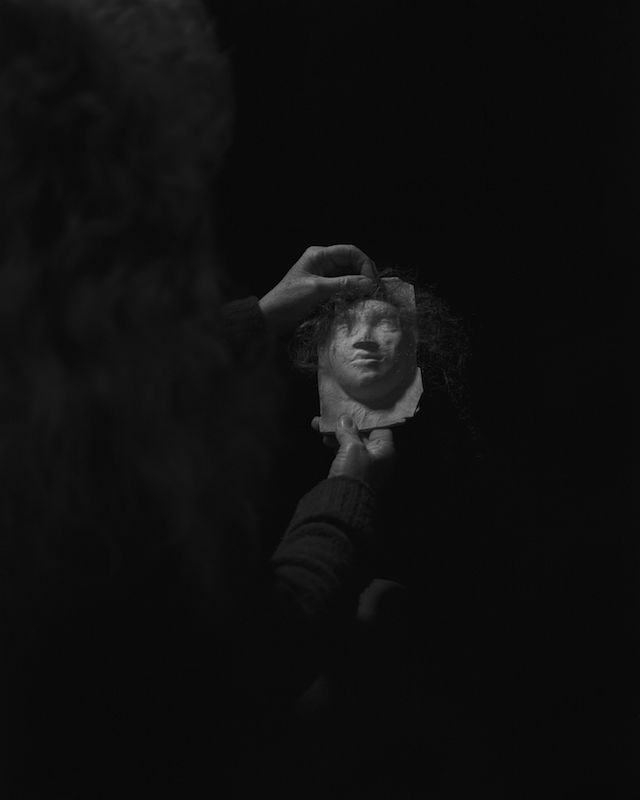 The group camped for the week at Mermaid Farm in Chilmark, he said.
The 14 images Mr. Pilson chose for The Patient Visitor reveal many strengths and approaches among the student artists, from subtle black and white images to an infrared-camera video. The latter, Annie Ling's installation Stand, is a two-minute loop in blazing colors that can be seen through the gallery windows even when the establishment is closed.
To create his portrait titled Mom, Mr. Hausthor collaborated with his mother, who is seen in the photograph wearing a plaster mask the two made together.
The empty bar in Mr. Chen's An Ordinary Evening in New Haven emits an extra sense vacancy this back-to-school season, when bars remain empty and Mr. Chen is thousands of miles from his school.
The Patient Visitor is on display at Winter Street Gallery through Sept. 20. The gallery itself will remain open through December, with a gift bazaar for the holiday season, Ms. Lundgren said.
"It is so exciting to be having programming through the end of the year," she said.
The gallery's first season has been a successful one, Ms. Lundgren and Mr. Newell said.
"We've also been quite impressed by some of the local collectors," Mr. Newall said. "Some have bought from each show."
"You can tell there is a profound amount of support for the arts right now," Ms. Lundgren said.
The Winter Street Gallery is open Wednesday through Sunday from noon to 5 p.m.