On the hill that crowns Camp Jabberwocky in Vineyard Haven, a memorial is taking shape that will let campers, counselors and family members share their good times with the memories of lost friends.
More than two dozen names, hand-carved by Island woodworker Ken Leuchtenmacher into repurposed tree trunks that support the camp's hilltop swing pergola, recall Jabberwocky campers who have died.
As the sun slants through surrounding trees at different times of day, it spotlights the various names Mr. Leuchtenmacher has carved, including that of Elke (Sunshine) Klein, who died last year.
He added a small carving of a shining sun to Ms. Klein's name, and a bird for the late Bobby Bird, one of the stars of the award-winning 1999 documentary How's Your News, who died in 2018.
"When you go to camp, you carve your name on a tree," Mr. Leuchtenmacher said. "It's like they've been there and carved it themselves."
An alumnus of the Minneapolis College of Art and Design, Mr. Leuchtenmacher is retired from the South Mountain construction company, which built the pergola — a gift from Jill and Alan Rappaport — as part of its sweeping 2018-2019 renovation of the Jabberwocky campus.
"It's a saving grace," Mr. Leuchtenberger said of the carving project. "I'm able to come here and be creative."
He's also learning, over daily lunches with camp caretaker Jack Knower, about the campers he's memorializing.
"Jack has been telling me a little bit about each person, the day before I carve [their name]," he said.
"I really feel connected to these people."
Inspired by camp director Liza Gallagher, who suggested both the swing pergola and the memorial carvings, Mr. Leuchtenmacher designed a custom font for lettering that is both casual and clear.
His first alphabet, a set of block capitals, seemed overly formal for the purpose.
"It just was too cold," Mr. Leuchtenmacher said. Instead, he enlisted South Mountain employee Peggy MacKenzie, whose handwriting he admires, to write out the names in sentence case.
Creating templates from the names, Mr. Leuchtenmacher transferred them to the pergola uprights and carved the letters deeply into the wood, at an angle best suited to reflect the sun.
"It really pops," he said, looking at the light gleaming on Skipper Brooks's name.
As camp managers collect more names, deceased counselors and other members of the Jabberwocky community will also be remembered with pergola carvings.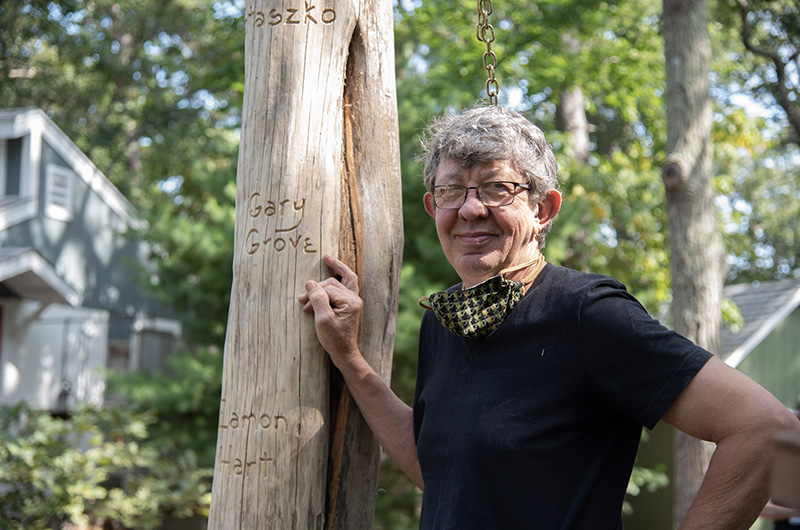 "We'd like to collect them all," director of development Kelsey Cosby said. People can submit names by email to info@campjabberwocky.org.
"They can help us by saying about what year (the camper) attended," she added.
The Jabberwocky campus has been largely quiet in 2020, with camp canceled due to the pandemic. But some activities have continued, Ms. Cosby said, including the weekly drumming sessions that formerly took place on State Beach.
Drum leaders Rick Bausman and Hudson Bausman have been setting up their percussion instruments with social distancing in the camp's roomy screened porch this summer, Ms. Cosby said, and drumming with anyone who shows up.
Camp Jabberwocky is also developing an outdoor amphitheatre, she said, and reviewing options for ways to resume serving families and campers with disabilities once the pandemic permits.
"Whenever it's safe," Ms. Cosby said. "Whatever that means."