On Wednesday morning, Richard Clark, longtime Steamship Authority terminal agent in Vineyard Haven, stood before the doors of the departing morning ferry, ushering the final strains of passengers aboard.
The day, warmed by a brilliant October sun, was typical in every way except one. For Mr. Clark, it was one of his last days working on the harbor. On Friday, after 41 years of service, he will retire from the SSA.
"I got a little gift," he said pointing to the sky. "I won't miss being out here in February when it's four degrees or when it's 96 degrees in the summer, but those beautiful spring days and days like today, how do you go wrong."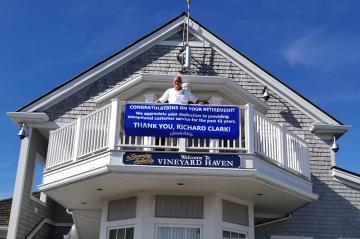 A familiar face to any who have passed through the doors of a Vineyard Haven ferry terminal, Mr. Clark began working as a ticket seller in 1979, with no real plans to stay or go. After six years on the job, he was promoted to terminal agent and has been an Island stalwart ever since, though he would never say as much.
"You can't stay that long if you hate something," he said with a smile.
In his years of service, Mr. Clark has witnessed Island history big and small. He was in his first year at the Steamship Authority when the ferry Islander struck a rocky ledge and nearly sank off Oak Bluffs in March 1980. "You don't forget that sort of thing," he said.
But upon reflection, what stands out the most to Mr. Clark are the smaller, quieter moments on the job and the people he has gotten to know in the terminal over the years.
"You get to meet people that commute on a daily basis — you see the same person at 7 a.m. every day, you see the kids that commute to school and then you watch their kids commute to school, you see families growing up and they remember you," he said, adding, "But it's brief, it's 10-second conversations."
In retirement, Mr. Clark said he is looking forward to having some free time and finally turning off the clock.
"This is a job that is all about time — I always know what time it is . . . I'm on the beach on my day off and I'll hear a boat and I go, it's two o'clock," he said. "I don't want to know what time it is, I just want to wake up and have coffee and putter around."
On Friday, the SSA will hold a formal going-away party for Mr. Clark, honoring his contributions to the Island community and celebrating his years on the job. But for him, the fanfare comes second. "I don't need parties. The people that know me and remember me will say hi to me on the street, that's good enough for me," he said.
And even after he leaves, Mr. Clark won't be gone for long. He plans to return to the terminal from time to time to visit. "But not every day," he said with a smile.
On Wednesday, as he reflected on his time at the SSA, Mr. Clark insisted that he had no parting wisdom for those he is leaving behind at the office. "Everyone does things their own way, I can't tell them how. They'll figure it out," he said.
As a fog horn blared in the background, he added with a smile: "My phone might ring once, maybe twice."
Chances are, he'll answer it.