Red-breasted nuthatches and pine siskins are two irruptive species. Both are generally northern species living in the most northern evergreen forests. Only when the seeds they eat in the winter are scarce do both species migrate southward in large numbers. Both species are irrupting this fall, so we have seen much larger than normal numbers of them. The red nuts, as they are often called by those of us too lazy to say their entire name, have been around since early September, while the siskins have been very abundant for the past two weeks.
Maggie Bresnahan's has been seeing "tons and tons of siskins and they seem to be overtaking the place."
Joanie Ames comments that she has had "upwards of 30, with a few gold finches mixed in, making life difficult for other birds."
Twenty other observers have reported seeing flocks of 15 to 20 individuals dominating other species at their feeders, and anywhere from 100 to 250 individuals have been counted flying overhead at the Gay Head cliffs. This abundance is not usual. For example, last fall we had no reports of siskins. None.
There are scientists that study the seed production of the northern forests where these species live most of the time. They noted a scarcity of seeds being produced this year, and predicted that species dependent on those seeds would irrupt southward this winter. So far they have been correct, and they further predict we will also be seeing other irruptive species this fall and winter, including purple finch, red crossbill, evening grosbeaks, and common redpolls, while irrupting white-winged crossbills will be more of a western phenomenon.
Bird Sightings
Irruptive species are scarce in more winters than they are present, while migrants are consistently present at certain times of the year (summer breeding, northward or southward transients during migration, or overwintering). One of our more closely watched winter resident species — the brant, a smaller cousin of the Canada goose — has returned to Ocean Park. Both Phoebe Amaral and John Nelson report five brant in Ocean Park on Oct. 13, the same number that Bridget Dunnigan and Sea Williams spotted on Oct. 17. I saw eight of them on Oct. 17. More will be coming.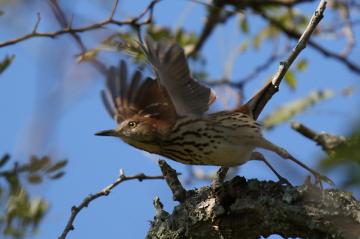 American pipits are another recent arrival. They were formerly known as water pipits although they tend to be found in short grass and agricultural fields. John Nelson spotted two of them at the Farm institute on Oct. 16 and two days later I found a flock of 12 foraging on the compost pile at Muskoday Farm. A species that also winters in agricultural fields is the horned lark, and John Nelson reports a dozen of them, along with a peregrine falcon, at the Farm Institute on Oct. 13.
Another first of the season is the three ruddy ducks spotted by John Nelson on Farm Pond on Oct. 16.
The birders quartet of Susan Whiting, Lanny McDowell, Jeff Muldaur and Bob Shriber visited the Gay Head cliffs on Oct. 15 and, in addition to the siskins mentioned above, they spotted a Bonaparte's gull over the ocean flying toward Vineyard Sound. They also spotted a flock of all male black scoters headed south toward Squibnocket Point. I saw a flock of 55 male black scoters flying east past the left fork of South Beach state Park on Oct. 18; one lesser black-backed gull was standing on the beach there. Kari Cohen observed six lessers at Long Point and two others at Lucy Vincent on Oct. 15.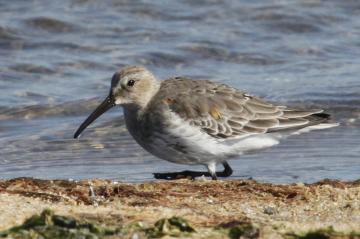 Back to the quartet of birders at the cliffs. Their other highlights from Oct. 15 include lots of red-bellied woodpeckers, two peregrine falcon, blue-headed vireo, ruby-crowned kinglet, house wren, purple finch, dark-eyed junco, white-crowned sparrow, swamp sparrow, bobolink, four Baltimore orioles, brown-headed cowbird and common grackle. They also saw the following warblers: blackpoll, palm, yellow-rumped, and western palm. The white crowned sparrow was also seen by Francesca Zeta on Oct. 11 and David Scott on Oct. 12.
Bridget Dunnigan and Sea Williams found another Baltimore oriole on Oct. 18 at the Vineyard Veterinary Clinic, and two semipalmated plovers at Bluefish Point on Oct. 17. A brown thrasher was observed by both Dick Johnson and Ron Slate; it has been frequenting the latter's Aquinnah yard for the past two weeks.
Other songbirds of note this week include Cynthia Bloomquist's white-throated sparrow and yellow warbler at the cliffs, Francesca Zeta's field sparrow, Nashville warbler, palm warbler, blackpoll warbler, yellow-bellied sapsucker, and brown creeper. Luanne Johnson and Kari Cohen also spotted brown creepers this week. Other songbirds include a late barn swallow observed by Bridget Dunnigan and Sea Williams at the Menemsha overlook on Oct. 17, and dark-eyed juncos at Gus Ben David's house on Oct. 19. He also reports that he has 20 turkey vultures establishing a roost in an oak tree in his yard. And Joanie Ames reports that her resident crows and a sharp-shinned hawk have been having lengthy aerial battles in the past two weeks. The aerial gymnastics have been impressive.
Lisa Maxfield reports a flock of cedar waxwings — one of which has an orange-tipped tail — are eating her cedar berries. The unusual orange color comes from its eating berries of an invasive honeysuckle while it was molting its tail feathers.
Finally, there are some lingerers on the shorebird front. Walt Looney had a late piping plover as well as two dunlin that had recently arrived on Little Beach on Oct. 15, while Bridget Dunnigan and Sea Williams added two ruddy turnstones there on Oct. 17. Bob Shriber observed a late red knot on Crackatuxet Cove on Oct. 17. Olsen Houghton had a flock of 11 greater yellowlegs at Little Beach on Oct. 17, and I spotted a flock of 39 greater yellowlegs in the salt marsh at the foot of Skiff Avenue on Oct. 18.
Please email your sightings to birds@mvgazette.com.
Robert Culbert is an ecological consultant with Nature Watch LLC living in Vineyard Haven.