Southern New England lobster stocks, once robust, have declined to record lows in recent years according to scientists and regulators, jeopardizing the future of a storied fishery even as Vineyard lobstermen continue to report strong seasons on the water.
In a benchmark assessment released late last week, an interstate regulatory agency found that lobster populations in southern New England are "significantly depleted," reaching their lowest levels on record and threatening the lobster industry from the southern Cape through Long Island Sound.
But some Vineyard lobstermen said that despite the decreasing abundance in the entire southern New England region — which stretches from south of New York to Monomoy and Nantucket — their catch around the Island remains healthy.
And interestingly, just as lobster populations have declined in more southern waters in recent years, scientists have seen a historic boom in the Gulf of Maine, where lobster abundance and fishery performance have reached record highs, according to the report. The Vineyard sits just south of the halfway point between the two American lobster stock units, which are divided by geography and small differences in the biology of the crustaceans.
Scientists do not believe that lobster are migrating north, but that conditions are more favorable for existing populations in the cooler waters north of the Cape.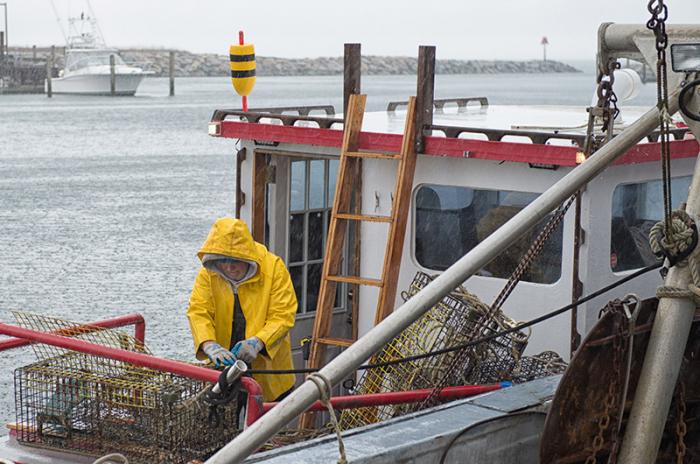 "The 2020 American Lobster Benchmark Stock Assessment presents contrasting results for the two American lobster stock units, with record high abundance and recruitment in the Gulf of Maine and record low abundance and recruitment in the Southern New England stock in recent years," the assessment states.
Performed every five years, the assessment was conducted by the Atlantic States Marine Fisheries Commission, a consortium of East Coast states that regulate fishing along the Atlantic seaboard. The assessment uses a combination of in-shore trawling survey data and catch reports from state and federal agencies to estimate abundance.
While past assessments have shown a decline in southern New England lobster stocks since the late 1990s, the 2020 report is particularly dire, predicting that the fishery is unlikely to recover as abundance dips below thresholds required to maintain population.
Even more troubling, scientists said, was that lobster stocks did not show signs of overfishing, signaling that the cause of the rapid and drastic population decline is likely a combination of environmental factors, including warming water temperatures and increased shell disease that have created unfavorable conditions for the species.
"Combined, these indicators reflect the SNE stock's very poor condition and continuing recruitment failure," the report concludes.
The assessment contrasts with reports from Island lobstermen, who say that although they also have seen increases in shell disease, the local fishery remains robust and that they have had record seasons in recent years. Waters around the Vineyard — particularly outside the Vineyard Sound and off the south shore — are often cooler than Buzzards Bay, Rhode Island and Connecticut. The traditional Vineyard fishery sits on the northernmost end of the southern New England region.
The Island has about 10 full-time lobstermen, most based out of Menemsha and about half of whom trap the "bugs" as their main source of income, selling them to Island fish houses, at farmers' markets or through off-Island distributors.
Paul McDonald, who is based out of Menemsha and has about 500 pots located mainly in state waters, said the catch this year has been excellent. But because of the pandemic, demand bottomed out, forcing him to sell his catch off-Island and purchase new storage equipment, making the year stressful for both him and the catch.
Mr. McDonald has lobstering permits for both state and federal waters.
"With my traps, I'm having banner years," Mr. McDonald said. "This year, we were catching so many, we couldn't sell them . . . trying to move them, that's the battle this year."
Jonathan Mayhew, who used to lobster offshore with about 500 traps but now fishes recreationally, has passed the torch to his children Chris and Maggie, who hold 25-trap student permits. All said they had strong seasons as well. Mr. Mayhew said Chris was pulling in around four pounds per pot in the summer — down from the dozens of pounds per pot he used to pull up in the 1970s, but still substantial.
"Four pounds per pot — now that is pretty damn impressive," Mr. Mayhew said. "They actually had more lobsters in July than I've ever seen. It was pretty amazing."
Historically a lucrative catch for Island fishermen, lobster stocks in southern New England peaked around 1997, with abundance estimated at approximately 47 million exploitable lobsters in the region and lobstermen pulling in about 22 million pounds in annual catch, accounting for about one quarter of the country's lobster industry, the report states. But by 2000, populations in southern New England — particularly in Long Island Sound — had begun to crater, with overall abundance in 2003 estimated around 20 million exploitable lobster, less than half its levels only six years earlier. Two decades later, the number has continued to steadily decline, with the recent stock assessment estimating current abundance at six million lobsters.
The annual southern New England catch in 2018 was only 2.7 million pounds — about two per cent of total U.S. lobster landings.
In an interview with the Gazette this week, lead scientist on the assessment Jeff Kipp said the most recent numbers, while unsurprising, did not portend well for the future of the species in southern New England. With current trends, Mr. Kipp felt it was possible that the lobster stock could disappear entirely.
"Certainly the trends, and the continuing trends and how consistent they are, it's very concerning," he said. "In terms of the southern stock sort of just disappearing, I don't think that's out of the realm of possibility."
Unable to control environmental factors, regulators took actions to reduce fishing pressures on the stock after three straight grim assessments in the early 2000s. Those have included trap limits, requiring larger gauges for minimum lobster size, larger escape vents on pots and closing down entire management areas to fishing
This year's report advocated for "significant management action" to stabilize the stock and improve abundance. Caitlin Starks, the fishery management plan coordinator for lobster at ASMFC, said in an interview that regulators would decide on future management actions at upcoming board meetings this winter.
"It's difficult to weigh how much of an impact measures for the fishery will have versus the environment, and I'm not sure where the board will land on that moving forward," Ms. Starks said. "The one idea that is put forward in the assessment is a moratorium, and that's, obviously, the biggest example of a drastic management effort that can be given."
But Mr. McDonald, who said his lobsters have never been healthier and that he has seen a large number of eggers — or egg-bearing females — felt that a moratorium would constitute broad overreach, especially in Vineyard waters that aren't experiencing the same stock decline as other parts of the large management region. He suggested smaller management areas with less restrictive trap limits.
"As far as the health of the stock, and the population locally, it's very good," Mr. McDonald said. "The scientists don't go out on the water; they use data and catch reports . . . My biggest fear is because of these guys pencil pushing, they keep proposing more restrictions on us. They already hit us so hard."